The Producers' Guild Awards!
Feb 3rd, 2008 | By
Lindsay
| Category:
Celebrity Sightings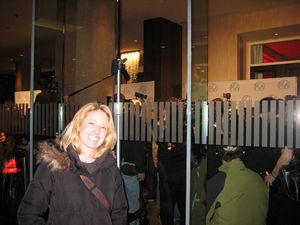 Last night my boyfriend and I set out to have a drink at the Beverly Hilton Hotel in Beverly Hills and ended up walking into a stalker's paradise! The Producers' Guild Awards were being held in the International Ballroom of the hotel, and producers, movie stars and paparazzi were everywhere! We had a great view of the red carpet from the front of the hotel, until hotel security made us move. We ended up eating dinner and hanging out in the lobby bar, which was the perfect vantage point for the red carpet area of the event. We got to see Kathy Griffin (who is super tiny in person!), Teri Polo, and Christina Applegate. Ali Larter and Ellen Page were also there, but unfortunately I missed them.

While eating, I made friends with an editor for a photography company, who happened to be sitting at the table next to us. He was uploading pictures in real time as they were wirelessly sent to him from the photographers stationed on the red carpet a few feet away. It was very interesting to watch.
Apparently the Beverly Hilton Hotel is home to over 200 star-studded red carpet events each year! The hotel also holds a special place in my heart as it was the location of one of my very first on-camera experiences. When I first moved to Los Angeles, I joined Central Casting, the premiere extras casting agency in LA. One of my very first jobs as an extra was playing the part of a guest at Donna and David's wedding on the very last episode of Beverly Hills, 90210. Their reception took place at the Beverly Hilton Hotel!

As obsessed as I was with 90210 in high school, it was a pretty incredible experience to be a part of Donna and David's wedding.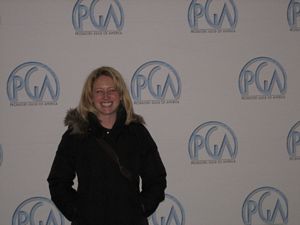 Me on the red carpet! Unfortunately, the cameramen had already left.

Until next time, Happy Stalking!

Stalk It: The Beverly Hilton Hotel is located at 9876 Wilshire Boulevard in Beverly Hills. Within walking distance of Rodeo Drive, the hotel is the perfect place to stay for out of town visitors who want to be in the heart of Beverly Hills. The hotel lobby bar is a fun place to sit and have a drink, but apparently the pool bar is where all the action is, with live entertainment and dancing nightly. Donna and David's wedding reception on 90210 took place in the former "Coconut Club," which, unfortunately, was shut down in 2002. The "Coconut Club" is now a conference room called the "Beverly Hills Ballroom."
210