The Night Before the Night Before Party
Feb 23rd, 2008 | By
Lindsay
| Category:
Celebrity Sightings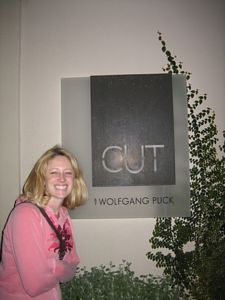 Last night I dragged my boyfriend to the Regent Beverly Wilshire Hotel to do a little stalking of the "Night Before the Night Before Party" that was being held at Wolfgang Puck's restaurant Cut located inside the hotel. I must say that aside from seeing Jeffrey Katzenberg (who is teeny tiny!!), the night was pretty much a bust. Apparently the "Night Before the Night Before" party is more for industry types and not celebs, as I didn't recognize anyone. Supposedly Faith Hill and Tim McGraw were in attendance, but we didn't spot them. We did grab a couple of drinks and appetizers at TheBLVD bar inside the Regent, and saw a production crew taping a segment for The Ellen DeGeneres Show. Sadly, Ellen was not in attendance. 🙁
After the Regent, we hit up the Beverly Hilton Hotel, where nothing much was going on. All in all, it was a pretty disappointing night from a stalking standpoint. Here's hoping we have better luck today! 🙂
Until next time, Happy Stalking. 🙂
Stalk It: Cut is located inside the Regent Beverly Wilshire Hotel, which can be found at 9500 Wilshire Boulevard in Beverly Hills. TheBLVD bar is also located inside the Regent, and, while pricey, it serves up some great appetizers and is the perfect spot to people watch. We saw a lot of interesting characters there last night.
265