The "Brady Bunch" House
Mar 4th, 2008 | By
Lindsay
| Category:
TV Locations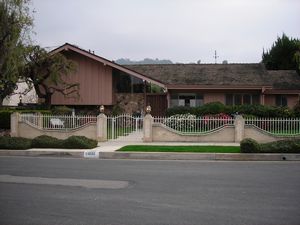 Ever since I saw the "Silver Platters" episode of The Brady Bunch about 25 years ago and watched Marcia, Greg and the gang do their "Keep On Groovin'" dance, I was absolutely hooked on the show! I still find myself getting sucked into episodes every now and then if I happen to catch them on TBS. So when I first moved to LA, I ran right out and stalked The Brady Bunch house in Studio City. This was long before my boyfriend was around, so I dragged my poor mom (not at all a Brady fan) to this location.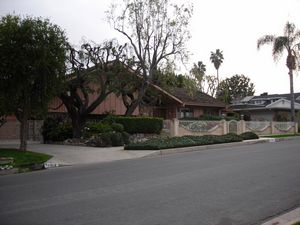 The house still looks straight out of 1960 and I half expected to see Alice waving from the doorway when I drove up! The only real differences between the Studio City house and the house seen in TV Land are a fence that has been built around the perimiter and the obvious lack of a second story window. The fence, according to my fave Hollywood tour book, was built to change the appearance of the home and deter stalkers. Even 35 plus years later fans and tour buses still stalk the house daily! The missing second story window never actually existed on the real house – it was installed by producers to make the split level home appear to have two stories. Apparently, location scouts chose to use the Studio City house long after the sets – which depicted a two story home – had already been built. The producers propped up a fake window on the real house and, voila! – The Brady Bunch house was born. Major Brady fans might be interested in this article which tells the complete history of the home.
Until next time, Happy Stalking!

Stalk It: The Brady house is located at 11222 Dilling Street in Studio City. Just a couple of blocks away, at 11604 Dilling, is the former home of Robert Blake. This is the home he lived in with Bonnie Lee Bakley. The restaurant the two dined at the night of her murder, Vitello's, is also in the same neighborhood, at 4349 Tujunga. And, if you haven't yet, I really must recommend reading Growing Up Brady: I Was a Teenage Greg – it is FABULOUS! : )
305