Weekend in "the O.C.!"
Mar 10th, 2008 | By
Lindsay
| Category:
TV Locations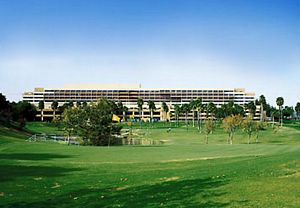 First, I must apologize for being so remiss in my blogging last week – my best friend in the world was visiting me from Switzerland and, while we did do a little stalking during his visit, I didn't have time to write many posts. When my friend left to return to Switzerland on Saturday morning, I was completely bummed out, so my boyfriend told me to pack a bag and we took a spontaneous little road trip with no planned destination. Well, the stalking gods were definitely looking out for me because destiny led us right to the Marriott-Manhattan Beach Hotel, which just happened to be a filming location from the first season of The O.C.! Let me tell you, that cheered me right up! 🙂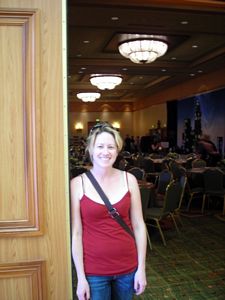 After checking into the hotel, I immediately logged onto the ultimate O.C. stalking guide, Seeing Stars, to see if any scenes had been filmed in the area. I almost fell off the bed when I realized The O.C. was filmed in the very hotel I was staying in! The Marriot-Manhattan Beach was used in the fourth episode of the very first season for the cotillion rehearsal scenes. The scenes were filmed in the Manhattan Ballroom located just off the lobby. Additional scenes were also filmed in the area just outside the ballroom, to the left of the lobby bar.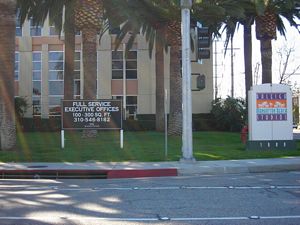 But the stalking didn't end there! Almost directly next door to the Marriott is Raleigh's Manhattan Beach Studios, the very studio where The O.C. was filmed. The studio looks more like an office building complex than a movie studio, but many famous productions have been filmed there, including Ally McBeal, CSI:Miami, and Medium. Ironically enough, though, the studio appears to be leasing out office space to non-industry people. How cool to have your offices located right on a movie lot! I am going to have to talk to my boss about that! 🙂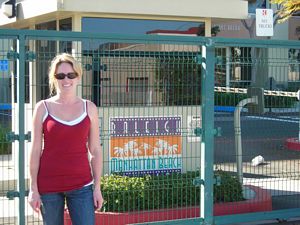 Stalk It: The Marriott-Manhattan Beach is located at 1400 Park View Avenue. If you decide to stay there, make sure to ask for the AAA rate – we got a great deal!! Raleigh's Manhattan Beach Studios is located at 1600 Rosecrans Avenue. The main gate can be found on a side street called Redondo Avenue. Unfortunately, at this time, the studio does not offer tours. 🙁
315