Studio City Stalking
Mar 30th, 2008 | By
Lindsay
| Category:
Celebrity Sightings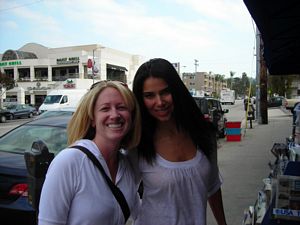 This past Saturday must have been my lucky day! While my boyfriend and I were doing a little Studio City stalking, we happened to see Roselyn Sanchez, who plays Elena Delgado on Without A Trace, getting out of her car in front of a newsstand on Laurel Canyon Boulevard. I made my boyfriend swerve through traffic to pull over and park the car and I promptly ran to the newsstand, where I pretended to look at magazines. When Roselyn walked by me to head to the cash register, I told her I loved her show and asked if I could take a picture with her. She could not have been nicer!! She posed for a picture and then chatted a bit with the cashier. When she left, she even turned back to say goodbye to me! She is a lot taller than most Hollywood types – I'd say about 5'6″ – and she was absolutely stunning! She wasn't wearing a stitch of makeup and she was still absolutely beautiful! Without a Trace is one of my favorite shows, so I could not have been more excited! I guess seeing her was my good karma after not getting to see any of the stars when I stalked the Without a Trace set last week. 🙂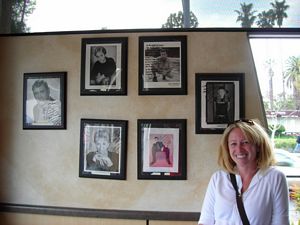 After meeting Roselyn, we headed across the street to Pick Up Stix to grab some food. The Pick Up Stix location in Studio City is a celeb favorite due to its close proximity to CBS Studio Center just a few blocks away and headshots of famous customers adorn the walls. I visited this Pick Up Stix one day about five years ago and I jokingly asked if they would put one of my headshots on the wall and they said yes, even though I am not famous yet! 🙂 Until yesterday, I had not returned to the restaurant since that day back in 2003, and as we entered the front door my boyfriend jokingly said "I wonder if they ever put your picture on the wall." Lo and behold there it was, big as life among the likes of Tom Arnold and Jeff Probst! I was in absolute shock!! While there used to be quite a few pictures on the wall, today there are only 6 – and mine is one of them! THANKS Pick Up Stix, you guys made my week!! 🙂
Until next time, Happy Stalking! 🙂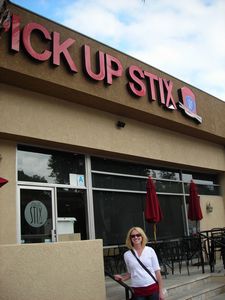 Stalk It: You can stalk my headshot at the Studio City Pick Up Stix, which is located at 3960 Laurel Canyon Blvd. The newsstand where I met Roselyn Sanchez is located just across the street, at the corner of Laurel Canyon and Ventura Boulevards.
388