Brenda and Dylan's First Kiss
Sep 24th, 2008 | By
Lindsay
| Category:
90210 & Beverly Hills, 90210 Filming Locations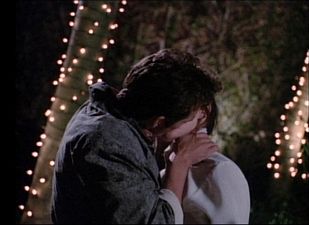 I think the new 90210 has been making me nostalgic for the original series, because lately I have found myself re-watching old episodes of the 90s show. The other night, while watching one of my fave episodes from the first season, the episode where Brenda and Dylan first get together, I noticed a filming location that I had yet to stalk. In the episode, entitled "Isn't It Romantic", Dylan has moved out of his suite at the BelAge Hotel and into what looks like a ritzy apartment building. After a date at the former Fox Studio City Theatre, Dylan brings Brenda back to that apartment building only to find his father waiting for him inside – and, of course, drama ensues.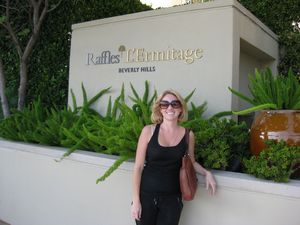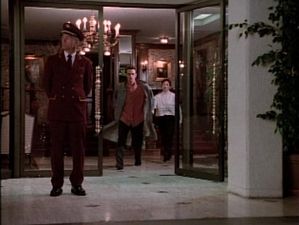 While watching the episode, I happened to notice the word "L'Ermitage" spelled out on the side of the apartment building's entrance (pictured in the above screen capture).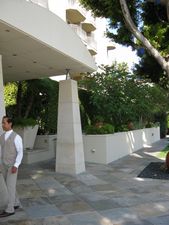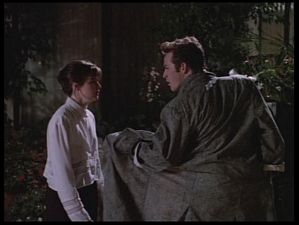 So I got to Googling and quickly discovered that there used to be a "members only" hotel called the L'Ermitage located in Bevelry Hills once upon a time. Sadly, the L'Ermitage was purchased by the Raffles hotel chain in October of 2000 and was completely renovated, remodeled, and renamed. The new hotel, called the Raffles L'Ermitage, does not look very much like Dylan's former apartment building. Even the front entrance of the hotel, which was the site of Brenda and Dylan's dramatic first kiss, was gutted and changed. But while the L'Ermitage does look very different than it did during the 90210 days, something about it is still vaguely reminiscent. Especially familiar is the sidewalk in front of the hotel where Brenda runs after Dylan's meltdown where he throws a potted plant on the ground. Gotta love it!! 🙂 Standing there brought back such fond memories for me and I highly recommend stalking the L'Ermitage if you were at all a fan of Brenda and Dylan. 🙂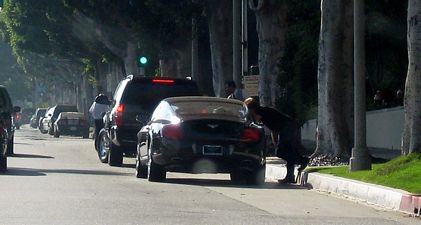 The L'Ermitage is an absolutely beautiful place and I cannot wait to drag my boyfriend back there on a Friday or Saturday night to grab a drink in one of the hotel's many bars. The hotel's rooftop terrace has been ranked one of the top three rooftop bars in the country. The hotel's Writer's Bar, where the walls are decorated with screenplays and scripts, is also supposed to be a fabulous place to grab a drink. The exclusive hotel is also a big time celeb hotspot – so if you visit be sure to keep your eyes peeled! Julia Roberts, Georgio Armani, Michael Jackson, Elizabeth Taylor, Keira Knightley, Penelope Cruz, and Angelina Jolie have all stayed at the L'Ermitage in the past. While stalking the L'Ermitage yesterday, I saw James Woods, who was hanging out in front of the hotel. I absolutely LOVE me some James Woods and the TV show Shark, so I was floored to see him in person. I would have asked him to take a pic with me, but he was busy talking on his cell phone and then his friend drove up, so I didn't want to bother him. I did snap a pic of him from far away, though. He is in the above photo leaning against the Porsche. SO COOL! 🙂
Until next time, Happy Stalking! 🙂
Stalk It: Raffles L'Ermitage is located at 9291 Burton Way in Beverly Hills, not far from Rodeo Drive.
1713