Halloween 2008
Nov 3rd, 2008 | By
Lindsay
| Category:
Haunted Hollywood
,
Marilyn Monroe Locations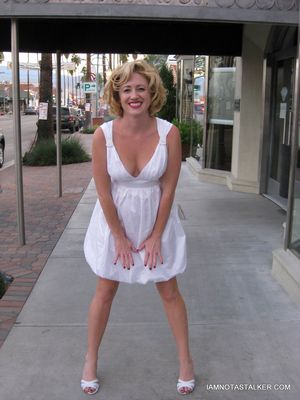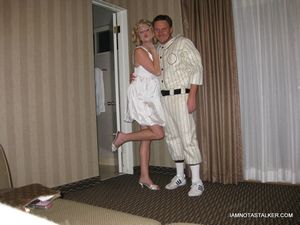 For Halloween this year, I desperately wanted my boyfriend and I to dress up like Marilyn Monroe and Joe DiMaggio. I know, total shocker. 🙂 It all ended up coming together quite perfectly, too, as earlier this summer I found a white dress a la Marilyn's subway grate ensemble, that was super inexpensive. I also happened to have an appointment to get my hair cut on Halloween morning, so I asked my amazing hair stylist, Martina, if she could do me up Marilyn style. She happily obliged and even offered to do my make-up for me. Without even looking at a picture of the starlet for reference, she was able to whip my hair into a full-on Marilyn 'do and apply my make-up perfectly! I was shocked! When I asked her how she did it without using a photo, she said "Honey, that's what I do!" LOL I actually think the effect may have been too good, though, because I had FIVE people stop me and say "Has anyone ever told you that you look EXACTLY like Marilyn Monroe." Even though it was Halloween, no one seemed to realize I was wearing a costume – they thought I just looked like Marilyn naturally. LOL That actually might be good news, though – as maybe someday I'll get to play MM in a big screen biopic of the star. 🙂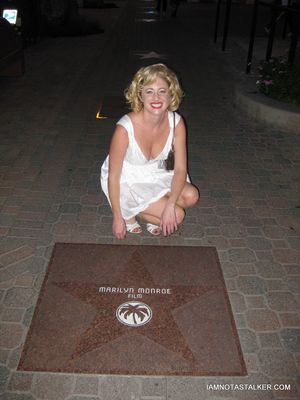 Anyway, since we couldn't find anything to do in L.A. for Halloween (we were literally all dressed up with no place to go!), I dragged my boyfriend to Downtown Palm Springs. We spent the evening walking around Downtown, barhopping, hanging out, and watching all the other people in costumes. We had a blast! And I even got stopped by a Japanese tourist who wanted her photo taken with me. 🙂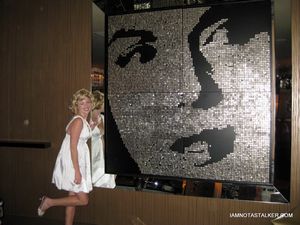 We ended up spending most of our evening at the Palm Springs Riviera Resort & Spa – a legendary Palm Springs hot spot from back in the 50s and 60s. The resort recently underwent a complete rennovation and has been closed down for the past year. It only just reopened two weeks ago and it is a very cool, very hip spot to hang out. The hotel has a 50s-modern style vibe to it, made complete with a large picture of Marilyn made out of Guatemalan coins hanging in the lobby, so, of course, I had to snap a photo of it. 🙂 And the Riviera is even a filming location! It was featured as the hotel where Connie Stevens stayed in the 1963 flick Palm Springs Weekend.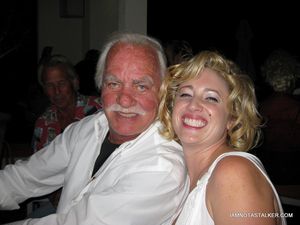 The poolside Bikini Bar, where we hung out all night, is fabulous with its large firepits and ultra-comfy lounge chairs. While there we ran into 90s actor Jeff Prettyman, who is currently retired and living in Palm Springs. Jeff acted in the movies Young Guns and Cheerleader Camp, so of course I had to take a pic with him. 🙂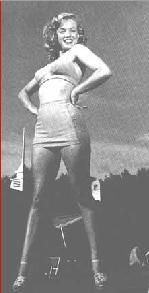 The following morning, I was reading a Palm Springs magazine in our hotel room and I happened to spot a photograph of Marilyn Monroe posing at the Racquet Club of Palm Springs (pictured above), a place I had never heard of. So, of course, on our way out of town I had to drag my boyfriend to stalk it.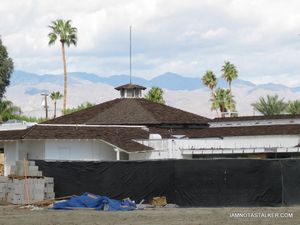 But unfortunately, when we arrived there wasn't much to see as the area is currently a large constuction zone. The once legendary resort and Hollywood playground is currently closed and undergoing a $50 million rennovation with the surrounding land being turned into luxury condominiums and lofts. That was the plan, anyway. In 2004, architect Van Scott Jones and financial handler Michael Mueller purchased the land with big plans to restore the resort to its former grandeur. However, just a few days ago the property went into forclosure and the fate of the Racquet Club is now left up in the air. I truly hope someone comes in to rescue this piece of Hollywood and Palm Springs history. Oddly enough, for some reason the construction area was not entirely fenced in, and since there weren't any "no trespassing" signs posted, my boyfriend and I ventured in for a little looksie.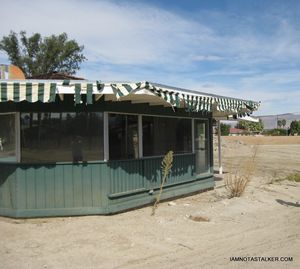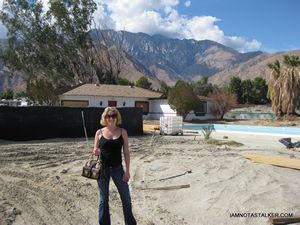 It was very, very cool to be walking around a piece of property that holds so much history. While there, I could just imagine the screen legends of the day lounging poolside under the desert sun. You can see the now empty pool behind me in the above photograph.
The Palm Springs Racquet Club was opened up on Christmas Day of 1933 by actors Ralph Bellamy and Charlie Farrell, who wanted a place in the desert where they could play tennis. The resort became enormously popular with the celebs of the day – a playground to the stars, compete with tennis courts, a large swimming pool and a legendary bar named the Bamboo Lounge. The bloody mary cocktail was actually first concocted in that lounge. Apparently, Racquet Club guests needed a little "hair of the dog" each morning to cure their budding hangovers, so the Lounge chefs mixed together a few ingredients and, voila, the bloody mary was born. The owners of a New York bar named the 21 Club often stayed at the Racquet Club and fell in love with the new cocktail. They ended up bringing the drink back to their New York bar and the rest, as they say, is history. The Racquet Club didn't fare quite as well as the cocktail created there, though, and due to dwindling profits, it was sold several times and quickly fell into dilapidation and disarray.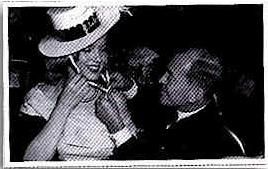 Among the stars who hung out at the Racquet Club in its heyday – Clark Gable, Cary Grant, Jane Russell, Bob Hope, Jayne Mansfield, Gregory Peck, Errol Flynn, John Kennedy, Bing Crosby, Lana Turner, Frank Sinatra, Spencer Tracy, Audrey Hepburn, Doris Day, Ronald Regan, and, of course, my girl Marilyn Monroe, who spent New Years of 1948 there with her agent Johnny Hyde (pictured above). Rumor has it that Marilyn was actually discovered by photographer Bruno Bernard while lounging poolside at the Club, but I am not sure how true that story is.
Until next time, Happy Stalking! 🙂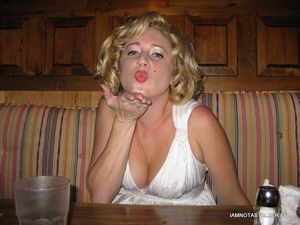 Stalk It: The Raquet Club of Palm Springs is located at 2743 North Indian Canyon Drive in Palm Springs. The Palm Springs Riviera Resort & Spa is located at 1600 North Indian Canyon Drive, also in Palm Springs. If you need your hair styled like Marilyn – or if you just need a new 'do in general – you can visit Martina Maina at T-Birds Salon, located at 1808 West Olive Avenue in Burbank. You can visit T-Birds website here. T-Birds is located right across the street from an oft used filming location – the Safari Inn – which was featured in True Romance and Apollo 13 .
2347