Dots Cupcakes!
Nov 4th, 2008 | By
Lindsay
| Category:
Celebrity Sightings
Last week, on a whim, I ventured into Dots Cupcakes in Pasadena to buy some Halloween cupcakes for my boyfriend. While waiting in line I noticed a framed InStyle Magazine article sitting on a shelf in the tiny shop. The article detailed the June 2007 wedding of Rebecca Romijn and Jerry O'Connell, who rather than serving the traditional wedding cake at their nuptials, opted instead for country apple and red velvet mini-cupcakes from none other than the very bakery I was standing in! So of course I had to ask Dots owner and founder, Hyo Kwan, a few questions. 🙂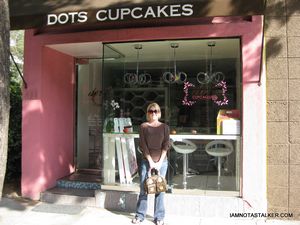 Kwan told me that she had no idea who the cupcakes were for until she arrived at the couple's Calabasas ranch the day of the ceremony and met Rebecca Romijn. A few days later she had reporters from TMZ swarming her shop asking all sorts of questions about the celeb nuptials. She actually thought I worked for TMZ, too, with all the questions I was asking, and I had to convince her that I was actually just a stalker. 🙂 Since the InStyle spread, Kwan has been featured in several bridal and food magazines and I couldn't help but think to myself how much I'd like to have her bake cupcakes for my wedding. 🙂 Dots will also be providing the desserts for Rebecca Romijn's upcoming baby shower. Besides the O'Connells, other celebrity fans of the small shop include my fave Shannen Doherty, the Black-Eyed Peas, and Oscar De La Hoya- at least I think Kwan said Oscar De La Hoya frequents the shop. She mentioned some sports star with a multi-word last name, but once someone starts talking sports, I pretty much just tune out. LOL But celebs? Celebs I remember. 🙂 Kwan said that when Shannen Doherty stopped in, the shop was actually completely sold out of cupcakes! Shannen was very gracious, though, and did not throw any sort of hissy fit about not getting her cupcake fix. See, I knew she was nice!!! 🙂
Hyo, a former events manager for the L.A. Dodgers, was only 29 years old when she opened up Dots with virtually no baking experience whatsoever – just a love of cupcakes. An endeavor that began in her kitchen with a borrowed mixer has grown into a 5,000 cupcake-a-day business. And, after only a year and a half, Kwan is ready to branch out and will be opening up a second Dots location in Old Town Pasadena early next year. Kwan really could not have been nicer, entertaining me for a good 15 minutes with stories about her adventures baking for celebs. She even introduced me to a reporter for Pasadena Weekly Newspaper while I was there and told her about my blog. 🙂 You can read more of Hwan's story here.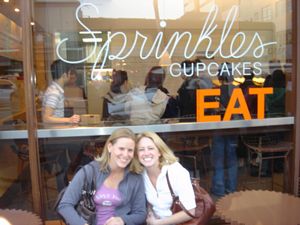 Dots cupcakes are FABULOUS and I HIGHLY recommend stalking the tiny shop! I have long been a fan of Magnolia Bakery in New York City – even though I am diabetic! LOL – so when the gourmet cupcake craze hit L.A. last year, I could not have been more excited. I swear I hit up every single cupcake shop in the greater L.A. area hoping to find a brand that could hold its own against my beloved Magnolia. Sadly, not a one of them was any good. Celeb favorite Sprinkles (pictured above), Yummy Cupcakes, Le Cupcake – they were all just mediocre. But on Thursday, as I bit into a Dots cupcake for the first time, I was floored! They are FABULOUSLY YUMMY and rank a very close second to Magnolia. I'll definitely be satisfying my cupcake cravings there from now on when I can't get to the East Coast. 🙂
Until next time, Happy Stalking! 🙂
Stalk It: Dots is located at 400 S. Arroyo Parkway in Pasadena. You can visit their website here. The bakery is open Monday through Saturday from 10am to 7pm. They are closed on Sundays. Dots new store will be opening up in the next few months on Fair Oaks Avenue in Old Town Pasadena, right next door to J. Crew.
2385