The Largest Home in Pasadena!
Nov 12th, 2008 | By
Lindsay
| Category:
TV Locations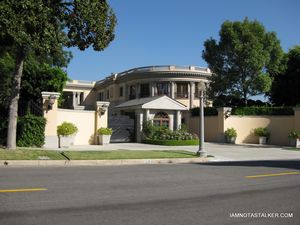 If you thought the Benson mansion was huge, you ain't seen nothing yet! 🙂 Just down the street is another immense property – one that actually has the distinction of being the LARGEST home in Pasadena!!! The 31,415-square-foot home has 15 bedrooms, 19 bathrooms!!!!!, and sits on close to five acres. I mean, come on, does any one person honestly need that much room???? 19 bathrooms????  When I first moved to Southern California, in the year 2000, this mansion was actually under construction.  The building was finally completed about two years ago and has sat empty ever since. So strange!  Sadly, the original residence that sat on this site, which was featured featured as the Clampett's new upscale digs in the 1993 movie The Beverly Hillbillies, burned to the ground in a massive fire in 1998.  The monstrosity pictured above is what was built in its place.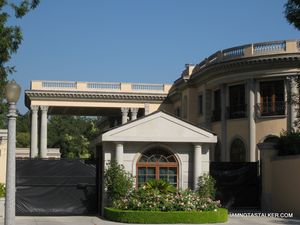 However, all is not lost, as the newly built mansion has a Hollywood resume of its own. Besides being featured in an LG commercial, the property showed up in a 2006 episode of CSI: Miami. I am fairly certain that the episode which filmed on the property was Season 4's "Driven", in which a group of rich women are robbed at gunpoint at an upscale hotel spa. I think the mansion's indoor pool and spa stood in for the hotel and spa in the episode. It's easy to see why producers chose to use this home as the hotel, as the mansion and surrounding property are so unbelievably huge and ornate that they could easily pass for a resort.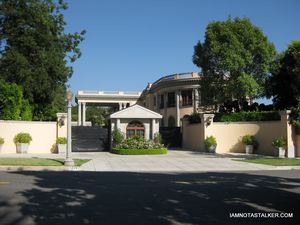 From what I understand the mansion has never been lived in and has been on the market for the past two years for the meager asking price of $52 million. You can take a look at its now-defunt real estate website here. According to this article, the mansion is one of the ten most expensive homes in the United States! And this article has some great pics of the unbelievable dwelling and its five acre property.
Until next time, Happy Stalking! 🙂
Stalk It: The largest home in Pasadena is located at 1288 South Oakland Avenue.
2490