"It Never Rains In Southern California . . . "
Feb 13th, 2009 | By
Lindsay
| Category:
Movie Locations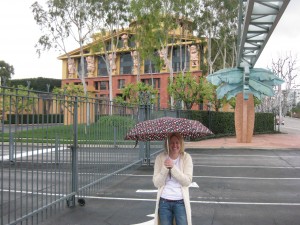 As the old Albert Hammond song says "It never rains in Southern California, but girl, don't they warn ya, it pours man, it pours!"  And pour it did almost all last week all over the normally sun drenched landscape of Los Angeles.  While on my way to stalk Burbank's Handy Grocery Store in the pouring rain this past weekend, I happened to pass right by Walt Disney Studios on Buena Vista Street and was reminded about a story I once heard that seemed quite fitting of the day's weather.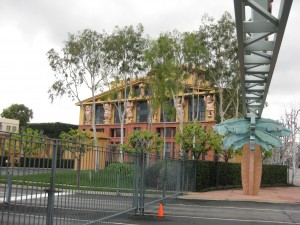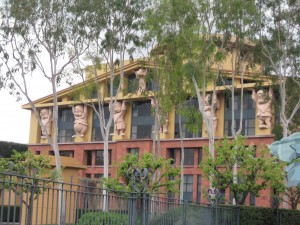 According to The Ultimate Hollywood Tour Book, journalist Peter J. Boyer stated in a Vanity Fair article that Disney is "a place so reviled that even its architecture inspires nasty rumors, such as the apocryphal story that architect Michael Graves arranged the drainage system in the Disney headquarters building [aka the Team Disney building]  in such a way that the huge sculpted Seven Dwarfs atop the edifice would seem to be peeing on Disney executives whenever it rained."  LOL  So, since it just happened to be raining at the time, I pulled over to see if Boyer's story had any merit.  🙂  After seeing the Dwarfs in person in the pouring rain, I have to admit that I think the anecdote is somewhat of an urban legend, but it still makes for a great story and hopefully a great blog post.  🙂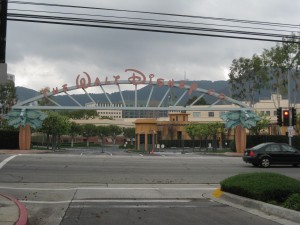 Walt Disney built his Burbank studio in 1940 after the enormous financial success of Snow White and the Seven Dwarfs – the world's first full length animated feature film.  At the time it was built the 41 acre lot was comprised of four full size soundstages (there are now six), a backlot that included a Western town, a town square, a residential street, and a small pueblo (the entire backlot has since been demolished), and recreation areas for employees which included ping pong tables and a volleyball court.  Over the years many productions have been filmed on the historic Disney lot, including That Darn Cat, Something Wicked This Way Comes, The Absent Minded Professor, The Swamp Fox, The Princess Diaries, Eight Simple Rules for Dating My Teenage Daughter, Boy Meets World, Home Improvement, Lizzie Maguire, Less Than Perfect, and Mary Poppins.  Ironically enough, Mary Poppins was filmed solely indoors, using up all four of the Disney Studio soundstages.  Even the Cherry Tree Lane set where the Banks Family lived was built inside of a soundstage. Being a huge Mary Poppins fan myself, I was highly disappointed when I found this out as I had always hoped to one day see Cherry Tree Lane in person.  🙁  On an interesting side note, even though he passed away in 1966, Walt Disney still holds the record for most Academy Awards won by a single person.  In his lifetime, he won a incredible TWENTY-SIX Oscars!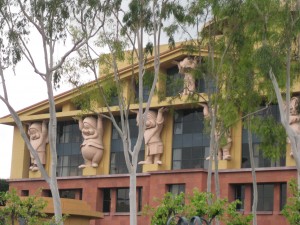 Unfortunately, Disney does not currently offer tours of its studio.  : (   But the good news is that the Team Disney building can be viewed from the street outside the studio gates.   If you are a big Disney fan, I highly recommend stalking the exterior of the building as it is very cool to see in person.  The Seven Dwarf statues are absolutely HUGE.  I was shocked at their size when I saw them in person as pictures simply do not do them justice!
Until next time, Happy Stalking!  🙂
Stalk It: Disney Studios is located at 500 S. Buena Vista Street in Burbank.  The Team Disney building, with its Seven Dwarfs facade, can be viewed through the main gate located just around the corner on Alameda Avenue.  Unfortunately the studio does not offer tours of its property. 🙁  But for $2,169 (per person!!!!!) you can purchase a 6 day/5 night "Hollywood and the Disneyland Resort" vacation from the Adventures by Disney Vacations company.  One of the days consists of a behind the scenes tour of Walt Disney Studios.
4568