Meet Me At 3rd and Fairfax!
Feb 17th, 2009 | By
Lindsay
| Category:
Celebrity Sightings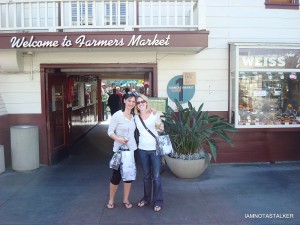 My boyfriend has some amazing celebrity karma!   He pretty much sees a movie star of some sort or another everywhere he goes.  And for some odd reason it seems his celebrity karma is especially strong when I am not with him.  It drives me nuts!!  Just a few of his celeb encounters that I somehow missed – he ate dinner once next to Calista Flockheart and Harrison Ford – and he didn't even look to see what, if anything, Calista ate!!, he shopped for CD's right next to Britney Spears at a Circuit City store, he sat next to Julia Louis Dreyfus during an outdoor theatre performance, and, my personal favorite, he stood behind Jennie Garth in line at a deli in San Ysidro.  Ugh!!!  Not that I am bitter about it or anything.  🙂  But I must say that the place where my boyfriend most often has a celeb sighting – I mean virtually EVERY SINGLE time he is there –  is the Los Angeles Farmers Market located at the corner of 3rd and Fairfax (pictured above – that's me and my good friend Stephanie in the pic).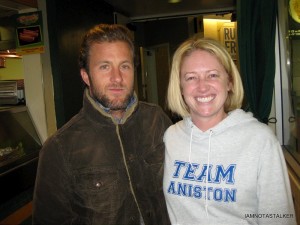 So the other night, while my mom and I were walking through the Farmers Market after dinner, I told her to keep her eyes peeled for celebs.  "Here???" my mom asked me in disbelief pointing to the numerous outdoor tables and metal folding chairs.  "Yes!", I told her.  "No, here????" she asked me again.  LOL  She could not believe that the popular, but by no means upscale or fancy, outdoor market was a celeb hot spot.  And wouldn't you know it, just as we were having this little tete-a-tete, who should we walk by but Scott Caan – star of the Ocean's 11 movies and son of movie star James Caan!   Due to my thrill over seeing him in person and the flurry over our slighty ill-timed conversation, I got just a bit flustered and immediately walked right into the men's room which happened to be located straight ahead of me.  LOL!  I'm not kidding!   After I recovered from walking into the wrong restroom, I just had to ask Scott if he wouldn't mind taking a pic with me.  He was super nice and friendly (even though he is not smiling in the above pic) and said he would be happy to pose for a photo.   After I got my pic and Scott walked away, I told my mom who she had just taken a picture of and she just about spazzed out at the fact that it was James Caan's son.  LOL   See what I mean, you've gotta keep your eyes open!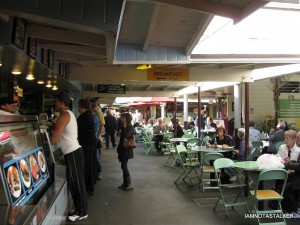 The Farmers Market (no apostrophe) was the brainchild of businessmen Roger Dahlhjelm and Fred Beck who in 1934 proposed creating an open air market on a vacant 30 acre parcel of land owned by oil tycoon Earl Bell Gilmore.  During its early days local area farmers would pay 50 cents a day to park on Gilmore's land and sell goods directly out of their trucks.  Those tailgate food stands became enormously popular and it wasn't long before permanent stalls had to be created and, thus, the Los Angeles Farmers Market was born.  Today the Market is an L.A. institution, housing over 70 permanent stalls and shops, employing more than 700 clerks, and serving up over 16 different varieties of native foods to an average of 3 million yearly visitors!  Somewhere along the way someone coined the phrase "Meet me at 3rd and Fairfax" and it became almost as famous as the Market itself.  🙂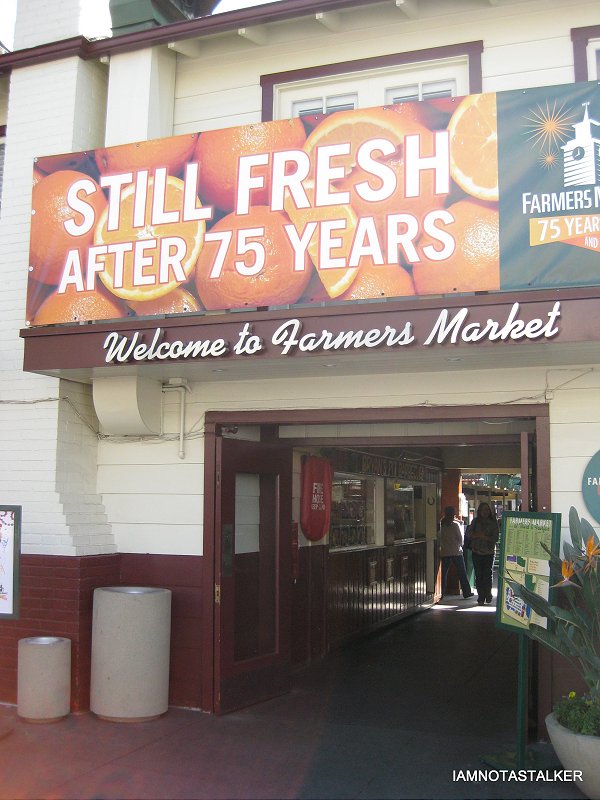 A few of you have been asking me lately for some information on the best place to spot celebs in L.A. – and I promise to do a post on that subject very soon.  But for the time being let me suggest the Farmers Market, which the Los Angeles Times recently called "the number one place in L.A. to spot stars!"   If you are visiting Los Angeles and want to see a movie star, this is definitely one of the top places I'd stalk. 🙂  On a recent trip there I spotted the ENTIRE Wayans Family and on my last visit I saw David Edwards who starred in the Real World: San Francisco!   Also spotted at the Market and at the nearby Grove Shopping Center: my girl Jen Aniston, Jay Leno, Lauren Conrad and Steven Colletti, Jessica Simpson, Rihanna, Mischa Barton and Brandon Davis, Teri Hatcher, Will Ferrell, Drew Barrymore, and (sigh!) Luke Perry.  The Market has had some historical brushes with celebrity, too.  Supposedly on the morning of September 30, 1955 James Dean ate his last meal there.  And legend has it that Walt Disney did some of his original sketches for what would later come to be known as Disneyland while sitting at the Market's circular tables.  Besides being a celeb hang out, the Market has also been featured in a few productions, including Body Double, Stigmata, an episode of Diagnosis Murder, and in the Season One episode of my fave The Hills entitled "Somebody Always Has To Cry".
Until next time, Happy Stalking!  🙂
Stalk It: Farmer's Market is located at 6333 West 3rd Street, at the corner of Third and Fairfax, in Los Angeles.  I highly recommend eating at DuPars while visiting.  Tyra Banks, Teri Garr, and He's Just Not That Into You author Greg Behrendt are all fans of the 70 year old restaurant.  For dinner you just can't beat their "Beat the Clock" menu – a special menu where everyday between the hours of 4 and 6pm, the hour you arrive is the price you pay for your meal.  Yes, that means that if you arrive at 5:30pm, your meal (not including a drink) costs $5.30!  And the food is really good!  For slightly more money, head on over to Monsieur Marcel – a superb restaurant with great food and even better service.
4583