The "'Til There Was You" Apartment Building
Feb 18th, 2009 | By
Lindsay
| Category:
Jennifer Aniston Locations
,
Movie Locations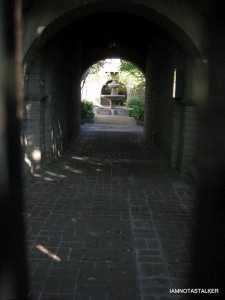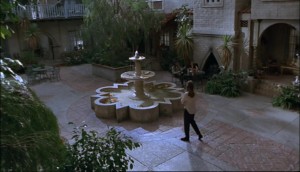 Another day, another elusive location found thanks to Mike – God of Stalking – over at MovieShotsLA.  🙂  I have been challenged several times over the past few months to find the beautiful courtyard apartment building featured in the 1997 movie 'Til There Was You. Unfortunately I had never seen the movie before and my local Blockbuster did not carry the title.  And according to Amazon.com, the DVD had been discontinued by the manufacturer.  So I thought I was really out of luck on this one, as without seeing the movie firsthand I had no idea what I was looking for.  Then, a couple of weeks ago, I just happened to mention my quandry to Mike and he set out to find the location.  Within about fifteen minutes Mike called me back with an address.  Amazing!  He had found the location by doing a simple Google search.  And all this time I had been trying to find the DVD.  But who needs a video or screen captures when you've got mad stalking skills like Mike?  LOL  🙂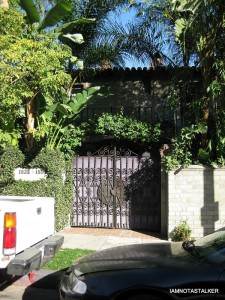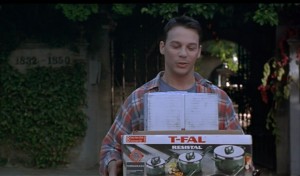 Once Mike had found the location – and once I found out that BOTH my girl Jen Aniston and SJP starred in the movie – I decided to make one last ditch effort to purchase the DVD.  And sure enough, I found it on Ebay!  The only problem?  For sale was a Region 2 DVD, which meant it would only work on European DVD players.  LOL  Thank God my boyfriend is good with computers, because somehow he was able to rig my laptop so that I could watch the movie.   So, finally – after about a six month long wait – I got to see 'Til There Was You.  I must say that the movie was pretty cute.  I wouldn't recommend going through what I did to watch it, but if you happen to see it in a video store, it's worth a rental.  🙂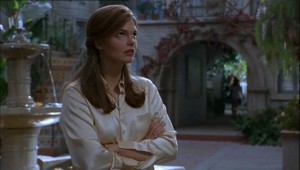 The entire premise of 'Til There Was You centers around the proposed demolition of a Spanish style courtyard apartment building named La Fortuna.  In the movie the building has a very romantic quality to it and everyone who sets foot inside of its picturesque courtyard immediately falls in love with it.  In real life that apartment building is named El Cabrillo and it is no stranger to the film industry.  El Cabrillo was constructed in 1928 by none other than Cecil B. DeMille who needed a place to house his out of town actors.  The building was designed by noted architects Arthur and Nina Zwebell, who built numerous Los Angeles courtyard style apartment buildings in the 1920's, many of which are now on the National Register of Historic Places. Notables who have lived in the building at one time or another include transvetite actress Divine, actress Ann Harding, director Lowell Sherman, makeup artist Perc Westmore, and playwright John Willard.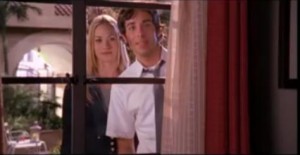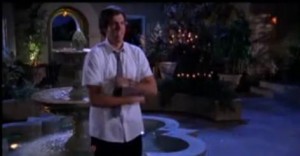 Besides being featured in 'Til There Was You, legend has it that El Cabrillo was also used in a Rudolph Valentino movie many moons ago.  It is also currently being used as the home of the main character on the television series Chuck. Interestingly enough, Chuck's pilot episode was actually filmed on location at El Cabrillo.  The courtyard area and three different apartments were used for that episode.  But once the show got picked up by NBC a replica of the apartments and the courtyard were rebuilt on a soundstage at Warner Brothers Studios in Burbank.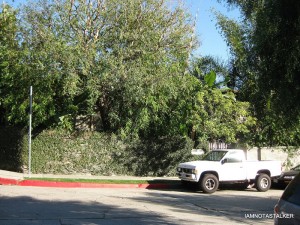 Sadly, El Cabrillo's gates were closed while I was stalking it, so I did not get to see the interior courtyard area.  From the outside El Cabrillo is amazingly non-descript and completely covered in foliage.  You could easily drive right past the building without realizing the beauty that lies just on the other side of its gates.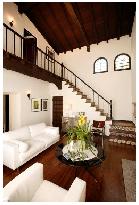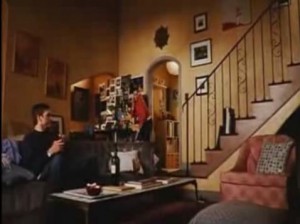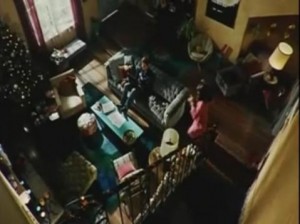 But for those of you who would like an up-close-and-personal look at the building, I have some good news!   A few of the units are currently available as vacation rentals. And it appears from the rental website photographs that El Cabrillo's interiors are absolutely beautiful!!  They actually remind me a lot of the interior of Amanda Peet's apartment in fave movie A Lot Like Love.  In fact the interiors are so similar, that I can't help but wonder if the A Lot Like Love set was modeled after the interior of a real El Cabrillo apartment (both are pictured above).
Until next time, Happy Stalking!  🙂
Stalk It:  The 'Til There Was You apartment building, aka El Cabrillo, is located at 1832-1850 North Grace Avenue in Hollywood.
5117