Le Borghese Apartments
Feb 19th, 2009 | By
Lindsay
| Category:
Movie Locations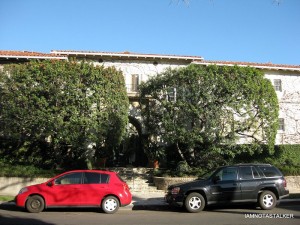 While Mike, from MovieShotsLA, was cyberstalking the 'Til There Was You  apartment building a few weeks ago, he came across a comment on a website which stated that the very same building from 'Til There Was You  was also used in the 2001 David Lynch thriller Mulholland Dr.   Well, after doing a bit more research, Mike and I discovered that information is actually incorrect.  While there was a Spanish style courtyard apartment building featured in Mulholland Dr., it was not the El Cabrillo apartments which I blogged about yesterday.   The building used in Mulholland Dr. is actually named Le Borghese and while it does not look very similar to El Cabrillo, both buildings are extremely picturesque and serene and it is easy to see how they might have been confused for each other.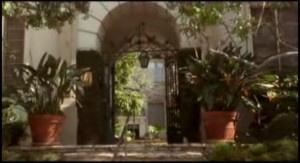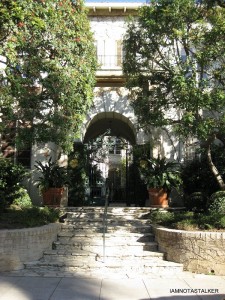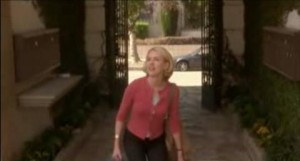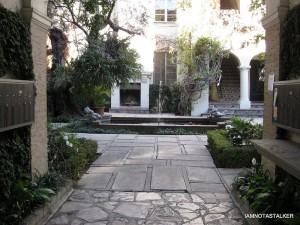 I have yet to see Mulholland Dr., but I really want to now after researching this post.  Especially since the movie centers around an actress trying to make it in the bizarre world of Hollywood.  I'm pretty sure I can relate.  🙂  I have heard from more than person, though, that Mulholland Dr.  is by far the strangest movie they have ever seen.   LOL  In Mulholland Dr., Betty Elms (Naomi Watts) stays at the Le Borghese after moving to Hollywood to try her hand in show business.  Ann Miller plays Betty's apartment manager, CoCo, in her very last onscreen role.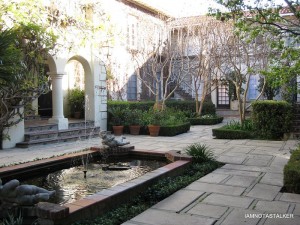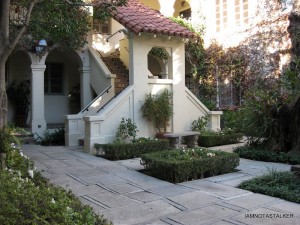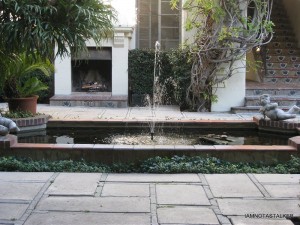 Le Borghese was built back in 1929 by architect Charles Gault, who built a number of famous courtyard buildings in the L.A. area in the 1920s.  Apparently a large olive tree existed on the lot where Le Borghese was to be built and instead of uprooting the tree, Charles ended up centering the building's courtyard around it.  That tree is still there today and is now over 100 years old.  Luckily, Le Borghese's front gates were wide open while I was stalking the place, so I got to venture inside for a little looksie.  All I could think after stepping inside the building's amazing central courtyard was "I want to live here!"  🙂  Le Borghese is quite an idyllic place.  It is peaceful and serene, with koi fish and turtles swimming in the central fountain, numerous crawling wisteria vines, an outdoor fireplace, and light green benches tucked away in shaded alcoves.   After seeing the building in person, it is no surprise that Le Borghese was chosen to be featured on the cover of the book Courtyard Housing in Los Angeles.  The building was also featured in the 1996 movie The Truth About Cats and Dogs.  I highly recommend stalking Le Borghese as it is one of the most beautiful apartments I have ever seen!  You can see more photographs of the building here.
Until next time, Happy Stalking!  🙂
Stalk It: The Le Borghese apartments are located at 450 North Sycamore Avenue in the Hancock Park area of Los Angeles.
5188