How To Spot a Movie Star!
Feb 20th, 2009 | By
Lindsay
| Category:
Celebrity Sightings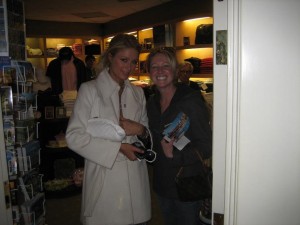 Because so many of you have been asking lately, and in honor of the upcoming Oscar Weekend, I thought I'd do a post today on the best places to go in L.A. to see a star.   But first let me start by saying that if your sole purpose in visiting L.A. is to see celebs – and let's be honest, what other reason is there? 🙂 – the very best time of year to plan your trip is Oscar Weekend.  I've said it before and I'll say it again – Hollywood comes alive for the Oscars.  I swear it's like celebrities come out of the woodwork during that time of year and everyone who's anyone is here.  Last year this fellow stalker took my Oscar Weekend advice (you can read that advice – Part I and Part II –  here)  and saw 68 celebs – yes, she counted.  🙂  But if you can't make it to L.A. this weekend – have no fear!  I have advice for the other 51 weeks of the year, too!  So where is the best place to go to see a movie star?  The answer to that question is actually quite simple.  It's two words, really.   Hotel bars!   Or hotels in general for that matter – hotel lobbies, bars, restaurants – they'll all do.  A few years ago I realized that for whatever reason, almost every single time I visited a hotel restaurant or bar in the Hollywood/West Hollywood/Beverly Hills area I spotted someone famous.  So now I've pretty much made a habit out of stalking hotel bars.  And there are quite a few that stand out in my mind as celeb magnets.
So, without further ado, here is my list of must-stalk hotels (in no particular order, except for the last one):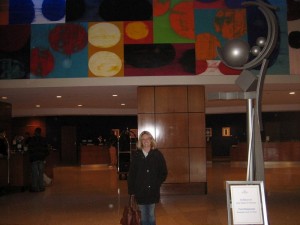 1. Hollywood Renaissance Hotel – 1755 North Highland Boulevard in Hollywood.  I've spotted Nikki Blonsky and Will Smith on different visits to this Hollywood hotel.  The lobby was also featured in the movie Red Eye.  The lobby bar is located just to the right of the main entrance.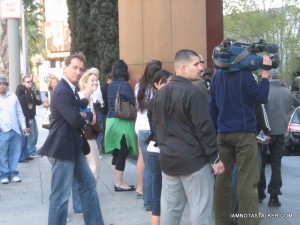 2. The Mondrian Hotel – 8440 Sunset Boulevard in West Hollywood.  This is one of my favorite hotels in all of Los Angeles.  The staff is always warm and friendly and the views from the pool and the hotel's Asia De Cuba restaurant are to die for!  I've spotted both Victoria Beckam and Spike Lee at the Mondrian.  Britney Spears had one of her meltdowns during her shaved head period at the Mondrian's pool.  Pictured above is me standing with all of the paparazzi waiting to see Victoria Beckham a few years ago. 🙂  I'm the one poking my head out behind the guy in the blue blazer.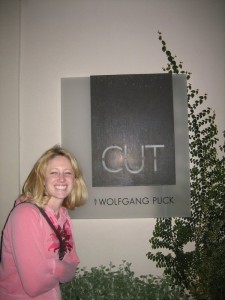 3. The Regent Beverly Wilshire – 9500 Wilshire Boulevard in Beverly Hills.  Besides being the hotel where Pretty Woman  was filmed, the Regent Beverly Wilshire also hosts the Night Before the Night Before Party each year during Oscar weekend.  I also spotted Jake Gyllenhaal in the hotel's lobby one random Friday afternoon.  And Spencer and Heidi are big fans of the restaurant Cut located inside the hotel.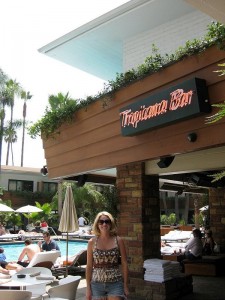 4. Hollywood Roosevelt Hotel – 7000 Hollywood Boulevard in Hollywood.  I've blogged about this hotel numerous times before as it is so steeped in Hollywood history.  Almost every celebrity in history has been spotted at this hotel.  Marilyn Monroe and Montgomery Clift used to live there and today celebs like Lauren Conrad and Nicole Richie hang out by the Tropicana Bar at the hotel's pool.  I even got to meet Kristin Cavallari once while hanging out at the Tropicana.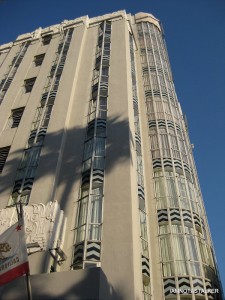 5. Sunset Tower Hotel – 8358 Sunset Boulevard in Hollywood.  Another of my favorite L.A. hotels.  Both the Tower Bar and the Terrace Room boast A-MA-ZING views and serve up some great cocktails and hors d'oeuvres.   I met Kate Bosworth on one of my visits to the Terrace Room and both Jen Aniston and Kevin Spacey are regulars at the Tower Bar.  I really can't recommend this place enough!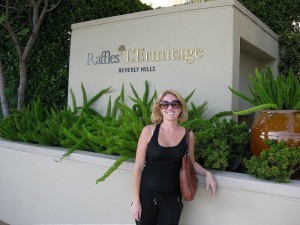 6. Raffles L'Ermitage – 9291 Burton Way in Beverly Hills.  This is the place where Brenda and Dylan shared their first kiss on the original 90210  series, so of course it holds a special place in my heart.  🙂   I've heard that seeing a celeb at the hotel's Writer's Bar (where scripts of legendary movies line the walls) is pretty much a sure thing.  While I was stalking the hotel I spotted James Woods who supposedly lives there.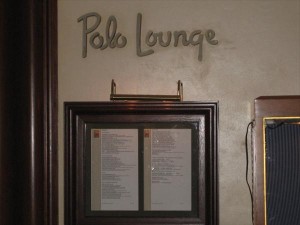 7. Beverly Hills Hotel – 9641 Sunset Boulevard in Beverly Hills.  This hotel hosts the Night Before Party every year during Oscar Weekend.  And I almost always spot a celeb at the hotel's legendary Polo Lounge Restaurant.   While there I've seen Paris Hilton (first picture of this post), Rob Reiner, Elle Macpherson, and Reese Witherspoon.  It's one of my favorite bars in all of L.A.  It's pricey, but so worth it!
8. Beverly Hilton Hotel – 9876 Wilshire Boulevard in Beverly Hills.  This hotel plays hosts to OVER 200!!!!! celebrity events and awards show parties each year, including the annual Clive Davis Pre-Grammy Party.  There is an event there pretty much every Saturday night and you can literally just park yourself in the lobby bar, order up a few champagnes, and enjoy your perfect view of celebrity arrivals through the front door. 
9. Viceroy Santa Monica- 1819 Ocean Avenue in Santa Monica.   Celebs LOVE this ultra-modern avant-garde hotel, especially Britney Spears and LLo who are regulars.  Kate Beckinsale has also been spotted here.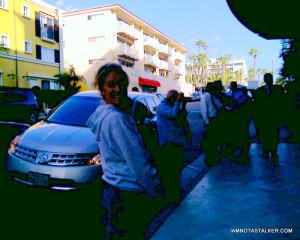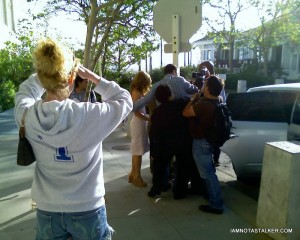 10. Casa Del Mar -1910 Ocean Way in Santa Monica.  Once while grabbing a drink at this seaside hotel, I spotted my girl Jen Aniston, Vince Vaughn, Joey Lauren Adams, and Jon Favreau who were all there doing publicity for The Break Up.  Katie Holmes, Mandy Moore, Britney Spears and KFed have all stayed at the hotel at one time or another.  Casa Del Mar is very historic and very upscale and it's centralized lobby bar is situated in the perfect location for viewing the many celebs who enter the front door.  Shutters Hotel located right next door to Casa Del Mar is also a notorius celeb hangout.  The above pics were taken with my camera phone the day we saw Jen.  The first pic is of me standing with the paps outside Casa Del Mar and the second is of Jen getting into her waiting car.   You can't really tell, but I am wearing my Team Aniston sweatshirt in the pics – when Jen saw it she pointed and said "Oh, thank you!"  lol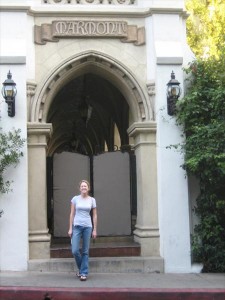 11. Chateau Marmont – 8221 W. Sunset Boulevard in West Hollywood.  A list of celebrity hotspots would not be complete without at least a mention of the famed Chateau Marmont.  The problem is I hate this place!  The staff is pretentious and snooty and if you aren't a celeb, they pretty much treat you like dirt.  Which I'm sure is one of the reasons stars like the place so much.  LOL  COUNTLESS celebs have visited this hotel including Britney Spears, Lindsay Lohan (who used to live there), Jennifer Aniston, Drew Barrymore, Ginnifer Goodwin, the late Heath Ledger and his wife Michelle Williams, etc., etc., etc.  But if you happen to spot a celeb while visiting the Chateau DON'T EVEN THINK of going up to them or snapping their pic (no cameras of any kind are even allowed in the hotel! I'm not kidding).  Which is, again, probably why celebs love the place so much – and why stalkers hate it.  🙂
It is at this point that I realize my list of hotels could go on and on.  Why?  Because looking back on my eight years of living in L.A. I can hardly think of a time I visited an upscale hotel and didn't  spot a celeb.  You really can't go wrong with any hotel you choose.  What can I say – celebs love 'em.  And why not?  If I was rich and famous I'd be constantly staying in hotels, too.  Who wouldn't want daily turn down service and a nightly pillow mint?  🙂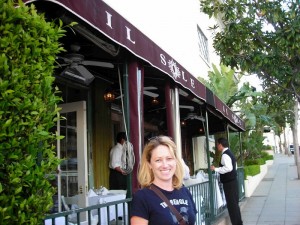 Restaurants can also be good places to see celebs, but I've always had better stalking luck at hotels.  If you want to try your hand at a restaurant, though, these are the ones I'd recommend:  Marix Tex Mex Cafe (a Jen Aniston favorite located at 1108 N. Flores Street in West Hollywood – she sits on the patio), The Ivy (THE celeb stalking restaurant located at 113 North Robertson Blvd. in Beverly Hills – every celeb and their mother has dined here), Ago (the Robert Dinero owned Italian restaurant where Quentin Tarantino once punched out his dinner mate located at 8478 Melrose Avenue in West Hollywood), Nobu (another Jen Aniston – and every other celebrity – favorite located at 3835 Cross Creek Road in Malibu), Katsuya ( a celeb fave sushi spot located at 11777 San Vicente Blvd. #120 in Los Angeles), Orso (Simon Cowell's favorite located at 8706 West 3rd Street in Los Angeles), Il Sole (Jen's absolute fave and notorius celeb hot spot located at 8730 Sunset Blvd. in West Hollywood), and, finally, Madeo (the celeb restaurant du jour located at 8897 Beverly Boulevard in West Hollywood).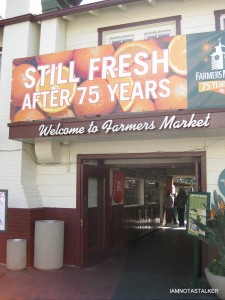 And finally, a few random locations where celebs always seem to congregate: the Brentwood Country Mart  shopping center which seems to be Jennifer Garner and Ben Affleck's home away from home; the Santa Monica Farmers Market – an outdoor food bazaar that occurs on Arizona Avenue twice weekly (Wednesday and Saturday mornings) where a lot of celebs buy their produce; Malibu Country Mart – Malibu's main upscale shopping center; and the place I blogged about on Monday, the Los Angeles Farmers Market.  It seems celebs like farmers markets and country marts.  🙂  LOL
My final piece of advice?  If you are in the Beverly Hills/Hollywood/West Hollywood area and you see a large group of men standing out in front of a hotel or restaurant, pull over immediately!  Those men are paparazzi, which means there is a celeb in the vicinity!!  🙂   I've seen quite a few celebs just by spotting the paps.  🙂  And if you are lucky enough to come across one of those yellow signs that I love so much, stop!!! and ask the crew what is being filmed.  Most crews are very friendly and will let you on set to watch!
So there it is – my advice on the best places to go celeb-stalking.  Just visit a hotel, mill around the lobby a bit, grab a bite to eat or just a cocktail (much cheaper than an entire meal) and sit back and wait for the celebs to arrive.  🙂  
Until next time, Happy Stalking!  🙂
5225