Becky Bloomwood Takes on the El Capitan!
Feb 27th, 2009 | By
Lindsay
| Category:
This and That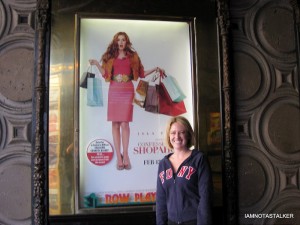 I have long been obsessed with the "Confessions of a Shopaholic" book series authored by British novelist Sophie Kinsella (aka Madeline Wickham).  So obsessed in fact that about five years ago when I heard that Hollywood was optioning a screenplay based on the novels, I wrote to Sophie pitching myself for the movie's lead role. I must say that I was absolutely born to play the story's heroine, Becky Bloomwood – a slightly daft shopaholic with a completely unique and upbeat take on the world.  So when Sophie Kinsella wrote me back, as you can imagine, I just about died!!!  And then when it was announced that Sophie's one and only West Coast stop on her  Shopaholic and Baby  book tour was going to be at my fave bookstore, Vroman's, I thought it was a sign from above.  In March of 2006 I did indeed get to meet Sophie at her book signing and – get this – she remembered me and my letters.  Being that I decorated the letters with about a hundred sparkly shoe stickers that I made myself, I guess they were pretty unforgettable.  LOL   🙂  So as you can imagine I was absolutely crushed when in late 2006 it was announced that Isla Fisher had won the much-coveted role of Becky. 
The most crushing part of all for me was my belief that Isla Fisher was just simply not the right person to play Becky.  If it wasn't going to be me playing that part, then it better be someone darn perfect for the role!  And Isla just wasn't it.  So yesterday after much begging and pleading my friend Blaze finally convinced me to see Confessions of a Shopaholic  with him.  And I have to admit that, surprisingly enough, I didn't hate it.  I didn't love it either, mind you, I didn't even really like it.  But at least I didn't hate it.  LOL  But they really should have given the movie a different title, because in no way, shape, or form does it resemble the novels I've grown to know and love.  Aside from the characters' names, the story is pretty much unrecognizable.  And while Isla was funny – she just wasn't Becky.  I so wanted to see the warm-hearted, but hair-brained character I love so much up on that screen.  And sadly, Isla wasn't it.   So, if you want my advice, don't bother with the movie if you are at all a fan of the books.  And if you're not a fan of the books, but just want to see a romantic comedy, I'd instead recommend  He's Just Not That Into You.   🙂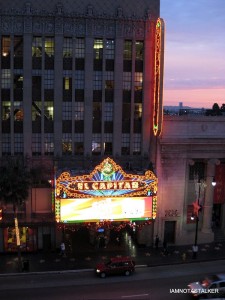 The only good part about seeing Shopaholic  yesterday was that we got to watch it in the famed and historic El Capitan Theatre on Hollywood Boulevard.  I so rarely go to the El Capitan and, honestly, I have no idea why as it is one of the most beautiful movie palaces in all of L.A.  The El Capitan first opened up on May 3, 1926 and was strictly a live theatre venue.  The exterior was designed in the Spanish Colonial style by art deco architect Stiles O. Clements, who was also the designer of the Wiltern and Mayan Theatres in Los Angeles.  The interior was designed by San Francisco theatre designer G. Albert Lansburgh, who was also responsible for designing the Shrine Auditorium in L.A. and the War Memorial Opera House in San Francisco.  The interior alone cost over $1.2 million to construct.  For over a decade the El Capitan had an enormously successful run showcasing live theatre performances starring such legends as Clark Gable, Buster Keaton and Will Rogers.   During the Great Depression the theatre began to falter and was in danger of closing its doors.  Until 1941 when a young director who was having trouble finding a theatre that would premiere his new movie asked if he could rent out the El Capitan.  That director was Orson Welles and the movie was Citizen Cane.  That premiere gave new life to the theatre and not long afterwards, theatre executives decided to close the space for a year in order to modernize it and customize it for film premieres.  On March 18, 1942, armed with a new design and a new name, the Hollywood Paramount Theatre opened to the world.  It's first movie showing was Read the Wild Wind.   The Paramount became wildly successful hosting premieres for all of the Hollywood greats, including my girl Marilyn Monroe. 🙂   In later years the theatre came to be owned by Pacific Theatres, who in 1989 partnered up with the Walt Disney Company and decided to restore the Paramount to its original glory.  The theatre closed its doors once again.  This time for two years, while undergoing a $14 million renovation.  When it re-opened in 1991, the original name had been restored and the original glamour unearthed once again.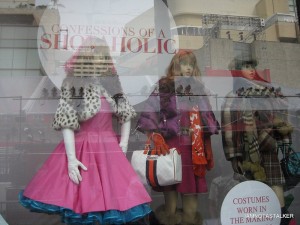 Today the El Capitan is where Disney holds most of its Hollywood premieres.  In the past Lilo and Stitch, Monsters Inc., Bolt, Miracle, Herby: Fully Loaded, and countless, countless others have premiered there.  Oftentimes, before the start of a movie, the El Capitan will feature a live-action pre-show starring some of your favorite Disney characters. And a display featuring props, costumes, and memorabilia from the movie currently playing is usually set up in the El Capitan's basement for fans to enjoy.  I took the above photo of some of Isla Fisher's costumes from Confessions of a Shopaholic, but it didn't come out very well.  The El Capitan is absolutely breathtaking inside and its lobby and hallways have countless photographs showcasing the history of the legendary theatre and the hundreds of stars who have attended premieres there.  My favorite part of the El Capitan, though, has to be the Disney Soda Fountain and Studio Store located just off the theatre's main lobby.  The Soda Fountain serves up some fabulous hot dogs and ice cream sundaes – and the walls are lined with photographs of the many stars who have dined there.  I can't recommend stalking the El Capitan enough – but I'd wait until Shopaholic  leaves and a new movie comes.  LOL   
Until next time, Happy Stalking! 🙂
Stalk It: The El Capitan Theatre is located at 6838 Hollywood Boulevard in Hollywood, directly across from the Hollywood & Highland complex.
5459