Tom and Gisele's Big Day
Mar 3rd, 2009 | By
Lindsay
| Category:
This and That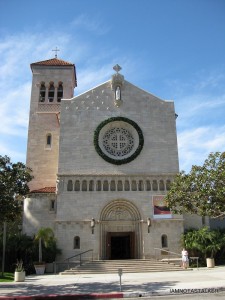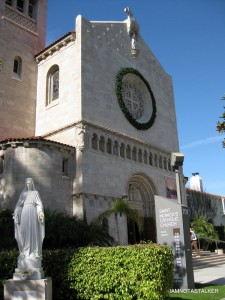 Last Friday night while watching my new favorite show Talk Soup (why on earth I was not a regular watcher before is beyond me!!!!), a news flash splashed across my screen announcing that New England Patriots quarterback Tom Brady had wed supermodel girlfriend Gisele Bundchen the previous evening.  According to reports the hush-hush ceremony took place on the evening of February 26th at Saint Monica's Catholic Church in Santa Monica and only a few guests were in attendance.  Even though I am in no way, shape, or form a fan of Tom or Gisele, since I just happened to be in the area this weekend, I thought I'd stalk the church where their nuptials took place.  🙂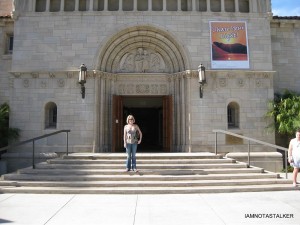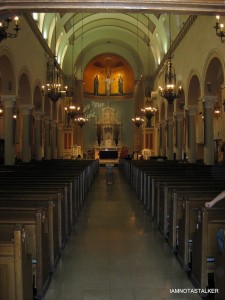 I've actually been to St. Monica's Church quite a few times over the years, as it used to be my boyfriend's local parish.  It is an absolutely beautiful place, inside and out, and I am not at all surprised that Gisele and Tom chose it for their top-secret ceremony.  The church was established way back in 1886, but the church that now stands at the corner of 7th Street and California Avenue wasn't built until 1926.  There is also an elementary school and a high school on the site.  Since it's inception over 123 years ago, St. Monica's has grown to become one of the largest Catholic congregations in the Los Angeles area.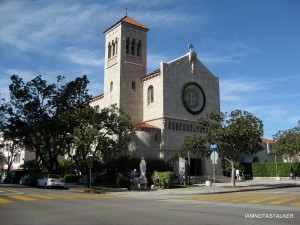 Saint Monica's Catholic Church is no stranger to celebrity.  It was featured in both the 1956 film Full of Life and the 1944 Academy Award winning musical Going My Way.  Barry Fitzgerald, the lead character in Going My Way, was actually based on former  St. Monica Monsigor Nicholas Conneally.  Besides Tom and Gisele, other celebrities who are fans of the church include Martin Sheen, Brooke Shields, architect Frank Gehry, and Lawrence Welk.  Lucy Lawless aka Xena, Warrior Princess, was married at St. Monica's in 1998 and the memorial services for both Chris Farley and Lucille Ball were held there in 1997 and 1989 respectively.
Until next time, Happy Stalking!  🙂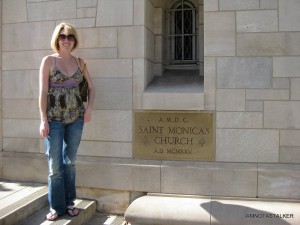 Stalk It: Saint Monica's Catholic Church is located at 725 Santa Monica Boulevard in Santa Monica.
5573