Jason Mesnick's Bachelor Pad
Mar 4th, 2009 | By
Lindsay
| Category:
90210 & Beverly Hills, 90210 Filming Locations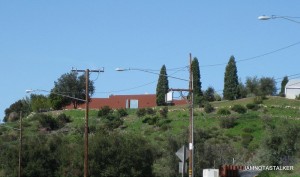 Monday night's episode of The Bachelor  was all that RealitySteve  promised it would be – and more!  The show played out pretty much EXACTLY as he said it would and I completely agree with him that the finale's "shocking twist" was a set-up from the get-go.  Something about Molly's reaction during the After the Final Rose  program just didn't ring true for me.  I mean, come on, she got dumped two months ago on national TV, then Monday night she finds out that the girl she was dumped for just got dumped herself (also on national TV), and then the dumb-ass guy asks her if he can have another chance????  Anyone with half a heart would need at least an hour or so to process all that information!  Not Molly, though – she had her lips on Jason's before they could even cut to a commercial break.  And we're supposed to believe that was her "real" reaction?  Come on, ABC!   No woman in her right mind would react that way!  I mean doesn't she find it just a wee bit unsettling that Jason has now proposed to three different women, none of whom it's worked out with??  Hello – red flag!   But I must say that as obvious of a set-up as the whole thing was and as horrible as I felt for poor Melissa, damn if that didn't make for some good TV.  I was absolutely glued to my television set for the entire three hours!  And I have to admit I have a new found respect for Melissa.  LOVED when she called Jason a bastard.  LOL LOL LOL  You go girl!  Anyway, since earlier this week I stalked the house the women lived in on this season of The Bachelor, today I thought I'd blog about Jason's pad.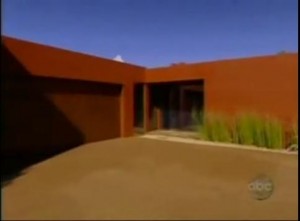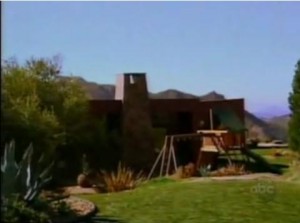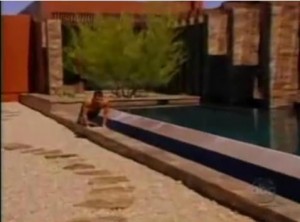 During the first half of this season's Bachelor, Jason Mesnick lived in a red adobe style home that looked like it belonged in Arizona or New Mexico rather than in L.A.    Jason's son Ty, who someone on RealitySteve's site commented looks just like Eddie Munster LOL LOL LOL, also lived in this house during the filming – notice the jungle gym in the above screen caps.  This house was the site of Jason's infamous camping date with Molly where the two supposedly stayed up all night "talking" in their tent.  Yeah right!  About halfway through the season, Jason moved out of this house and into what was supposedly his Seattle home.  In reality, though, that house (like everything else on the show) was a fake and didn't truly belong to him.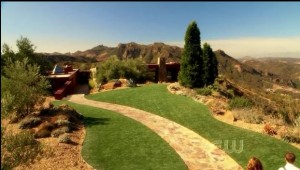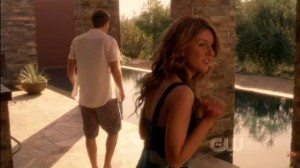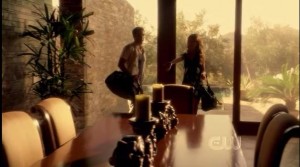 Ironically enough, I first started searching for this home when it appeared on an episode of the new 90210 series earlier this year.  The home was featured in the episode entitled "Love Me or Leave Me" in which Annie and Ethan take a little overnight vacay to Palm Springs.  In the episode the two spend the night in Annie's grandmother's house, which just happens to be the very same home Jason lived in on The Bachelor.  When the home first appeared on 90210, I believed it was actually located in Palm Springs.   It wasn't until I recognized it a few weeks later on The Bachelor that I realized it had to be located somewhere in the L.A. area, most likely Malibu.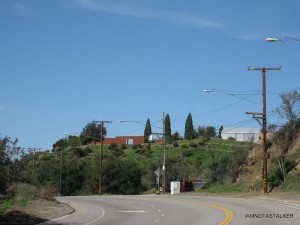 I am sad to say that it took me much longer than it should have to find this house, being that it is located ON THE SAME STREET as the house the women lived in on The Bachelor.  LOL  In fact I drove right by it the other day while out stalking the women's house, but just didn't realize it.  I'm oh so observant!  So when I finally found the house today after doing some cyberstalking, I could have kicked myself!  I knew the two Bachelor  homes had to be located fairly close to each other, but I had no idea they'd be on the very same street less than a mile apart.  LOL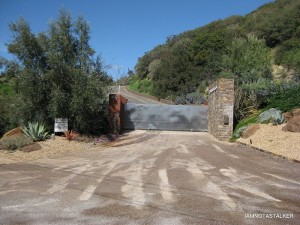 Sadly, not much of the home, which is named Rancho Cielo, is visible from the street.  You can see just enough of it to recognize it as The Bachelor  house, but even so I wouldn't make any sort of special trip out there to see it.  I'd stay home and cybertsalk it instead.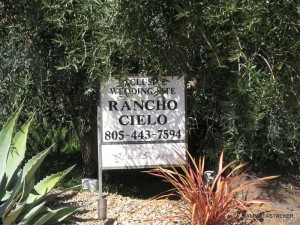 According to the sign out front, besides being available for filming, Rancho Cielo is also currently used as a wedding venue.  And while Jason didn't have much luck in the love department while living there, it still looks like a beautiful place to get married.   LOL   You can visit the home's wedding website here. 
On a side note – if you didn't catch Jason's appearance on Monday night's Jimmy Kimmel Live, you really need to watch it!  I wouldn't have believed it if I didn't hear it with my own ears, but on the show Jason actually said – and I am quoting here – "I think at some point her [Melissa] and I will be friends again."  WOW!   Seriously????  Jason, you're an even bigger idiot than I thought!  LOL  Jimmy Kimmel's reaction to that quote was absolutely priceless!  LOL LOL LOL
Until next time, Happy Stalking!  🙂
Stalk It: Jason Mesnick's Bachelor pad, aka Rancho Cielo, is located at 430 Kanan Road in Malibu.
5596