Flash Forward!
Mar 12th, 2009 | By
Lindsay
| Category:
TV Locations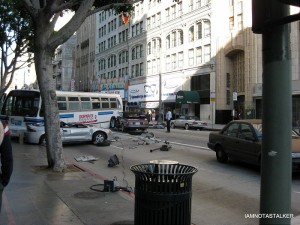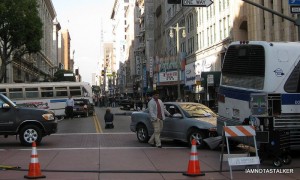 This past weekend, while out doing some stalking, my boyfriend and I happened upon a rather large film shoot that shut down an entire block in Downtown Los Angeles.  So, of course, we just had to pull the car over to find out what was being filmed.  🙂  Turns out it was the pilot episode of a new Lost-esque television series entitled Flash Forward  that is set to premiere on ABC this Spring.  The series is based on a science fiction novel of the same name written by Robert J. Sawyer.  While the crew members were pretty tight-lipped about plot details and the show's cast, they did let me snap some pics of the production.  🙂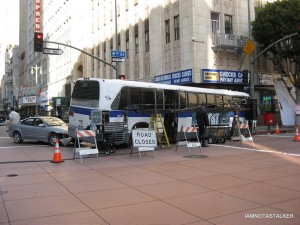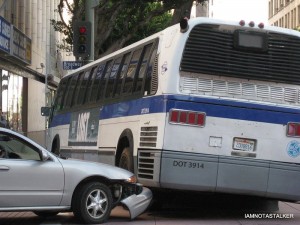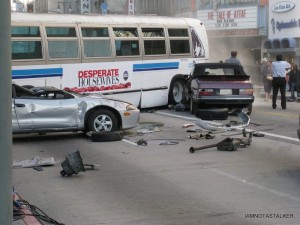 And what a production it was!!  I've don't think I've ever seen a movie set that was quite so large or quite so involved.  And what amazed me the most was how realistic everything seemed.  It truly felt as if we were viewing a real life disaster area.  The scene being filmed centered around a major accident involving several overturned cars and two totalled buses.  If you look closely at the above pics, you'll notice that both buses used in the filming feature advertising for ABC shows (Lost  and Desperate Housewives) on their sides.  LOL   Gee, I wonder what network this show will be airing on.  😉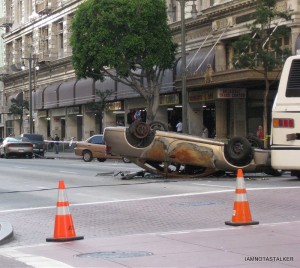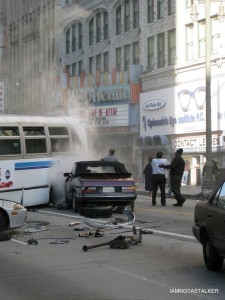 When I got home from stalking the Flash Forward  set, I did some cyber-research on the show and this is the info I was able to gather. The script for the pilot episode, which is entitled "No More Good Days", was written by David S. Goyer (author of The Dark Knight  and Batman Begins  movies among many others) and Brannon Braga (co-executive producer of the series 24).  The show's premise is this: at the exact same time all across the globe all of humanity loses consciousness for approximately two minutes.  During that brief period of time people everywhere "flash forward" to a moment exactly five months into their future to witness an unexpected event in their lives.  Sort of like what happened when the Ghost of Christmas Future visited Ebenezer Scrooge in A Christmas Carol.   🙂    Adding to the drama is that fact that during the worldwide black-out, chaos takes over the earth – there are plane crashes, car accidents, deadly falls, etc. – and 40 million people lose their lives.   Even though I am not a fan of the science fiction genre (I've never watched even one episode of Lost), I have to admit that Flash Forward's  already got me hooked and I am for sure going to tune in!  The show stars Joseph Fiennes, John Cho, and Courtney B. Vance.  You can read a great article about the new series here.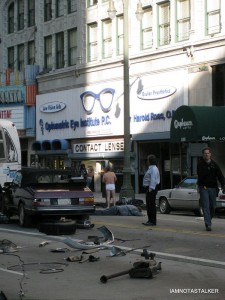 And although I didn't see any stars while stalking the Flash Forward  filming, I did spot an actor walking around in his tighty-whities (pictured above).  LOL   
Until next time, Happy Stalking! 🙂
Stalk It: Flash Forward  was filmed on South Broadway in between 8th and 9th Streets in Downtown Los Angeles.  Look for Flash Forward  to premiere on ABC sometime this Spring in the time slot before Lost.
5807