Where The American Idol Contestants Live
Mar 23rd, 2009 | By
Lindsay
| Category:
Celebrity Homes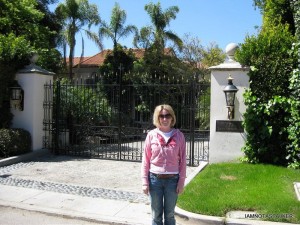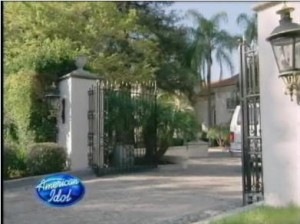 Even though American Idol  is not a show I regularly watch, I was completely floored to find a two page article in this week's US Magazine  featuring the mansion the current Idol contestants are calling home.  I love me some celebrity real estate!   And while US  didn't give the exact location of the Idol  pad, it did publish several photos of the 35,000 square foot manse and stated that it was located somewhere in Bel Air.  Well I, of course, got to cyberstalking and it wasn't long before I had located the Mediterranean style home.  And I immediately dragged my boyfriend right out to stalk it.  🙂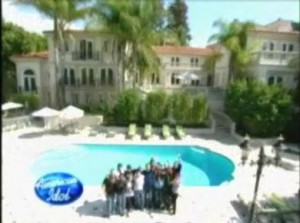 In years past, the Idol  contestants were put up in an exclusive apartment building called The Marlow which I blogged about last year.  Well, the economy may be bad, but the Idol  finalists are movin' on up, because this season they are residing in a rented four story, nine bedroom, twenty bathroom (I'm not kidding!) mansion that sits on over an acre of well-manicured land.  According to one real estate website, the home, which was originally built in 1927, boasts two pools (one indoor, one outdoor), a gym, a screening room, a bowling alley, an elevator, an indoor basketball court, a steam room, a jacuzzi, and private guest quarters.  It sounds like Disneyland!  I swear, put in a Starbucks and I'd never leave the place.  🙂  FOX has also sprung for a live-in chef, who cooks up healthy meals for the Idols  daily. You can see great indoor photos of the house on some real estate websites here and here.  And you can watch a video of the Idols moving into their new home here.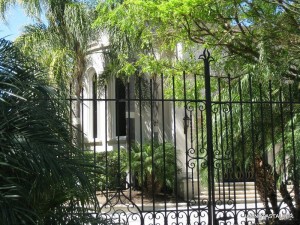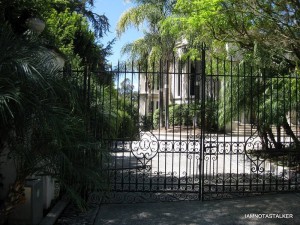 Sadly, there's not a whole lot of the home that is visible from the street, excluding some large exterior gates.  I could see about ten cars parked in the driveway, though, so it seems that the Idols were allowed to bring their cars with them to California.  🙂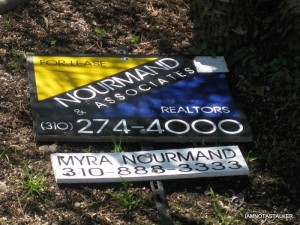 There are numerous differing online reports as to whether the Idol  mansion is currently for sale.  From what I can gather from the many conflicting accounts I've read, I believe the mansion was on the market for quite some time back in 2006 at a price of $43 million.  After over 200 days with no sale, that price was dropped to $29,995,000.  After an $18,500,000 deal fell through in 2008, the house was eventually taken off the market altogether.  It is currently available for lease at a rate of $85,000 per month.  The sign pictured above was on the ground in front of the mansion when I was stalking it.  I wonder if one of the Idol  hopefuls took it down in hopes that they would be able to buy the mansion themselves after landing a record deal.  LOL If you have the $85,000 a month to shell out to rent the place, it should be available in about ten weeks when Idol  is over.  🙂 
Until next time, Happy Stalking! 🙂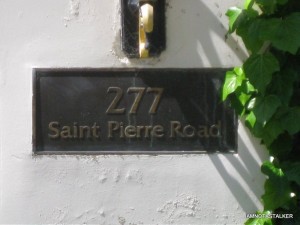 Stalk It: The American Idol  mansion is located at 277 St. Pierre Road in Bel Air.
6140