On Location With The Mentalist!
Mar 24th, 2009 | By
Lindsay
| Category:
TV Locations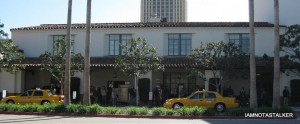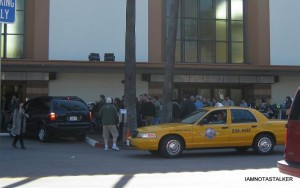 Yesterday morning while doing some Downtown Los Angeles stalking, I happened to stumble upon a large film crew outside of Union Station.  I, of course, asked one of the background actors what was being filmed and almost fell over when she told me it was my new favorite show, The Mentalist!!!!   I asked if Simon Baker was on set and she laughed and said "Everyone's been asking for him all morning!  It's cause he's such a cutie."  LOL  Sadly, SB had already been wrapped for the day, as had actress Robin Tunney.  🙁   Such a bummer!!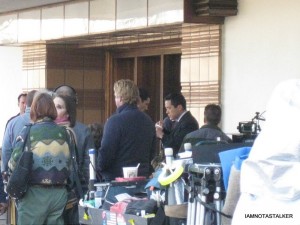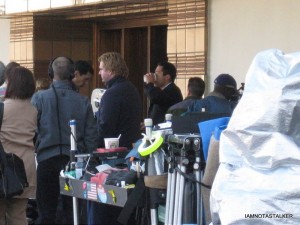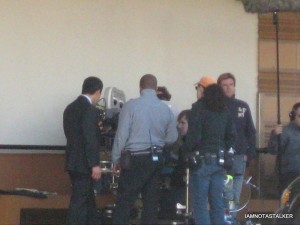 But I did get to see actor Tim Kang, who plays Detective Kimball Cho on the show (pictured above).  I love Kang's character, so I was pretty floored to see him in person.  He was filming a scene that basically consisted of him sitting on a bench reading a newspaper at the entrance to Union Station's former ticket concourse.  Needless to say, it wasn't that exciting.  LOL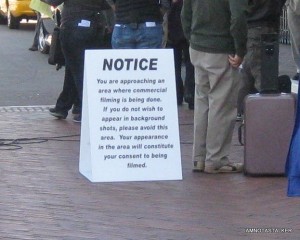 I didn't stick around very long to watch the filming as not a whole lot was going on and, sadly, the crew wasn't all that friendly.  The area where the scene was being filmed wasn't shut off to the public as filming areas normally are, so I am guessing that the crew was just slightly annoyed at the many random people who were walking directly into their shot while the cameras were rolling.   I guess the people didn't notice the many signs that were posted around the area announcing that filming was taking place (pictured above).  LOL  I can't tell you the number of people I saw who walked right in front of the camera and into the former ticket concourse, then stopped and looked around with confusion on their faces, only to walk right back out in front of the camera once again.  I'm not kidding!  I can imagine how that might have gotten old for the crew real quick!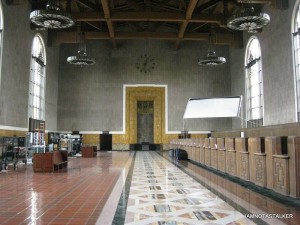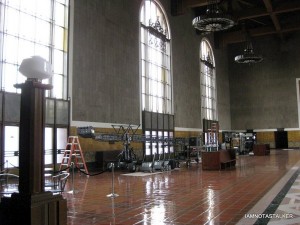 Countless productions have filmed at the historic train station since its opening in 1939, including Nick of Time (Johnny Depp's daughter is kidnapped there), Charlie's Angel's: Full Throttle (Demi Moore lived in the former ticket concourse area which is pictured above), Can't Hardly Wait (Jennifer Love Hewitt and Ethan Embry finally get together in the station's waiting area), 24, Alias, Blast From The Past, Bugsy, Catch Me If You Can, Blade Runner, Guilty by Suspicion, Garfield, The Italian Job, Pearl Harbor, and a 1950's movie actually entitled Union Station.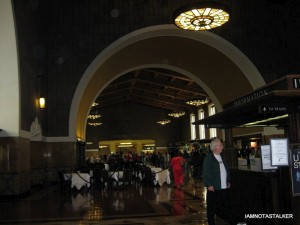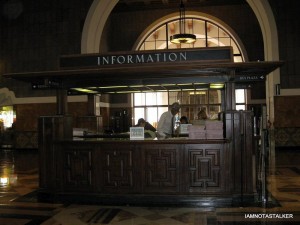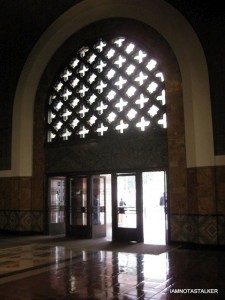 Union Station is an absolutely beautiful place to visit and I highly recommend stalking it, even if you aren't a film locations buff.  The interiors, which have been beautifully maintained, immediately transplant you back to the 1930s.   It's not hard to see why the station has been a favorite of location scouts over the years.  Union Station, which was built by architects John Parkinson, Donald D. Parkinson, and Jay van der Lin, is on the National Register of Historic Places and according to Wikipedia, is considered the "Last of the Great Railway Stations" built in the U.S.   You can see some great photographs of the station here.
Until next time, Happy Stalking!  🙂
Stalk It: Union Station is located at 800 North Alameda Street in Downtown Los Angeles.  Ironically, it is located just around the corner from The Mentalist's  CBI Headquarters.  🙂
6188