Olvera Street
Mar 25th, 2009 | By
Lindsay
| Category:
Movie Locations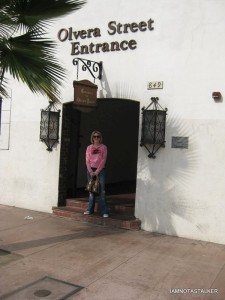 This weekend I dragged my boyfriend and my parents out to stalk a street that is known as the "birthplace of Los Angeles".  The historic Olvera Street outdoor marketplace has long been a popular tourist attraction and filming location.  But its history began over 200 years ago when the area was built by early Spanish settlers.  At that time it was the center of Hispanic life in Southern California and consisted of a church, a town plaza, and several adobe homes all surrounding a tiny lane known as Wine Street.  In 1877, that small street was lengthened and given its current moniker, Olvera Street, named for Augustin Olvera, the very first Superior Court Judge of Los Angeles County.   Beginning in the 1880's, Olvera street fell into serious disrepair and was a haven for Los Angeles' poor and disenchanted.  It remained that way until the year 1926 when a woman named Christine Sterling came along and vowed to restore it.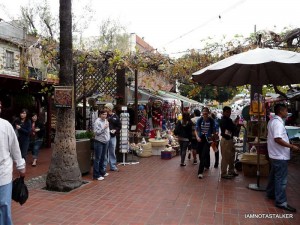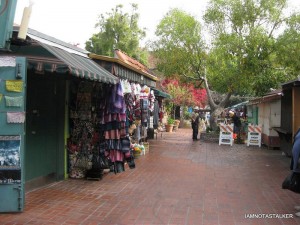 It was Christine's idea to turn Olvera Street, which at the time was little more than a backstreet alley, into the bustling Mexican marketplace that it is today.  She garnered support from Los Angeles Times  publisher Harry Chandler and many local businesses and literally took on City Hall to restore the former plaza.  Christine's vision was realized on Easter Sunday of 1930 when the Olvera Street Marketplace opened to the public.  She marketed it as "A Mexican Street of Yesterday in a City of Today."  Christine's marketplace became a virtual overnight success.  And amazingly that success has held steady for almost 80 years – today over 2 million tourists a year visit Olvera Street!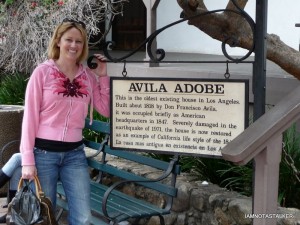 Today's Olvera Street is a bustling Mexican marketplace bursting with colorful displays, authentic restaurants, hanging pinatas, and ancient adobe structures.  A visit to Olvera Street also includes a history lesson of sorts – there are twenty-seven historic buildings which line the marketplace, including Avila Adobe, which is the oldest Los Angeles home still in existence.   In 1953, Olvera Street and its neighboring plaza, which together are known as El Pueblo de Los Angeles, were named a California State Historic Landmark.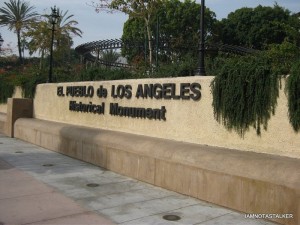 Ever since its opening in 1930 celebrities have flocked to the tiny marketplace.  Everyone from Albert Einstein, Gretta Garbo, and Buster Keaton to Ben Kingsley, Oscar De La Hoya, and Art Linkletter in recent years have visited the marketplace.  In the early days of Hollywood stars such as Rita Hayworth, Lauren Bacall, and Humphrey Bogart frequented Olvera Street's many restaurants, which at the time doubled as afterhours nightclubs.   Numerous American Presidents and their wives have also shopped at the marketplace, including Bill Clinton, John F. Kennedy, Richard and Pat Nixon, and Eleanor Roosevelt.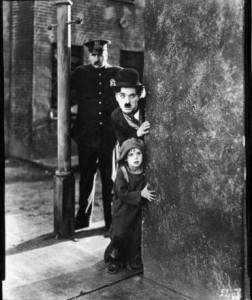 And, of course, there's also the movies!  Location scouts have been in love with the Mexican marketplace since 1921 when it was featured in the Charlie Chaplin movie The Kid  as the location where The Tramp rescues "the kid" from a welfare office.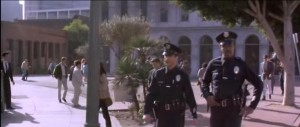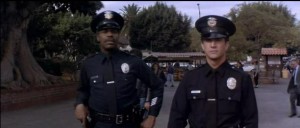 Olvera Street also popped up in Lethal Weapon 3.  It's the place where Riggs and Murtaugh are assigned to work patrol after inadvertently blowing up a building.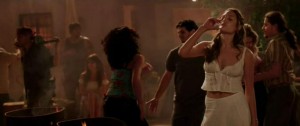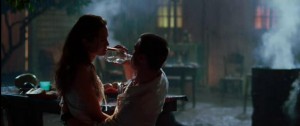 The courtyard of the Avila Adobe stood in for Bogota, Columbia in Mr. and Mrs. Smith  in the scene where the two little homewreckers dance at the beginning of the movie.  "Not a lot of people get to see a movie where their parents fell in love."  Ugh, spare me, Angelina!  LOL 
The marketplace has also appeared in Death Wish II, True Confessions, Sea Biscuit, and A Street of Memory.     
But Olvera Street's connection with the movie business doesn't end there!  Located right in the middle of the marketplace is a small shop called Murillo Leather, where owner Armando Murillo (pictured above), a second generation leather craftsman, creates handmade items like bracelets, belts, bags, and saddles.  While stalking Olvera Street, my dad stopped into Murillo's to look for a saddlebag for his Harley (otherwise known as "H") and, like a moth to a flame, my eyes immediately went to some magazine photographs of Jessica Simpson hanging on the wall.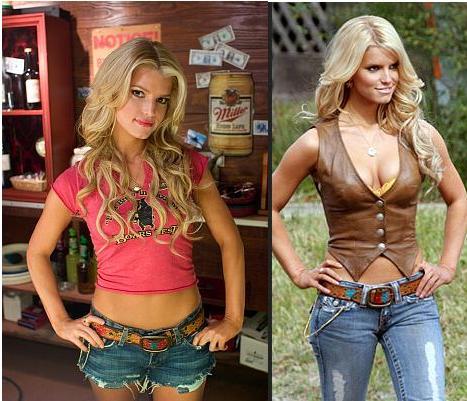 It turns out that Armando made all of Jessica's belts and purses for the movie Dukes of Hazzard  and sells replicas of them in his shop.  Apparently, Johnny Knoxville had long been a fan of the historic leather shop and before filming on Dukes of Hazzard  began recommended Armando to the costume team.  And the rest is celluloid history. 🙂  You can see Jessica's belts above.  Now I have to say that Jessica Simpson is my least favorite celebrity.  I absolutely cannot stand the girl!  But, let me tell you, I love her Dukes of Hazzard  belt!  🙂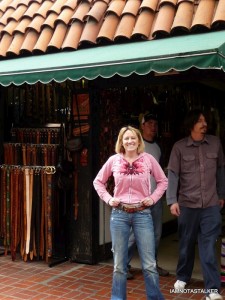 So much so, in fact, that I just had to buy one for myself!  🙂  And I absolutely love it!!!   That's me posing with my new belt in the above pic.  🙂  Besides Dukes of Hazzard, Armando also made the leather items for the movie There Will Be Blood.  When his father, Manuel, owned the shop, he made several items for Clint Eastwood that were also worn in movies.  If you happen to stalk Olvera Street, a visit to Murillo Leather is a MUST!   Armando is THE nicest guy and makes really beautiful belts, cuffs, purses, and even shoes.  You can bet I will be going back there regularly to shop!  🙂
 I can't recommend stalking Olvera Street enough.  It is a really fun way to spend a Saturday or Sunday afternoon.  Besides the shops, there are several excellent restaurants located in the marketplace – and they all serve up the BEST taquitos I have ever had!!!!!  🙂
Until next time, Happy Stalking!  🙂
Stalk It:  Olvera Street is located just off East Chesar E. Chavez Avenue, in between North Alameda and North Main Streets, in Downtown Los Angeles.  Murillo's Leather – maker of the Daisy Duke belts –  is located at W-6 Olvera Street.  The Mentalist's  CBI Headquarters  building is located just across the plaza from Olvera Street at 430 North Main Street.
6158