George Clooney's Former Digs
Mar 26th, 2009 | By
Lindsay
| Category:
Celebrity Homes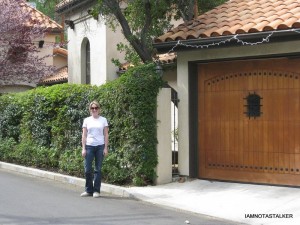 This past weekend, thanks to my new favorite book Movie Star Homes: The Famous to the Forgotten, I was able to stalk George Clooney's former Studio City house.  Now, to be completely honest, I am not a big fan of George Clooney.  I'll admit that he's OK-looking, but for some reason he just doesn't do it for me.  No, this stalker's heart will forever and always belong to Josh Duhamel.  🙂  But, being that pretty much every woman on earth is absolutely gaga for GC, I know that I am in the vast minority on this one.  So ,when I saw the address of his former home listed in the Movie Star Homes  book, I just had to stalk it.  For my readers, of course.  🙂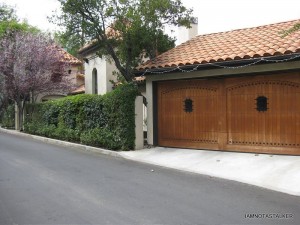 George Clooney's former home is a really pretty 5 bedroom, 4 bathroom Mediteranean mini-manse, located on a windy street in the hills of Studio City.  He lived in this 3,282 square foot home during the years 1990 to 1997, smack dab in the middle of his ER fame.  Which is surprising being that the home isn't that private – you can actually see quite a bit of it from the street.  George shared the house with former wife Talia Balsam during their brief four year marriage, from December of 1989 to September of 1993.  After his separation, George invited good friend, actor Matt Adler, to move in with him for a brief period of time.   But the list of celebrity inhabitants doesn't end there!  From 2000 to 2004, Jamie Pressly of My Name is Earl  fame owned George's former digs.  She then sold the house to Malcom in the Middle  star Justin Berfield, who lived there for two years before selling it to a non-celeb.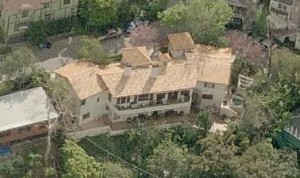 I highly recommend stalking George's former pad, as it is one of the few movie star homes that isn't completely hidden behind a large gate.  🙂  I couldn't snap many good pics of it, though, as George's former street is quite narrow and my camera couldn't zoom back far enough to get the whole house in the shot.  🙁  I so need to spring for a fisheye lens!   But the good news is you can cyber-stalk his former home here.
Until next time, Happy Stalking!  🙂
Stalk It: George Clooney's former house is located at 11655 Laurelcrest Drive in Studio City.
6249