Cafe-Club Fais Do-Do
Mar 30th, 2009 | By
Lindsay
| Category:
Movie Locations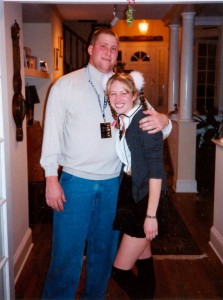 Back before she was going shoeless in public restrooms and flashing her privates to anyone with a camera, I was majorly obsessed with pop princess Britney Spears.  The hair, the cute little outfits, her music – I absolutely loved everything about the girl!    I attended her 2001 Live From Las Vegas  concert event, I learned the steps to "Oops! . . . I Did It Again" and performed a mini-Britney concert with some of my sixth grade students back when I was a substitute teacher, and I dressed up like her every chance I got.  The above photo is from a Christmas costume party back in 2000 when I dressed up like Britney and made my good friend Ty dress up like Justin Timberlake.  He's such a big guy, though, that everyone thought he was supposed to be Britney Spears security.  LOL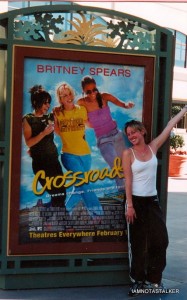 So, in Spring of 2001, when a co-worker of mine told me that her good friend was responsible for casting the extras in all of Britney's music videos, I almost died on the spot!  I begged her to pass my phone number on to her friend in the hopes that maybe someday she'd hire me as an extra and I'd get to see my idol in person.  Well, not three days later I got a call from the friend asking if I wanted to do background work  in the Britney Spears MOVIE that was currently filming.  I'll never forget standing there screaming "Oh my god!  Oh my god!  Oh my god!" into the phone, and the friend saying – a bit nervously – "OK, you can't do that once you get to the set!"  LOL   So, bright and early the next morning I set out for a three day shoot on the set of the Britney Spears movie.  And I really could not have been more excited!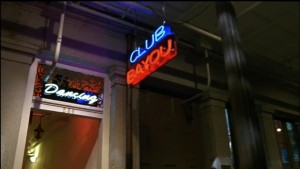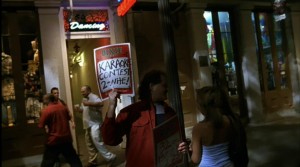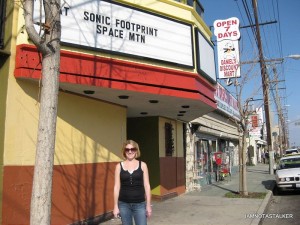 Britney's movie was originally entitled What Are Friends For  and the scene being filmed was the karaoke contest scene where BritBrit and her friends sang Joan Jett's famous "I Love Rock N' Roll" in the fictional Club Bayou, which was supposedly located in New Orleans.  In reality, though, the club where Britney performed is named Cafe-Club Fais Do-Do and is located just off the 10 Freeway in Los Angeles.  Even though quite a bit of Crossroads  was actually filmed in Louisiana, the karaoke scene was filmed in L.A. Go figure.   You can see the exterior of the fictional Club Bayou which is shown in the movie and the exterior of the real club where filming took place above.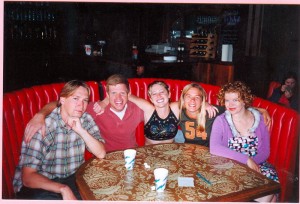 The filming of the karaoke scene took three long days to complete, but, of course, I was loving every minute of it!  I think it is pretty much safe to say, though, that no other extra was quite as excited to be there as I was. 🙂  During the three day shoot I made friends with a few of the background actors and they all teased me incessantly over my love for BritBrit.  LOL  Needless to say they weren't big fans of hers.  🙂   (Pictured above are my group of extra friends hanging out on the set – I'm the one in the middle.  This was long before I cut my hair and dyed it blond, so I look a bit different today.)  If I remember correctly, there were about 75-100 extras hired for the karaoke scene and right before filming began one of the assistant directors gave us each an exact place to stand during the scene and told us what we were to be doing.  As I was getting my instructions, a very thin blond woman came up to me and introduced herself.  She told me that she LOVED my outfit and that she wanted me to be sitting front and center during Britney's performance.   She led me over to the bar area, just a few feet away from where Britney would be performing, and sat me next to an actor wearing a blue shirt.  Well, it turns out that the thin blond woman was Crossroads  director Tamra Davis and the actor she sat me next to was Britney's love interest in the film, Anson Mount!!!!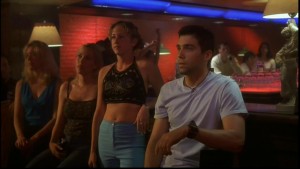 Needless to say I was THRILLED!!!  Not only was I sitting thisclose to Britney while she was performing onstage, but I was also right next to the movie's lead actor!  Ironically, the outfit that director Tamra Davis so loved wasn't what I had originally intended to wear that morning.  (A little known fact – 95% of the time movie and TV extras wear their own clothes during filming.)  All Crossroads  extras were told to wear New Orlean's style club attire to the shoot.  And on the morning of my first day on the set I had put on something entirely different.  But my mom stopped me as I had one foot out the door and said "You don't look very New Orleansy.  Why don't you wear that cute halter top you got in Hawaii with your blue capris."  Well, of course, I argued with her as I thought the shirt and pants she was talking about didn't really match, but in the end she won out.  And, as luck would have it, had I not worn that outfit I never would have gotten noticed by Tamra Davis.  The moral of the story?  Ladies – always listen to your mother!  🙂   As a result of my mother's foresite, not only did I have a front row seat for Britney, but I also got considerable screen-time in the movie.  🙂  (That's me next to Anson Mount in the above screen capture.)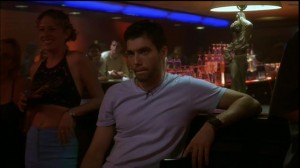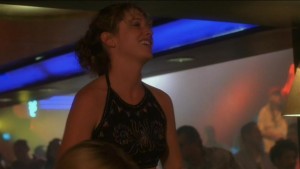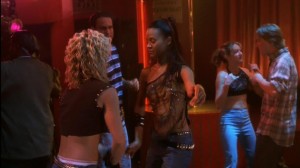 When I first saw Crossroads  I just about died as you can see me quite a bit in the karaoke scene.  Being that I was such a HUGE fan of Britney, it was pretty darn cool that I shared my big screen debut with her.  🙂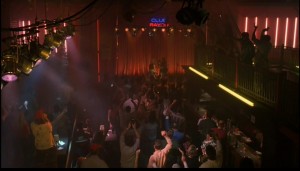 And let me tell you, filming that scene was quite an experience.  For pretty much three days straight I sat around watching Britney perform "I Love Rock N' Roll" on a stage that was about two feet away from me!  I was literally pinching myself the whole time thinking "I'm getting paid for this????"  You have to remember that this was at the height of Britney's career – she still had that cutesy, good girl image, "Oops! . . . I Did It Again" was multi-platinum, and she and Justin Timberlake were madly in love.  I mean, do you know how many 13 year old girls would have died to have been in my shoes!  I was 24 at the time, but that's besides the point.  LOL  🙂  The highlight of the filming for me was when Britney Spears, Pop Princess!!!! actually started a conversation with me!  I am amazed I was even able to get any words out to talk to her.  LOL   During one of the many breaks from filming, BritBrit walked right up to me with a big smile on her face and asked me what I was doing with my drink.  I had actually been sticking my finger in the drink I was holding playing with the fake ice in my glass.   In movies and television, whenever anyone is drinking, the ice in their glass isn't real –  fake ice made out of a gelatin formula is used.   Real ice has a tendency to clink against glasses, thereby making noise and disrupting filming.  So clear jello-like cubes are used instead – and, boy, are they fun to play with!  When I told Britney this, she started laughing hysterically and said "Oh mah gawd, you're so funny!"  Apparently, she thought this was the funniest thing she had heard in a long time.  LOL  It really wasn't all that funny, but I was on cloud nine, nonetheless.  Britney Spears thought I  was funny!!!!  🙂  BritBrit was very nice, fairly quiet, and extremely down to earth.  It almost seemed as if she had no idea how truly famous she really was.  She also spoke with a very heavy Southern accent, which I wasn't expecting.  And I have to say that while she seemed very  sweet and SUPER cute in person, it was quite obvious that she's not the sharpest knife in the drawer.  🙂 
For me, being an extra in Crossroads  was an AMAZING experience.  It was truly everything I hoped it would be.  I'm am so lucky it was my first movie experience, as it was such a good one.  And while the actual movie didn't turn out that great, I will always look back on my time working on it with fondness.
You can watch the entire "I Love Rock N' Roll" scene here.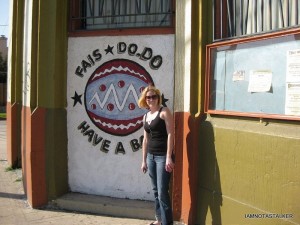 I can't really recommend stopping by Cafe-Club Fais Do-Do for a drink as the only time I ever visited it was while we were filming.   Since I'm not really a clubbin' kind of girl, I've never been back to check it out.  But if you're into that kind of thing, it seems like a pretty cool place to grab a drink.  The Fais Do-Do (which means "Nighty-Night" in French) building was originally constructed in 1930 and at the time housed the First Citizens Savings Bank and Trust.  The club, which definitely has a New Orlean's vibe to it, has remained a popular nighttime hotspot since its opening in 1990.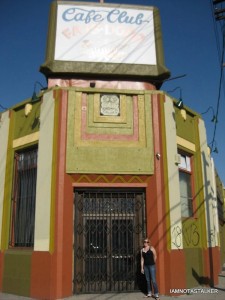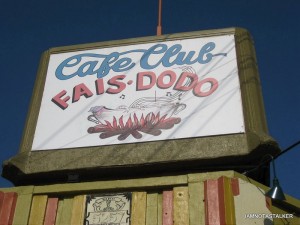 Until next time, Happy Stalking! 🙂
Stalk It: Cafe-Club Fais Do-Do is located at 5257 W. Adams Boulevard in Los Angeles.  You can visit their website here.
6125