The Belasco Theatre
Mar 31st, 2009 | By
Lindsay
| Category:
Movie Locations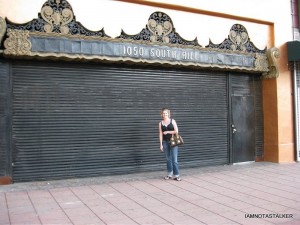 During my three day stint as an extra in the Britney Spears movie Crossroads, I happened to make friends with a few of the crew members.  The entire cast and crew of the movie was EXTREMELY nice and, as tends to happen on long shoots, I got to know the people I was working with quite well.  As I was saying goodbye to my new friends on my last day of being a Crossroads  extra, one of the cameramen invited me to watch the following day's shoot which was taking place at an old theatre in Downtown Los Angeles.  It was going to be the very last day of filming on Crossroads  and since the cameraman knew what a huge BritBrit fan I was, he invited me to spend the day on the set.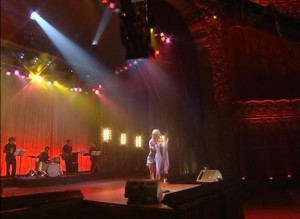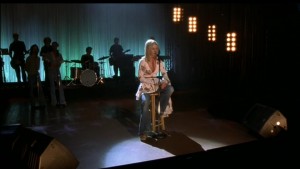 Getting to watch the final day of the filming of Crossroads  was an incredible experience for me.  Filming took place at a beautiful old theatre named the Belasco.  Just being in that space was an amazing opportunity – let alone being there to watch Britney Spears perform.  🙂  The scene being filmed on that final day was the Hollywood singing contest that Britney and her friends compete in at the very end of the movie.  Basically, for the entire twelve hours that I spent on the set that day, I got to sit around and watch Britney Spears sing live both "I'm Not A Girl, Not Yet A Woman" and "Overprotected".  Most of the filming that day was done without any extras in attendance – and because of the way the cameras were positioned, I was allowed to sit on the steps leading up to the stage and watch what pretty much amounted to my very own private Britney Spears concert.  I'm not kidding – it was absolutely A-MA-ZING!!!  And, once again, I was literally pinching myself the whole time.  I could NOT believe I was actually sitting there, an audience of one, less than two feet from my idol, watching her perform two unreleased songs live and in person.  For me, it was a once in a lifetime!  I half expected to wake up at any moment in my bed at home – the whole experience having been just a dream.  I mean things like that just don't happen in real life!  And even though I don't still adore Britney as I once did, I will always cherish my memories from that day.  You can watch part of the scene that was filmed at the Belasco Theatre here.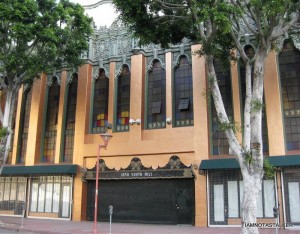 The Belasco Theatre was built in 1926 by theatre producers David and Edward Belasco.  The Spanish Baroque style theatre was originally a live performance venue.  Its premiere show?  Gentlemen Prefer Blondes – a play written by Anita Loos which would later become a movie musical starring my girl Marilyn.  🙂  Over the years, after falling upon hard times and closing its doors for a period, the Belasco was used as both an exotic movie house and a church.  The building was just recently sold last year and was completely restored to its original grandeur by its new owner.  At this time it's unclear what is being done with the historic theatre, but some online reports speculate that it might become a nightclub.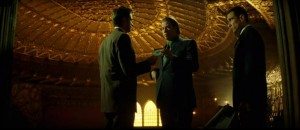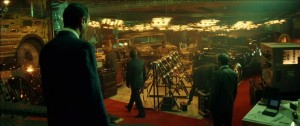 Besides Crossroads, other productions that have filmed at the historic Belasco Theatre include Swordfish (where it was used as John Travolta's lair – pictured above), The Prestige, Memoirs of a Geisha, Being John Malkovich, Midnight Frolics,  and the television series Fastlane. 
The Belasco Theatre is incredible beautiful inside, but, sadly, it is currently closed to the public.   I can't really recommend stalking the exterior of the theatre, either, as it is fairly non-descript.  You could easily drive right by without even noticing it.  But if you ever have the opportunity to see the interior in person, I highly recommend it!  In the meantime, you can cyberstalk the interior here.
 Until next time, Happy Stalking!  🙂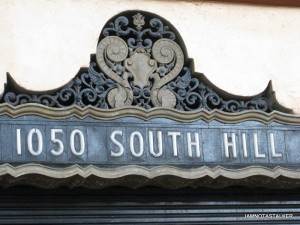 Stalk It: The Belasco Theatre is located at 1050 South Hill Street in Downtown Los Angeles.  
6351