The Bradbury Building
Apr 1st, 2009 | By
Lindsay
| Category:
Movie Locations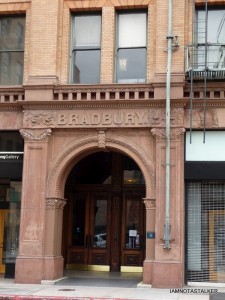 While serving on jury duty a few years back, I had the opportunity to visit one of the most incredible buildings I've ever seen in my life.  Since jurors are oftentimes given incredibly long lunches (sometimes lasting over two and a half hours!!), the jury orientation paperwork includes a list of some "Things To Do" in the area.  On that list was the Bradbury Building, which is located just a few short blocks away from the L.A. courthouse.  Thanks to its prominent appearance in the 1982 science fiction flick Blade Runner, the Bradbury is quite famous among film location buffs – it's listed in pretty much every book ever written on the subject.  But surprisingly, I had never visited the building myself.  I am not  into the science fiction genre and have never seen Blade Runner, so I wasn't ever really interested in visiting the building in person.  But since I was only a few blocks away during my three day stint as a juror, I figured I may as well take a gander.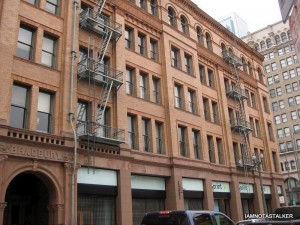 And I am so thankful I did!  While the building is fairly non-descript on the outside, its interior is nothing short of AMAZING.  The Bradbury was built in 1893 by millionaire real estate developer Lewis Bradbury.  Mr. Bradbury was in poor health at the time and wanted to create a building that would be a sort of monument to himself before he passed away.  He first enlisted architect Sumner Hunt to design a suitable building, but when none of Sumner's designs were exceptional enough, Bradbury looked to one of Sumner's young assistants.  That assistant, George Wyman, was only 32 years old at the time and possessed virtually no architectural or design experience to speak of.  Perhaps realizing this, Wyman at first turned Bradbury down.  Thankfully, his dead brother Mark stepped in, eventually changing his mind.  Yes, you read that right.  George and his wife "consulted" with Mark via a planchette board (aka a spirit board) upon which Mark wrote "Take Bradbury Building.  It will make you famous."    And the rest is architectural history.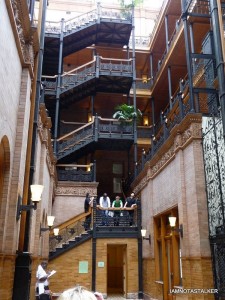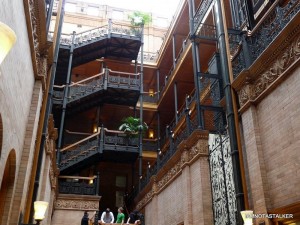 Wyman's inspiration for the design of the legendary building actually came from a science fiction book written in 1887 named Looking Backward From 2000 to 1887.  In the book, author Edward Bellamy wrote that the typical office building in the year 2000 was a "vast hall full of light, received not alone from the windows on all sides, but from the dome, the point of which was a hundred feet above . . . The walls were frescoed in mallow tints, to soften without absorbing the light which flooded the interior."   It's amazing to me that a building built 116 years ago, inspired by a book written 122 years ago, remains awe-inspiring to this day.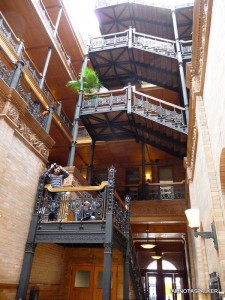 And awe-inspiring it truly is!  Pictures honestly don't do the amazing architecture of this building justice.  It has to be seen in person to be truly appreciated.  The building's central courtyard is covered by a five story high peaked glass roof, which "Arts and Architecture Magazine" called "a fairytale of mathematics".  The roof bathes the entire interior of the building in a soft natural light.   Lewis spared absolutely no expense in the making of his monument – the Bradbury's walls are made of a glazed brick, the floors are covered in Mexican tile, and the stairs are carved out of Belgium marble.  But by far, the building's most gorgeous element is the lavish wrought iron detailing that is located throughout.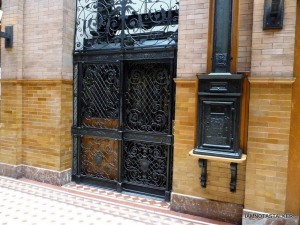 The building's two open cage elevators are also housed by beautiful wrought iron detailing.  The Bradbury definitely turned out to be the extraordinary monument that Lewis Bradbury set out to build.  Unfortunately, he passed away three months before seeing its completion.  All in all the Bradbury cost $500,000 to construct.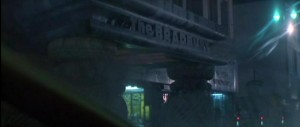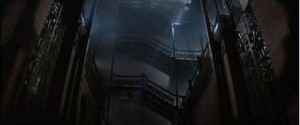 The building's unique architecture and abundance of natural light have long made it a favorite of location scouts.  The Bradbury Building was featured most prominently in the 1982 movie Blade Runner, where it was used as the apartment building of J.F. Sebastian.  In the movie, the real name of the building is used, but the exterior looks nothing like it does in real life (pictured above).  It is quite ironic to me that the Bradbury was chosen to be used in Blade Runner, as producers made the interior, which is so famous for its light, look so incredibly dark.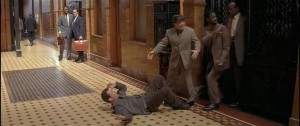 The historic building was also featured in Chinatown, Good Neighbor Sam (as Jack Lemmon's hotel), Double Indemnity, D.O.A., Mr. Wrong (as Dean Stockwell's office), Pushing Daisies (as Ned and Chuck's apartment building), Quantum Leap, Pay It Forward, Wolf (as Jack Nicholson's office), Disclosure, Lethal Weapon 4 (as Joe Pesci's dentist's office – pictured above), Murder in the First (as Christian Slater's law office), the television series Pasadena (as the Los Angeles Sun's newspaper office), as well as countless others.  The ground floor of the building is home to Ross Cutlery – the knife store where O.J. Simpson allegedly purchased a 12-inch stilleto knife three weeks before the murders of Ronald Goldman and Nicole Simpson.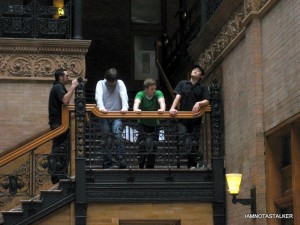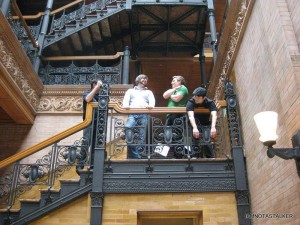 The Bradbury is also used quite often for photography shoots.  While out stalking in Downtown L.A. last weekend, I dragged my boyfriend and my parents to the building, where we stumbled upon the band Shattered Atom  posing for photographs for their new album cover (pictured above).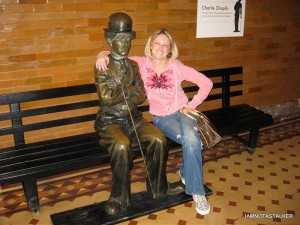 A statue of Charlie Chaplin, on loan from the Hollywood Roosevelt Hotel, is currently on display just inside the Bradbury Building's side entrance.
I HIGHLY recommend stalking the Bradbury Building.  In fact, it should be a "must see" location for both natives and tourists of Los Angeles alike.  It is a truly amazing, literally breathtaking structure, like nothing I have ever seen anywhere else in my life.  Even if you are not a filming locations buff, I can pretty much guarantee you will be a fan of this building and its awe-inspiring architecture. 
Until next time, Happy Stalking!  🙂
Stalk It: The Bradbury Building is located at 304 South Broadway in Downtown Los Angeles.  The building's first floor and courtyard area are open to the public daily.
6389