Joe's Pizza
Apr 8th, 2009 | By
Lindsay
| Category:
TV Locations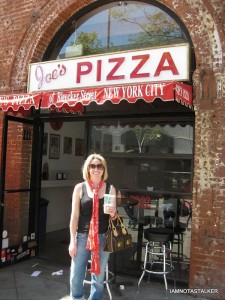 Last week, on April Fools' Day, CBS aired a television special entitled I Get That A Lot in which celebrities posed as normal, everyday people working in normal, everyday jobs.   Hidden cameras captured customers' reactions as stars like Jessica Simpson, Ice-T, LeAnn Rimes, and Jeff Probst waited on them and told them that they were not, in fact, famous, but that they "get that a lot."  🙂  While the show was a bit on the silly side, I, of course, LOVED it!  I so wish I could have been one of those customers!  But since I wasn't, I figured I'd at least stalk one of the locations where I Get That A Lot  was filmed.  🙂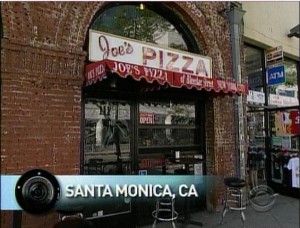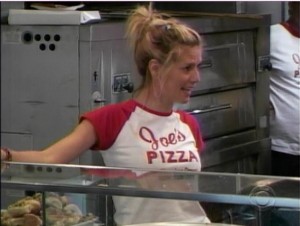 My favorite segment from I Get That A Lot  involved supermodel Heidi Klum whose assignment on the show was to spend a few hours serving pizzas at a small pizza place in Santa Monica named Joe's.  Heidi was absolutely adorable in the segment and since I happened to be in Santa Monica this weekend, I just had to drag my boyfriend out to stalk the place.   🙂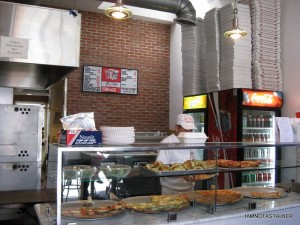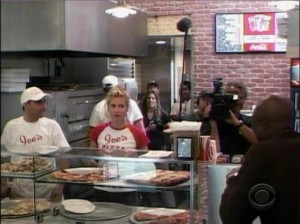 Joe's Pizza is a very cute, but super tiny shop located just off the Third Street Promenade in Santa Monica.  In fact, it is so tiny I am surprised they were able to film inside of it at all.  Joe's was also extremely crowded – during the brief twenty minutes that we were there no less than fifteen people stopped in for a bite to eat – which is, I'm sure, why it was chosen for the hidden camera special.  I am guessing that the producers wanted Heidi waiting on as many people as possible.  The staff at Joe's was extremely nice and answered all of my questions about the filming of I Get That A Lot,which took place almost a year ago.   They told me that Heidi Klum was very down to earth and a lot of fun to work with.  🙂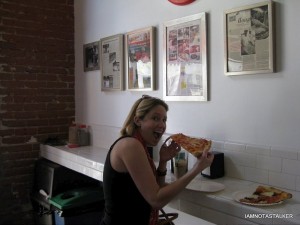 While stalking Joe's, my boyfriend and I just had to sample a few slices of their pizza.  And let me tell you, it is some of the best pizza I've ever had!   The Joe's Pizza chain originated in New York in 1975 and has continuously been credited as New York's best pizza.  In fact, New York Magazine  stated that "the quintessential New York slice is at Joe's".  The Santa Monica branch, which opened in 2007, is just as good as its New York counterpart and I am sure I will be frequenting it quite often.  Being that I am diabetic, a big ol' slice of cheese pizza is probably the last thing I should be eating, but, hey, life's short – sometimes you've gotta live it up.  🙂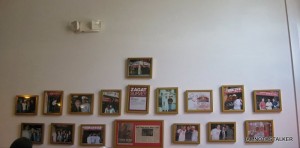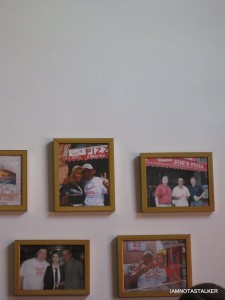 Other famous fans of the restaurant, besides Heidi Klum, include Brooke Shields, Harrison Ford, Robin Williams, Tobey Maguire, Ben Affleck, Jimmy Kimmel, Sarah Silverman, and Everybody Loves Raymond's  Doris Roberts.  Pictured above are photographs of Joe's celebrity fans which line the walls of the small restaurant.  Love it!  Think someday they'll put my photo on the wall?  🙂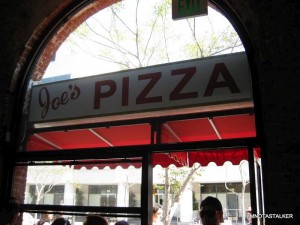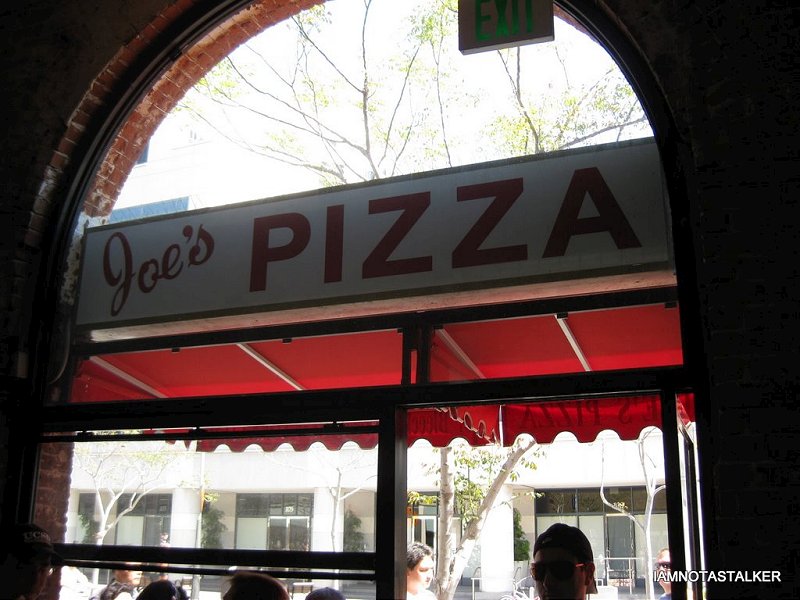 The original Joe's Pizza, which is located in Manhattan, has long been a favorite of location scouts.  It has appeared in Spiderman 2  (Peter Parker worked as a Joe's pizza delivery boy), Sex and the City, Along Came Polly, and a Nike Commercial.  You can bet that Joe's is at the top of my list of places to stalk on my next trip to NYC.  🙂
I HIGHLY recommend stalking Joe's Pizza!  It's a really fun place to grab a bite to eat and the pizza is to die for!  It's truly like having a little piece of New York right here in L.A.  🙂  You can watch some clips from the I Get That A Lot special, including Heidi Klum's stint as a Joe's Pizza girl, here.
Until next time, Happy Stalking!  🙂
Stalk It: Joe's Pizza is located at 111 Broadway in Santa Monica.  The original New York location can be found at 7 Carmine Street in Manhattan.  You can visit the Joe's Pizza website here.
6588