Spencer and Heidi's Wedding!
Apr 10th, 2009 | By
Lindsay
| Category:
The Hills Filming Locations
UPDATE: They actually did it (again)! Check out pictures from Saturday's wedding here.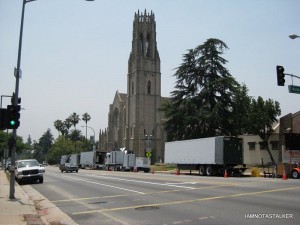 My favorite reality TV duo, better known as Heidi and Spencer, have caused a media shitstorm yet again by announcing that they will be tying the knot – for real this time – in two short weeks right in my hometown of Pasadena.  🙂  Early in the week, I actually got a tip that Speidi would be at the Westminster Presbyterian Church (which I've blogged about in the past) this past Wednesday and, of course, went right out to stalk the place.  But unfortunately the normally camera friendly duo stayed inside the church the whole time they were there and I didn't get to see them.  I did get to chat with quite a few paparazzi on the scene, though, one of whom actually gave me his phone number as he said it seemed I had more information than he did.  He actually told me to call him next time I had a tip!  🙂  LOL  Anyway, I had a feeling that Speidi might be visiting the church for reasons relating to their wedding and now it sounds like my hunch might just be correct.  (I took the above photos of Westminster Presbyterian back in June when the movie Valkyrie was being filmed there.)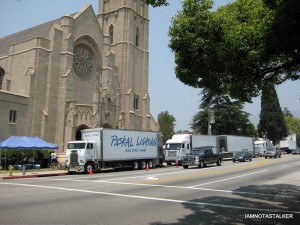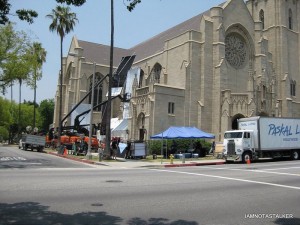 Earlier this evening E! News reported that my two favorite douchebags will be marrying on Saturday, April 25th, in a "sunset" ceremony at an "undisclosed Pasadena location".   Now I am not sure if Speidi's wedding will actually take place at Westminster Presbyterian, but I do know that the church is going to figure in the ceremony in some form or another.  Quite possibly, a pastor from the church will be officiating the nuptials, but they will take place elsewhere.  Either way, I'll give you one guess as to where I'm going to be on April 25th right around sunset.  🙂
According to E!, the reception is taking place on a rooftop somewhere in Pasadena.  Well, the only wedding locale with a rooftop in the Pasadena area that I know of is the Pasadena Museum of California Art.  So that's my best guess as to where the reception is going to take place.  Now, don't quote me on any of this, as I am simply going on quite a few large hunches.  Only time will tell whether those hunches prove to be correct, but my fingers are sure crossed.  🙂
Until next time, Happy Stalking!  🙂
Stalk It: Westminster Presbyterian Church is located at 1757 North Lake Avenue in Pasadena.  The Pasadena Museum of California Art is located at 490 East Union Street, also in Pasadena.
6762