Taverna Tony
Apr 14th, 2009 | By
Lindsay
| Category:
This and That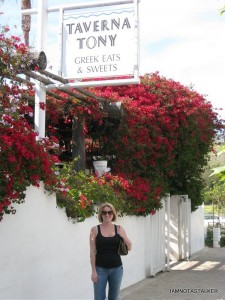 This past Saturday afternoon my boyfriend and I met up with my former boss and his wife for some coffee at the Malibu Country Mart – where we sat next to Brian Grazer in the playground area for a good 45 minutes.  But that's a whole other story.  🙂  After hanging out at the Mart for a bit, we decided to grab a bite to eat and I could not have been more floored when my boss' wife suggested the famous Greek restaurant and celebrity hotspot Taverna Tony.  Tony's is a veritable celeb mecca in Malibu and pretty much anyone who's anyone has dined there.  I've been absolutely dying to stalk the place for years, but somehow just never got around to it.  Until this past Saturday night!  🙂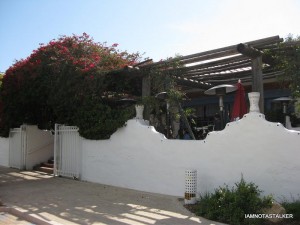 Google the terms "Taverna Tony" and "celebrities" and a whole smorgasbord of famous names will appear, including Pamela Anderson, Courteney Cox, Kate Moss, Charlize Theron, Stuart Townsend, Britney Spears, Gwen Stefani, Brooke Burke, David Charvet, Paris Hilton, Benji Madden, Salma Hayek, Shannen Doherty, Al Pacino and my girl Jen Aniston (who is of Greek descent) – all of whom have dined at the Malibu restaurant.  Unbelievably, we did not spot any celebs on Saturday night, but to be honest, for once, I wasn't paying very close attention.  I was too busy gabbing. LOL  But I get the feeling that seeing a celeb at Tony's is pretty much a sure thing, so you can bet I'm going to return in the near future. 🙂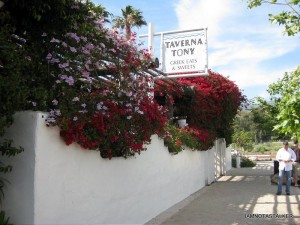 Before dining at Tony's on Saturday night, I had never sampled Greek food, so I had no idea what to expect.  Well, let me tell you, it was FABULOUS!  I have to say that Tony's serves up some of the BEST food I've ever eaten in my life.  The servings are absolutely ENOURMOUS and the prices are extremely reasonable – especially considering it's located in Malibu.    Tony's is the type of place where you can eat a healthy meal or completely throw your diet out the window.  I opted for the latter.  LOL  If you're game for doing the same, I must suggest the Flaming Saganaki Cheese appetizer!  Second to fried calamari, it is probably the worst thing on earth you could possibly eat, but OH-MY-GOD!  It is A-MA-ZING!  I could have eaten an entire platter of just that!  LOL 
I honestly cannot recommend stalking Taverna Tony enough!  Even if you're not into the whole celeb thing, I can pretty much guarantee you'll love this place.  🙂 
Until next time, Happy Stalking!  🙂
Stalk It: Taverna Tony is located at 23410 Civic Center Way, in the Malibu Country Mart shopping center,  in Malibu.  The feature live music and belly dancing nightly.  You can visit their website here.
6819