The Closer Duplex
Apr 20th, 2009 | By
Lindsay
| Category:
TV Locations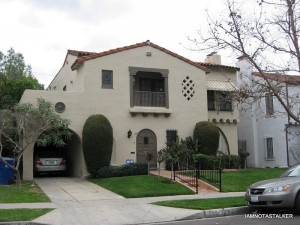 As I have mentioned before, I am a huge fan of TNT's crime series The Closer.  As is my whole family, actually.  So, a few weeks ago when my mom challenged me to locate Brenda and Fritz's duplex apartment building from the series, I accepted the challenge!  🙂  And it didn't take me long to find it at all.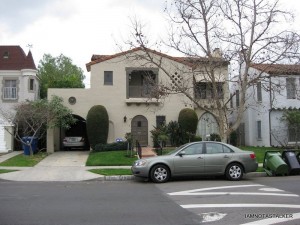 Actually, I can't really take credit for this one.  I happened to show my boyfriend a screen capture I had made of Brenda's building to see if he might have an idea of where it was located, and, sure enough, he did!  He told me that there is a certain area of Hollywood that is chock full of duplexes just like Brenda's and that I should start my search there.  And that's exactly what I did.  That area is South of Beverly Boulevard, in between La Brea and Fairfax.  And sure enough, that's exactly where I found the building!  It was actually on the second street I searched.  🙂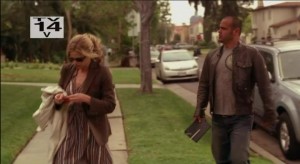 Deputy Chief Brenda Leigh Johnson and her fiance Fritz Howard move into this duplex on the Season 4 series opener, entitled "Controlled Burn".  Brenda spends most of the episode, which guest-starred Life On Mars  cutie Jason Mara, fretting about what to do with her cat, Kitty, as her new landlord has a strict "no pets" policy.   "Controlled Burn" actually featured some on location filming at the duplex, when Brenda brings home a reporter who is writing a story about the squad (pictured above).  The duplex is shown throughout the rest of Season 4 in establishing shots of Brenda and Fritz's home.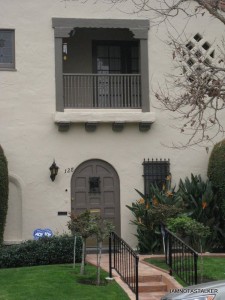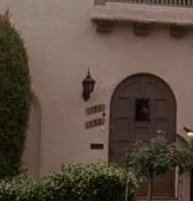 The Closer  duplex looks EXACTLY the same in person as it does on TV, right down to the wind chimes hanging from the second story balcony and the decorative plaque located above the carport.  Oddly enough, though, producers changed the address number of the duplex during filming.  As you can see in the above screen capture, the address number on The Closer  is 130/132.  The real address, though, is 126/128.  Which makes absolutely no sense to me!  If you're going to change the house number for whatever reason – most likely to ward off stalkers like myself 🙂 –  shouldn't you change it more significantly than that?  LOL  Because, to tell you the truth, when searching for the duplex, I was only looking at buildings with 130/132 address numbers, but quickly noticed The Closer  duplex located right next door to a building that was numbered 130.  LOL   🙂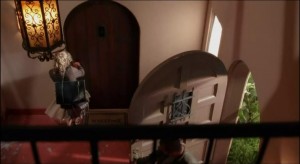 The other inconsistency I noticed about the duplex is that in The Closer there is only one exterior door. You can see in the above screen capture that to enter her apartment, Brenda has to go through the main front door, which then leads into an anteroom.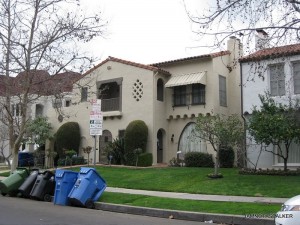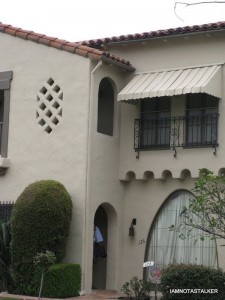 But in real life, the duplex actually has a second front door located just to the right of the main entrance.  Since Brenda's unit is the one with the large plate glass window on the bottom floor, she should actually enter her home through that second exterior door, which is never shown on TV.  Ah, the magic of Hollywood!  🙂
Until next time, Happy Stalking!  🙂
Stalk It: The Closer duplex is located at 126/128 North Detroit Street in Hollywood.
6984