Hugh Jackman's Hand and Footprint Ceremony
Apr 22nd, 2009 | By
Lindsay
| Category:
Celebrity Sightings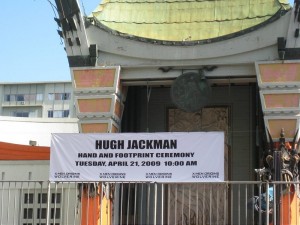 Got a call from my good friend Blaze on Monday morning who told me that Hugh Jackman's Hand and Footprint Ceremony was scheduled to be held the following day at Mann's Chinese Theatre.  So, of course, we made plans to attend.  🙂  I was incredibly excited to see a handprint ceremony in person, not so much because I am a huge fan of Hugh Jackman, but because the event is so historic.  That being said, Hugh Jackman is an AMAZING talent and he completely rocked this year's Oscars, so I was pretty excited about seeing him in person, too.  But truth be told, I would have been excited to see just about anyone.  🙂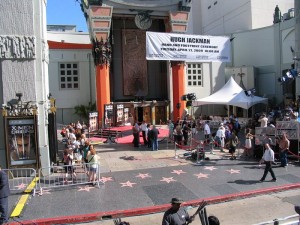 The Hand and Footprint Ceremonies, or Inductions into the Forecourt of the Stars as they are also called, take place fairly rarely.   Previous to yesterday's ceremony, the last movie star to be immortalized in cement was Michael Caine on July 11, 2008.  In 2007, there were three induction ceremonies, one for the cast of Ocean's 13 (Brad Pitt, George Clooney, Matt Damon, and producer Jerry Weintraub), one for the stars of the Harry Potter movies (Daniel Radcliffe, Emma Watson, and Rupert Grint), and one for superstar Will Smith.  So, I really could not have been more floored to attend!  Sadly, though, the event was incredibly disappointing!  Even more so for me because I had been so excited about it.  🙁  As you can see in the above photograph, the ceremony was slated to begin at 10 a.m.  But that's not really what happened.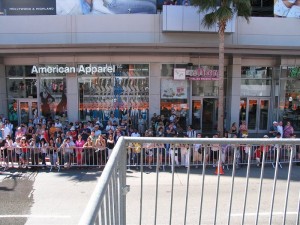 Blaze and I showed up to Mann's Chinese Theatre at around 8:30 a.m. to stake out a place in line.  By that time there were already about a hundred people lined up.  Within an hour, about 500 more people arrived.  Who knew Hugh was so huge!  Needless to say, the event was packed.  Right around 9:30 a.m., we were led to a set of bleachers which had been set up in the middle of Hollywood Boulevard.  Now, even though it was only 9:30 in the morning, the temperature had already reached 90 degrees!  For those of you who don't live in the area, L.A. has been experiencing a bit of  a heat wave the past few days.  And the bleachers were located in direct sunlight, so, let me tell you, it was HOT.  I'm actually surprised that no one passed out, it was that hot.  At around 10:15 when the ceremony had not yet begun, I was starting to feel a bit woozy.  At 10:25 I was ready to pack up and call it a day.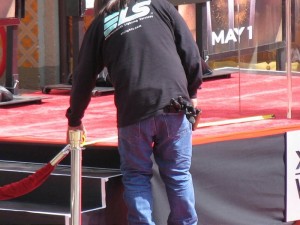 At 10:32, when a group of men started hanging a sign at the foot of the stage, I was ready to scream!  The ceremony was set to start at 10 and 32 minutes after the fact they are still hanging signs????   I took the above photos of some nimrod with a tape measure who was trying to center the sign correctly, just to make sure it was all really happening and I wasn't suffering from some heat-induced hallucination.  LOL  I don't have a lot of patience to begin with, so for me this was torture.  And I LIVE for this sort of thing!  So, I can only imagine how the people in attendance who weren't quite so into the whole Hollywood thing were dealing.  When I attended the Friday the 13th premiere back in February, everything went off without a hitch, so I was really surprised at how disorganized this event was.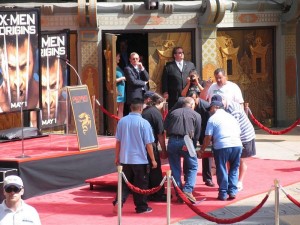 Anyway, the event FINALLY got underway right at 11 a.m., exactly one hour past the scheduled start time.  Just a few minutes before Hugh was introduced, six men walked out carrying the cement block Hugh would soon be standing in.  I couldn't believe it took six men to hold it!!!!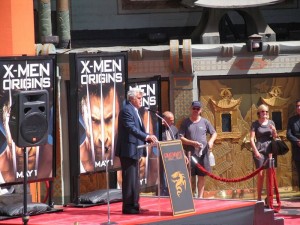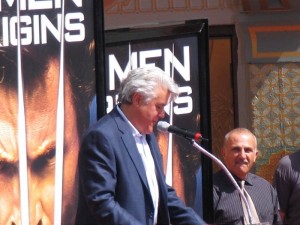 Then, Jay Leno, who was emceeing the event, came out and made a very brief speech introducing Hugh.  Jay was much larger than I expected him to be and seemed to have on a ton of makeup. Jay said that Hugh is one of the nicest celebs he's ever had on his show.  He said that you can tell a lot about a person from how they treat the people working behind the scenes in show business, and that Hugh is always extremely kind to everyone from the makeup crew to the production staff at The Tonight Show.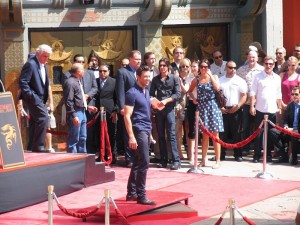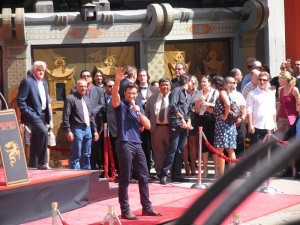 Then, finally, Hugh came out!  HJ is very good-looking and VERY tall – 6'2″ according to IMDB – in person.  He is in excellent shape, too.  Hugh posed for some quick media photographs before heading over to the podium to make a speech.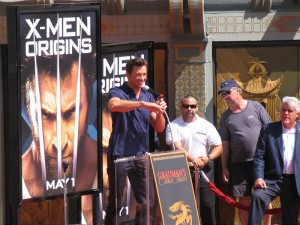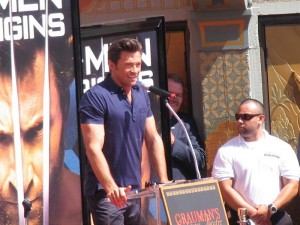 In his speech, which was also very brief, Hugh said that about 12 years ago when he and his wife first moved to L.A., they visited Mann's Chinese Theatre and he put his hands in Peter Sellers handprints, which I thought was really cute.  Maybe someday I'll be up at that very podium saying that I once put my hands in Marilyn Monroe's handprints.  🙂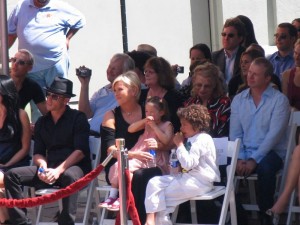 Hugh also thanked his wife and two children who were in attendance.  Apparently, Hugh's nine year old son told him he would only come to the ceremony if Daddy promised not to make a long, boring speech.  LOL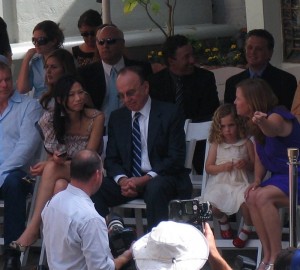 Also in attendance at the ceremony was 20th Century Fox owner Rupert Murdoch and his wife, Wendi Deng.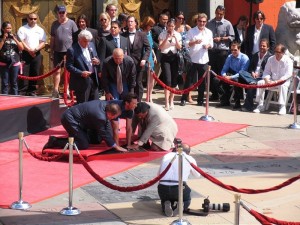 Then came the moment we'd all been waiting for – the handprints!  It was actually pretty bizarre to see the handprint process in person, as three men were actually surrounding Hugh the whole time, physcially guiding him through it.  You can see in the above photographs how the two men on either side of him actually placed his hands in the cement for him and then held them down.  What was also odd was that he had to leave his hands in the cement for a good minute before taking them out.  I'm not sure if that was strictly so that the media in attendance had time to snap photographs or if it had something to do with the time it takes for cement to set.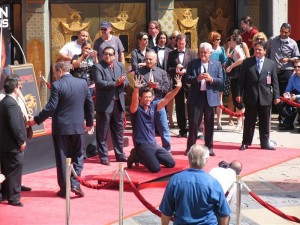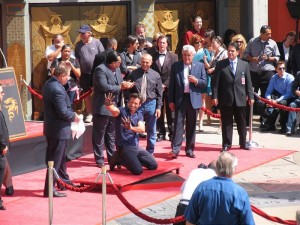 It was very apparent how excited Hugh was to be recieving this honor.  His grin was absolutely HUGE.  So cute!  🙂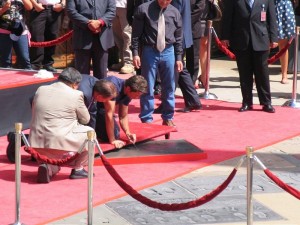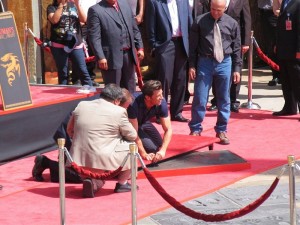 Then, HJ signed his name in the cement with a little wooden stick, which he ended up giving to someone in the crowd.  🙂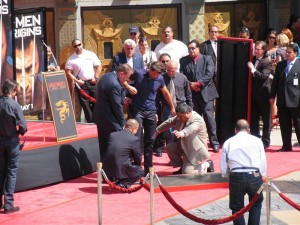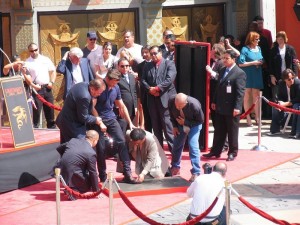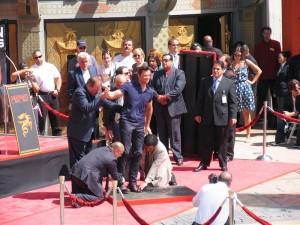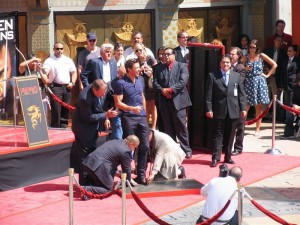 Then, this time with the help of four men, Hugh placed his feet in the cement.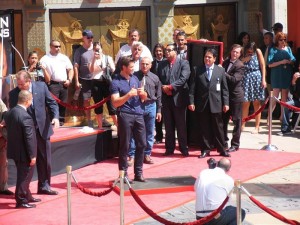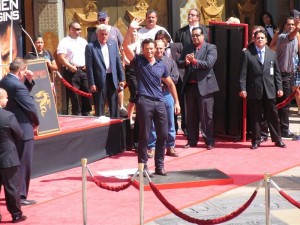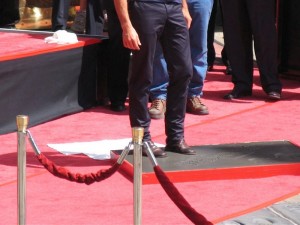 As with his hands, Hugh also had to keep his feet in the cement for quite a long time – at least one full minute.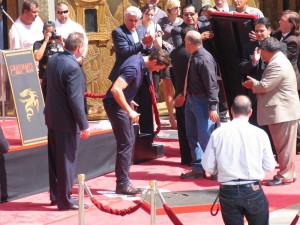 As he was wiping his feet off, one of the fans in the bleachers called out "Can I have your shoes?"  LOL  Hugh said no to that one, though.  I've heard that Mann's actually provides the shoes that celebrities wear during the footprint ceremony, but in this case it appeared that HJ wore his own shoes.  They didn't look new.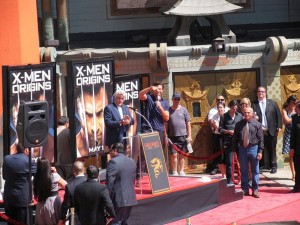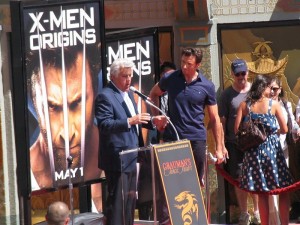 After his feet and hands had been immortalized in cement, Jay and Hugh returned to the podium and thanked everyone for coming.  At that point Hugh turned to the bleachers and thanked all of his fans, whom he said he knew he wouldn't be here without.  And that was pretty much it.  All in all the ceremony took about ten minutes.  LOL
And literally the second it was over, Jay Leno was out of there!!  He pretty much immediately dashed off stage and into a waiting car without signing any fan autographs.  🙁   I think that had a lot to do with the heat, though.   As you can see in the above photograph, Jay looks as if he's about to wilt.  Check out his hair!  LOL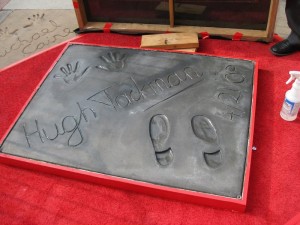 After the ceremony was over, Hugh announced he was going to sign autographs for the many fans in attendance.  I was extermely impressed by this being that it was so darn hot outside.  Blaze and I didn't stick around for an autograph, but instead walked to a nearby grocery store to buy some much needed bottled water.  Twenty minutes later, as we made our way back to Mann's, Hugh was STILL there signing autographs!!  He seemed like a genuinely appreciative, kind, and humble guy.   And while it was extremely exciting for me to see a hand and footprint ceremony in person, I don't know that I'd ever do it again.  🙁  Well, maybe if it was for my girl Jen.  But even then I'd have to think long and hard about attending.
Until next time, Happy Stalking!  🙂
Stalk It: Mann's Chinese Theatre is located at 6925 Hollywood Boulevard in Hollywood.  You can visit their website here.  Hugh Jackman's handprints and footprints are currently on display in the center of the Chinese Theatre's Forecourt to the Stars.   
7186