San Francisco City Hall
May 1st, 2009 | By
Lindsay
| Category:
Marilyn Monroe Locations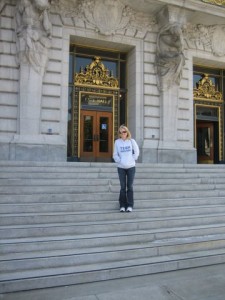 I think it's pretty safe to say that I've read just about every biography on my girl Marilyn Monroe that's ever been published.   So, imagine my surprise when I came across an article the other day which stated that the starlet married her second husband, baseball legend Joe DiMaggio, at San Francisco City Hall.  How in the heck did I not know this before???   I grew up in San Francisco for Pete's sake!  City Hall was pretty much right in my own backyard!  In fact, I even stalked the place back in October, during my last trip to the City by the Bay.  I had yet to blog about it, though, because it was extremely windy the day I was there and I only got out of the car long enough to take one photograph – the one pictured above.  Check out my hair!  LOL  So, the other day, after reading about Marilyn's San Francisco wedding, I sent my good friend Nat, who lives in the area, on a stalking mission to take photographs of City Hall for me, so that I could finally blog about it.  🙂  Here goes!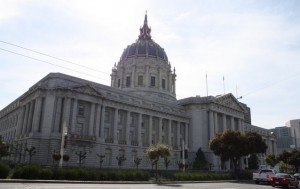 San Francisco City Hall was built in 1915 by architect Arthur Brown, Jr., who also designed Coit Tower, the War Memorial Opera House and Pasadena City Hall.  The Beaux-Arts style building that stands today is actually San Francisco's second City Hall.  The first, which was built in 1899 and stood at the corner of Grove and Larkin Streets where the public library is now located, was completely destroyed during the 1906 earthquake.  Rescue workers were able to salvage the statue that stood atop of the original City Hall's dome and planned on placing it on the new building.  Unfortunately, the statue fell off the back of a flat bed truck while being transported to its new location and was destroyed.  LOL  LOL LOL  How's that for irony??    The current City Hall measures over 500,000 square feet, takes up two entire city blocks, and cost over $3.5 million to build!  Over ten acres of marble were used in the construction.  The building's dome stands at 307.5 feet tall, trumping Washington D.C.'s Capital Building's dome by 14 inches.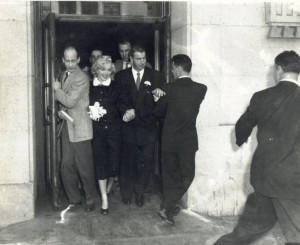 Marilyn Monroe and Joe DiMaggio's wedding took place on January 14, 1954 in the third floor chambers of Judge Charles S. Perry, who was a close friend of Joe's.   DiMaggio's other good friend Reno Barsocchini and his former manager Lefty O'Doul were the couple's only guests.  Sadly, the marriage was short-lived.  Marilyn filed for divorce only 274 days later.  City Hall is also the location where Mayor George Moscone and County Supervisor Harvey Milk were shot to death by Dan White on November 27, 1978.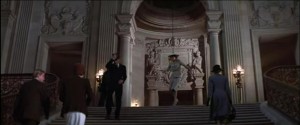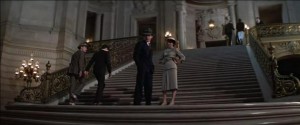 San Francisco City Hall has been featured in countless movies and television shows over the years. The interior of the building's rotunda showed up at the very end of Raiders of the Lost Ark, where it stood in for the Washington D.C. building where Indiana Jones agreed to let Marion Ravenwood buy him a drink (pictured above).  City Hall was also used in Bedazzled, The Rock, A View to a Kill, Dirty Harry, Milk, Tucker: The Man and His Dream, The Towering Inferno, Invasion of the Body Snatchers, Dharma and Greg (in the "Much Ado During Nothing" episode), Foul Play, and Bicentennial Man, just to name a few!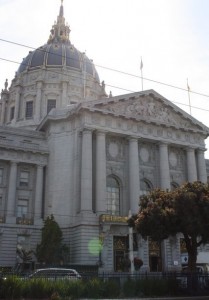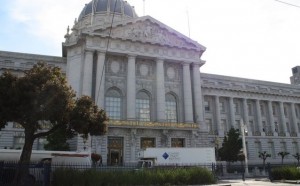 I highly recommend stalking San Francisco City Hall.  It is an absolutely beautiful building and just seeing the dome alone in person is worth a drive by!  And, although I didn't venture inside while I was stalking the place, the first floor area is open to the public.  Free tours are also given three times daily, Monday through Friday, at 10 a.m., 12 p.m., and 2 p.m.  San Francisco City Guides also offers free interior tours of City Hall every Thursday at 11:00 a.m.  You can visit their website for further details.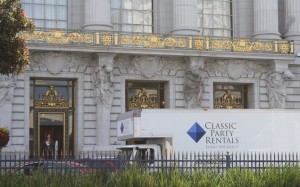 Big THANK YOU to my surrogate stalker Nat who took all of the above photos.  🙂
Until next time, Happy Stalking!  🙂
Stalk It: San Francisco City Hall is located at 1 Dr. Carlton B. Goodlett Place in San Francisco. 
7691