Hollywood Center Motel
May 8th, 2009 | By
Lindsay
| Category:
Movie Locations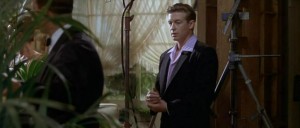 A few weeks ago, Mike, from MovieShotsLA, called me up to ask me if I knew that my latest Hollywood crush, Simon Baker, had one of his earliest acting roles in the 1997 movie  L.A. Confidential.  And I almost fell out of my chair!  Even though I've seen that movie about a hundred times, I never realized that SB had acted in it.  The then-unknown Mentalist star had the small, but pivotal role of homosexual actor/prostitute Matt Reynolds in the film.  That's him in the above screen capture. I can't believe how young he looks!!!!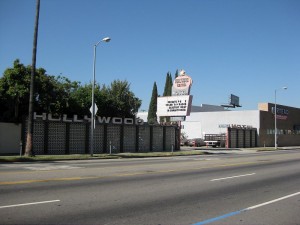 Mike also told me the address of the location where SB's character meets his untimely demise towards the middle of the movie – Room 203 of the Hollywood Center Motel.  So, of course, since I was in the area yesterday, I just had to stalk it.  🙂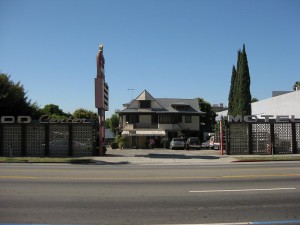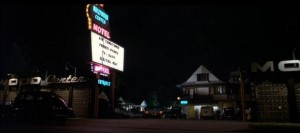 In the scene filmed at the Hollywood Center Motel, Hush-Hush  magazine editor Sid Hudgeons (Danny DeVito) and Detective Jack Vincennes (Kevin Spacey) set up a sting operation to catch the Los Angeles District Attorney in an illicit rendevous with homosexual prostitute SB.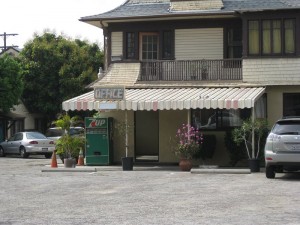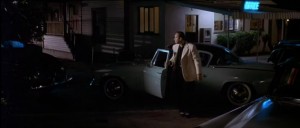 But, at the last minute, Jack has a change of heart and shows up at the motel early to warn SB of the set-up.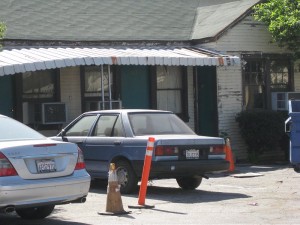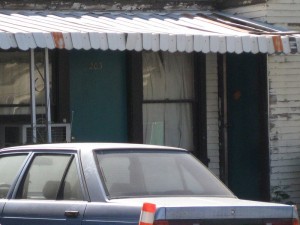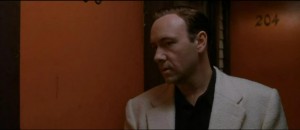 Unfortunately, he is too late, and when he enters the seedy motel room he finds SB's character dead on the floor.  🙁  Poor Simon!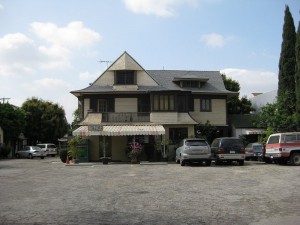 Hollywood Center Motel is an odd little place, with what appears to be a large central guesthouse surrounded by small motel rooms.  I am guessing that most of the motels' guests live there full time.  Aside from a change in paint color, the Hollywood Center Motel looks pretty much exactly the same today as it did twelve years ago when it appeared onscreen in L.A. Confidential.  Unfortunately, other than the fact that it was built in the 20's, I couldn't find out much information about the small motel online.  And I can't say that I'd really recommend stalking the place, as it is pretty seedy and run-down.  But being that it definitely has that Old Hollywood vibe to it, it's easy to see why producers chose to use it in their film about a 50's era Los Angeles.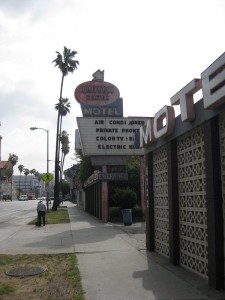 While I was stalking the motel, the manager happened to be outside sweeping the parking lot, so, of course, I had to ask him what other productions had been filmed on the premises.  He looked at me like I was absolutely out of my mind, laughed, and then walked away without saying a word.  LOL LOL LOL  I am fairly certain, though, that, due to its historic and unique look, the motel has to have been used in other productions besides L.A. Confidential.   I am going to have to keep my eyes open for it from now on.  🙂 
Until next time, Happy Stalking!  🙂
Stalk It: Hollywood Center Motel is located at 6720 West Sunset Boulevard in Hollywood. 
7952