Brad and Jen's Honeymoon Hotel
May 12th, 2009 | By
Lindsay
| Category:
Jennifer Aniston Locations
,
This and That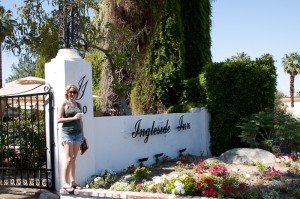 As I mentioned in yesterday's post, this weekend was a big one for me.  The biggest perhaps!   My boyfriend (of over eight and a half years!!) finally popped the question!!!!!!!!!!!  🙂   And I, of course, said yes!  This changes things quite a bit for me, as from now on I will no longer be dragging my boyfriend to filming locations all across L.A.  I will now be dragging my fiance!!  🙂  LOL  My boyfriend realized long ago that if he was going to propose to me it had better be at some sort of filming location.  And, let me tell you, he came through big time!!!!!  Although, I was the one who actually discovered the location for him.  🙂  A few weeks ago, while searching for the mansion where Brad and Jen got married, I stumbled upon this article about a little boutique hotel in Palm Springs named the Ingleside Inn. And when I read the words "Jennifer Aniston and Brad Pitt came to the Inn after their media frenzy Malibu wedding" I literally almost hyperventilated right there at my computer!  I immediately called my boyfriend and said "WE HAVE TO GO HERE!"  LOL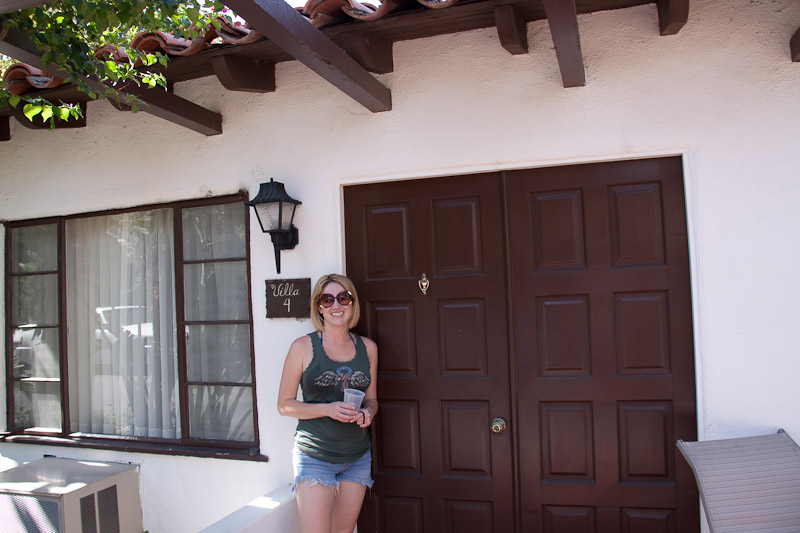 My boyfriend actually already had plans to attend a work event in Palm Springs this past weekend, so he booked us a room at the hotel.  And I was FLOORED, ABSOLUTELY FLOORED!  Well, that "work event" turned out to be a surprise engagement party for me with all of our closest friends [including Mike, from MovieShotsLA :)]  in attendance.  My boyfriend proposed about 45 minutes before the surprise party right there in Villa 4 of the Ingleside Inn.  It was a pretty magical experience.  🙂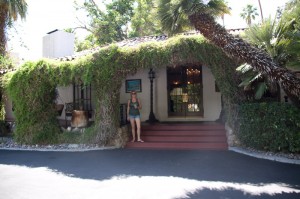 The Ingleside Inn was first built as a private residence in 1922 by heirs to the Pierce Arrow Motor Car Company fortune.  In 1939, the residence was purchased by Palm Springs' first councilwoman, Ruth Hardy, who turned the 2.5 acre property into an exclusive inn and private club.  Rumor has it that she would interview guests before their stay to make sure they were worthy of vacationing at her Inn.  🙂   In 1975, after Ruth passed away, the Inn was purchased by New York native Mel Haber, who still owns and runs the property to this day.  In fact, on Friday night while eating dinner at the Inn's onsite restaurant, Melvyn's, I had the pleasure of meeting Mr. Haber who confirmed for me that Brad and Jen did in fact spend three nights at the Inn immediately following their wedding.  🙂 🙂 🙂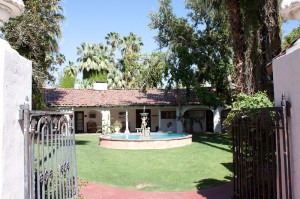 The tiny inn is like no other place I have ever visited.  It boasts only thirty rooms – each one different – and, even though it is within walking distance of Downtown Palm Springs, is completely secluded.  It is quiet, peaceful, and intimate.   When we checked in, a bellman escorted us to our room and gave us a real key – not one of those plastic key-cards that most hotels use.  The air conditioning had been turned on prior to our arrival, so that our "villa" would be nice and cool for us upon entering.  Our bed had been turned down, there was a mint on each of the pillows, and a fruit basket was placed on the dresser.  Each morning a newspaper was delivered to our door and the fridge was re-stocked daily with complimentary fruit juice, soda, and bottled water.  All of the hotel employees knew us by name, knew our room number by heart, and would walk by repeatedly while we were lounging poolside to make sure our every need was being attended to.  It was service at its finest!!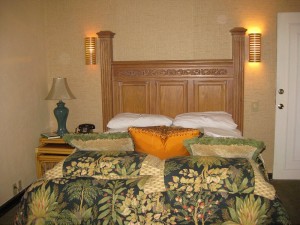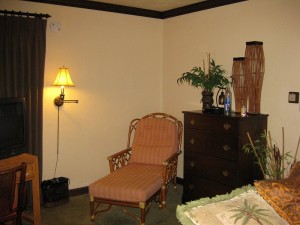 The rooms, which are very reasonably priced (almost unbelievably so!), are slightly old-fashioned, but in a good way.  While staying there, I really felt as though I had stepped back in time.  I must say, though, that if you are at all a fan of hotels like The Standard in West Hollywood (which I'm not), then this is definitely not the place for you.  The Inn is not a spot to party or live it up.  It is the kind of place you go to truly get away from it all.  Which is my kind of place!  Oh, and did I mention that there is a Starbucks within walking distance?  What more could a girl ask for?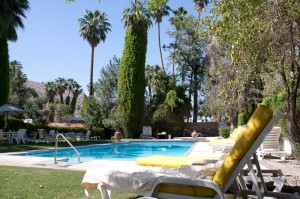 My favorite part of the hotel had to be the pool, though, which is open 24 hours.  Even though the Inn is only a short block away from Palm Canyon Drive and Downtown Palm Springs, while laying by the pool I felt like I was worlds away from civilization.  I remember thinking to myself 'No wonder Brad and Jen came here!'  🙂  Ingleside Inn is the kind of place where cell phones in common areas are frowned upon, so the pool is like a little secluded haven.  It was heaven!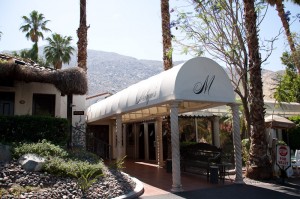 Also heaven was the poolside lunch I ordered from Melvyn's, the Inn's fine dining restaurant.  Melvyn's has won countless awards, including "First Place in Fine Dining", "Most Romantic Restaurant", and, my personal favorite, "Best Place to Spot Celebrities".  🙂   Both the restaurant and the Inn have also been featured repeatedly as "One of the Ten Best" on television's Lifestyles of the Rich and Famous.  Melvyn's also features a Rat Pack style crooner who sings the Standards nightly.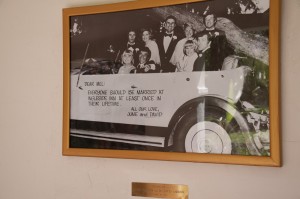 Since the beginning, both Ingleside Inn and Melvyn's have been celebrity havens.  In fact, an entire section of a past issue of People Magazine was devoted to the many celebrity weddings that have taken place at the Inn, which include that of Frank Sinatra and Barbara Marx,  Angel's David Boreanaz and Playboy Playmate Jaime Bergman, and David Ashrow and actress June Allyson who stated "Everyone should be married at Ingleside Inn at least once in their livetime!"  LOL    The Inn's celeb guests include Lance Bass, Bob Hope, Goldie Hawn, Kate Hudson, Greta Garbo, Arnold Schwarzenegger, Maria Shriver, Salvador Dali, Sylvester Stallone, opera singer Lily Pons (who lived at the Inn for over 13 years!!!), John Travolta, Liza Minelli, Cher, Clark Gable, Barry Manilow, Elizabeth Taylor, President Gerald Ford, and John Wayne, just to name a few.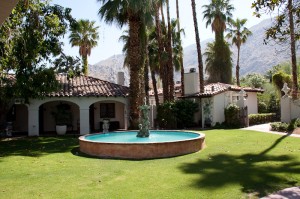 I honestly cannot recommend stalking the Ingleside Inn enough!  It is truly a magical place!  All weekend (even before he proposed) my boyfriend kept saying "I've found my new favorite Palm Springs hotel!"  🙂  And, thanks to my boyfriend – ahem, my fiance – the Inn is no longer just the place where Brad and Jen spent their honeymoon, but the place where I got engaged.  🙂
Until next time, Happy Stalking!  🙂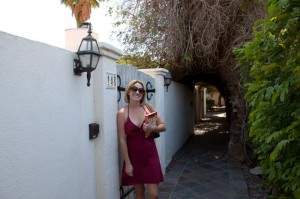 Stalk It: The Ingleside Inn is located at 200 West Ramon Drive in Palm Springs.  Brad and Jen stayed in Room 148 of the hotel (pictured above).  My boyfriend proposed to me in Villa 4.  🙂  You can visit the hotel's website here.  Rooms run from $120 to $600 per night.
8028