My Day on the Set of Chelsea Lately!
May 13th, 2009 | By
Lindsay
| Category:
TV Locations
As I mentioned in Monday's post, this past weekend was a complete whirlwind for me!!  But getting engaged wasn't the only exciting thing that happened.  No, the excitement of the weekend for me actually started on Friday when I got to spend a day on the set of my new favorite show, Chelsea Lately!!!   A few weeks back while my friend Blaze and I were waiting in line to watch a live taping of Chelsea's show, one of her Production Assistants came outside to tell us about a new bit that was being added to the show that they needed volunteers for.  The new segment involves Chelsea pretending to be a detective who solves weird and obscure mysteries.  The P.A. wanted to know if any of us in the audience had any mysteries in our life that needed solving.  Now, mind you, Blaze had spent that entire morning while in line complaining about the fact that his agent never sends him out on acting auditions.  So, I immediately raised my hand and yelled out, "My friend here has a mystery that needs solving!  He needs to know why he never has any auditions!"  🙂  The P.A. really liked Blaze's "mystery" and took down his information and said she might be calling to book him for a segment.  Sure enough, last week he got a call saying they would be filming his mystery on Friday if he was available!!!!  And, being the nice guy that he is, Blaze asked the P.A. if I could tag along.  She said that while I couldn't watch the actual taping, I could hang out in Chelsea's green room all day.  So, of course, I did!    And, let me tell you, I could not have been more excited!!!!  I literally didn't sleep a wink the night beforehand!!!!!  LOL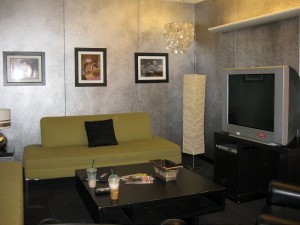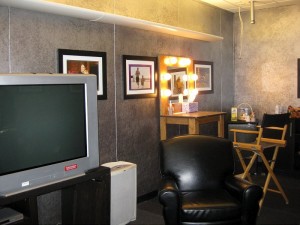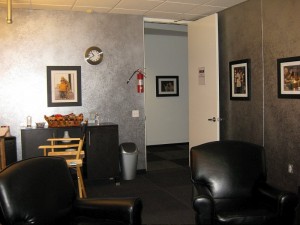 Blaze and I arrived at the Digital Media Center, where Chelsea Lately  is taped, at around 10:30 a.m. on Friday morning and were led immediately to the green room.  For those of you not familiar with industry lingo, a "green room" is a sort of waiting room for performers.  It's a place where actors or musicians can hang out and relax before going on stage.  Chelsea's green room is not actually green, but silver, and I could not have been more FLOORED to be seeing it in person!!!  I couldn't help but think about all of Chelsea's famous guests who had sat in that room at one time or another.  The fact that I was now sitting there was mind-boggling to me!  I mean, who in the heck am I to be in the green room of the Chelsea Lately  show????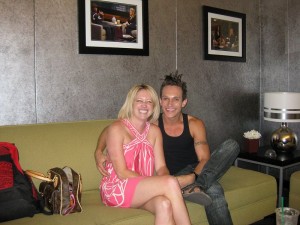 Since I knew beforehand that I would not be able to watch the actual taping of Blaze's segment, the two of us decided to really live it up while waiting in the green room!   And, of course, I just had to take pictures of absolutely EVERYTHING!  🙂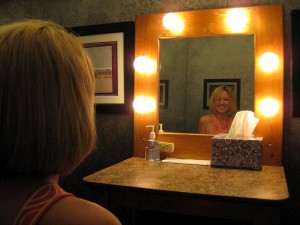 Sitting in the make up chair;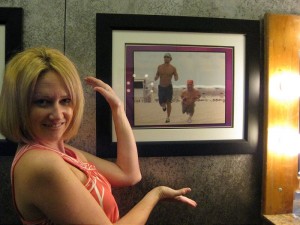 modeling with the celeb photographs on the wall;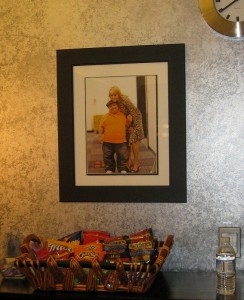 a super cute pic of Chelsea and Chuy;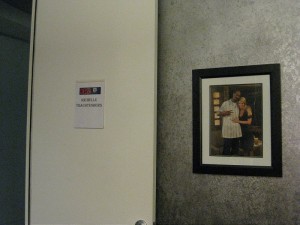 the green room door with Michelle Trachtenberg's name on it (she was the celebrity guest the previous evening);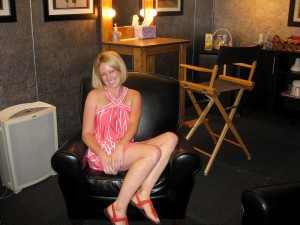 and just hanging out.  🙂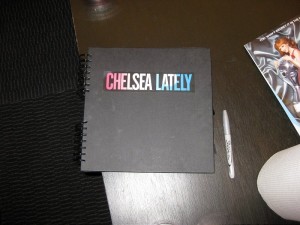 But my favorite part of the green room had to be Chelsea's "guest book" – a little book which all of the celebrity guests sign before going on air to be interviewed.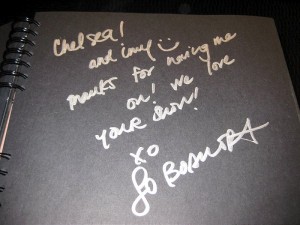 I cannot tell you how much fun I had going through that book and reading all of the messages that celebs had written to Chelsea.  Included in the book were messages from Jamie Kennedy, Roselyn Sanchez, Dr. Drew, Jenny McCarthy, Perez Hilton, Khloe Kardashian, Kris Kardashian, Taryn Manning, former Spice Girl Mel B, Vivica A. Fox, and, my personal fave, The Hills'  Lo Bosworth (pictured above).
At one point during the day, frequent round table guest and Chelsea Lately  "Staff Homosexual" Guy Branum walked by the green room and I just about died of excitement!!!!  I was too scared to talk to him, so Blaze ran outside and asked him to pose for a picture with me.  YAY!  Guy was super nice in person and actually ventured into the green room quite a few times during the day.  🙂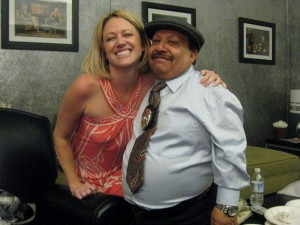 But the biggest highlight of the day for me was when Chuy, Chelsea's assistant, visited the green room to introduce himself to everyone.  Chuy was dressed up in a little policeman outfit for the segment they were taping and looked absolutely adorable!!  Not only did he give me a hug, but he also kissed me on the cheek and I could not have been more excited!  He seemed like such an incredibly sweet man!  All in all, I had an ABSOLUTE blast spending the day at the Chelsea Lately  show!!  Ironically enough, though, Chelsea ended up running out of time and wasn't able to tape Blaze's segment.  But you know what that means, don't you???  Yes sir, we get to go back another day to do it all over again!  YAY!  My fingers are crossed that this time I'll get to meet Chelsea!!!!!!  🙂
Until next time, Happy Stalking!  🙂
Stalk It: Chelsea Lately  is filmed at the Digital Media Center, which is located at 12312 West Olympic Boulevard in Los Angeles.  You can get tickets to watch a live taping here.  You can catch the Chelsea Lately show weeknights at 11 p.m. on E!
8020