Moondance Diner
May 15th, 2009 | By
Lindsay
| Category:
Movie Locations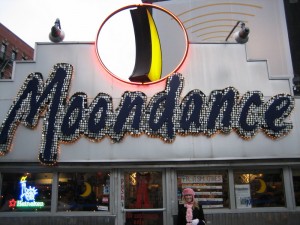 This morning my mom sent me a link to an awesome new  locations website called "Where It's At – Pop Culture Is All Around You".  And I, of course, became TOTALLY and COMPLETELY engrossed in it for a good hour and a half.   I was so engrossed in it, in fact, that I was late in meeting my dad for our usual morning Starbucks run!  Anyway, while perusing the site I happened upon this link about an oft used New York filming location named Moondance Diner.  And I almost fell out of my chair when I read that the historic restaurant had been moved clear across the country in late 2008!  Apparently, the diner was driven over 2,300 miles -on a flatbed truck, no less – all the way from the island of Manhattan to a tiny town in Wyoming named La Barge (population 493!).  At first, I thought the website was mistaken, as I had visited Moondance Diner on my 2007 trip to the Big Apple.  How in the heck could an entire restaurant be moved halfway across the country in as little as a year and a half????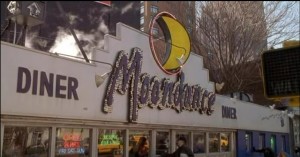 Apparently, the historic diner closed its Manhattan doors in July of 2007 after a real estate development company purchased the land beneath it.  The company planned to demolish the historic restaurant to make room for a high rise condominium complex, but thankfully preservationists stepped in to stop the demolition.  Moondance ended up being donated to the American Diner Museum and was subsequently purchased by Vince and Cheryl Pierce for the bargain price of only $7,500!  The Pierce's made the incredible decision to relocate the famed diner to their hometown of La Barge, Wyoming.   And I have to say 'Way to go, Vince and Cheryl!!!'  I am so thankful that the diner, which opened in 1929 and was originally named the Holland Tunnel Diner, is still alive and well for all of us stalkers to visit!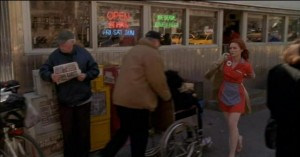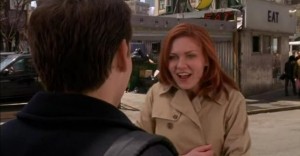 The diner has been featured in numerous productions over the years, most notably as the restaurant where Mary Jane worked in the first Spiderman  movie.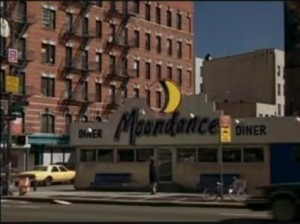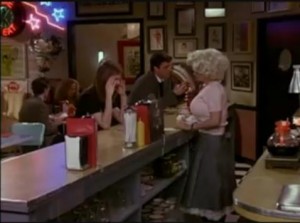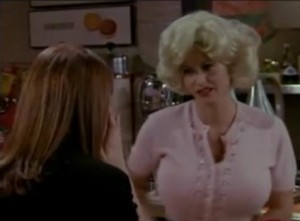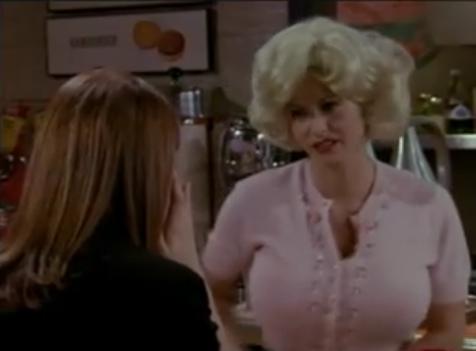 On Friends, Monica also worked at Moondance after being fired from her chef job during Season 3.  No Friends  filming actually took place at the diner, though.  While the restaurant's exterior was used for some set-up shots, the interior was a set that was built on a Warner Brothers soundstage in Burbank.   The interior of Monica's diner looks nothing like Moondance's real life interior, though.  Nor did the real life waitresses have to wear silly outfits like Monica's.  LOL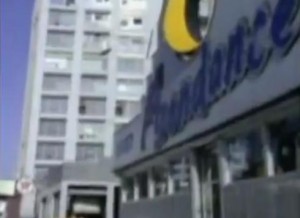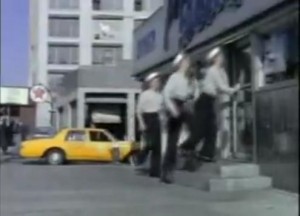 Moondance was also featured in the music video for the a-ha song "You Are The One" and in the 1985 movie After Hours.  According to the Where It's At website, the diner was also used in an episode of my fave Sex and the City, but I am not sure which one.   So, I am putting it out there to you, dear readers – does anyone remember which episode of SATC  was filmed at Moondance Diner?
Moondance has also had its brush with celebrity.  Frank Sinatra used to be a frequent patron, as were many of the New York Yankees.  And "Rent" playwright Jonathan Larson even worked at Moondance for a time.  I can't tell you how happy I am that this historic diner was saved from the wrecking ball!!   If I ever find myself in La Barge, Wyoming, I fully plan on stalking it!  🙂
Until next time, Happy Stalking!  🙂
Stalk It: Moondance Diner was originally located at 80 6th Avenue in New York.  It's current location is at the corner of Main Street and 6th Avenue in La Barge, Wyoming.  You can visit Moondance's website here.
8134