Naomi Clark's House
May 21st, 2009 | By
Lindsay
| Category:
90210 & Beverly Hills, 90210 Filming Locations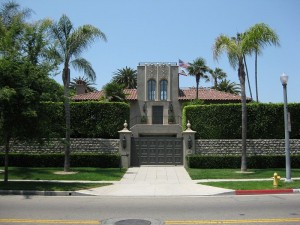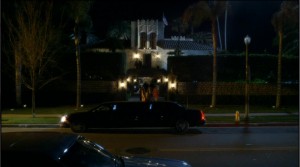 Back in March, I came across this post on fave website On Location Vacations which stated that 90210  was filming that day at a private residence located at 145 North Rossmore Avenue in Los Angeles.  That residence turned out to be the mega-mansion that Naomi Clark and her sister moved into in the episode of the CW series that aired last week, entitled "Zero Tolerance".  And since the home was also featured quite prominently in last night's episode as the location of Naomi's after-prom party, of course I just had to run right out and stalk it.  🙂  Thanks, On Location Vacations!!!!!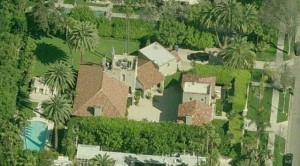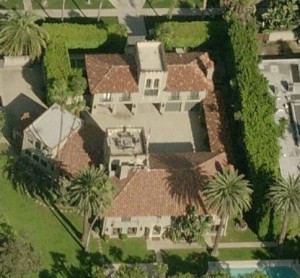 As you can see in the aerial images pictured above, Naomi's house is absolutely ginormous in person!!!  The mansion, which was originally built in 1923, boasts 5 bedrooms, 8 bathrooms!!! and a whopping 6,147 square feet.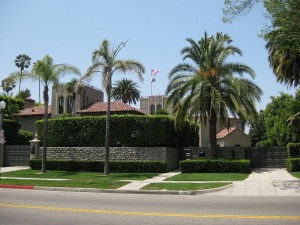 Thanks to its sheer size and the two large towers (complete with flagpole) that flank its entrance, the mansion actually looks more like a museum or a monument of some sort than a residence.  It's hard to believe that a real person actually lives there!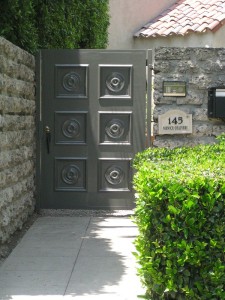 The home is so big, in fact, that it even has its own separate service entrance!  🙂 LOL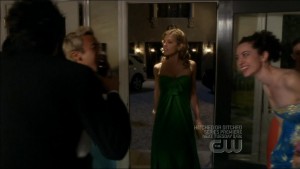 Both the interior and the exterior of the mansion were used quite extensively on last night's episode of 90210, which was entitled "One Party Can Ruin Your Whole Summer".   Featured on the show were the front entrance;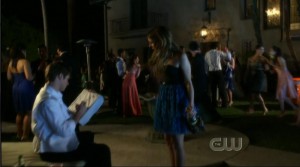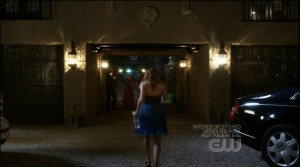 the front yard area – where Annie had her meltdown;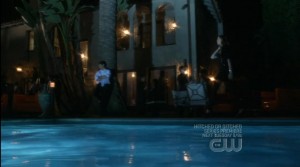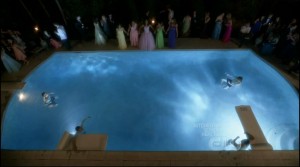 the pool area – where Silver encouraged all the girls to go swimming in their prom dresses and where Naomi's sister, Jen, hit on Liam;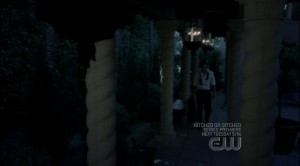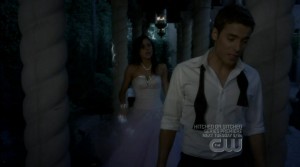 and the covered walkway – where Ethan kissed Silver. 
I couldn't help but cringe last night while watching Naomi's house being trashed during her out of control prom party.  If I owned that beautiful mansion I don't think I could have handled watching that happen – even if it was all fake.  LOL  🙂  According to Zillow, this same home was also used in an episode of CSI: Miami, but I am not sure which one.  I will have to keep my eyes open for it.  🙂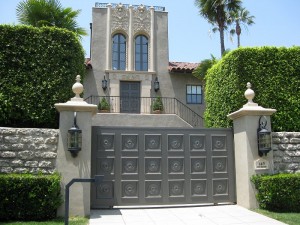 I have to say that I am actually a bit surprised that that this particular house was used for filming, as it doesn't seem to be situated in a very film-friendly location.  Rossmore Avenue is a fairly busy thoroughfare, with pretty much constant traffic congestion.  I had a hard time even just walking across Rossmore to take a picture from the other side of the street, so I can't imagine how the crew was able to set up the many film trucks and equipment needed for the day without at least partially shutting down the street.  Needless to say, though, the house is absolutely beautiful and absolutely huge and it is just the type of home I'd picture 90210's resident princess purchasing for herself.  You can see some great interior and close up pics of the house here.  🙂
  Until next time, Happy Stalking!  🙂
Stalk It: Naomi Clark's house is located at 145 North Rossmore Avenue in Los Angeles.
8403