It's A Wrap!
May 26th, 2009 | By
Lindsay
| Category:
This and That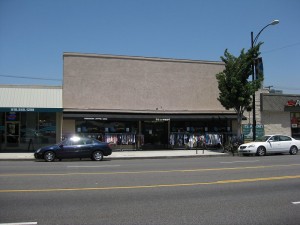 Got an email the other day from fellow stalker Heather who told me about a store in Burbank named It's A Wrap that sells clothing, props, and memorabilia from recently wrapped movies and television shows!  Being that the store sounded right up my alley, I immediately ran out to stalk it!!  🙂  It's A Wrap has been in business selling Hollywood costumes and movie merchandise since 1981.  Owner and founder Janet Dion purchases clothes and props directly from the many movie studios in the area and sells them to the public out of two retail stores – one in Burbank and one in Beverly Hills.  It's A Wrap has sold clothing from hundreds upon hundreds of productions over the last twenty-eight years, including The Flinstones, Beverly Hills, 90210!!!!, Seventh Heaven, Charmed, Drillbit Taylor, Twilight, Lipstick Jungle, Spanglish, Seven, Guiding Light, Varsity Blues, Seinfeld, Baywatch, Sabrina the Teenage Witch, and Las Vegas.  Love it!! 
Not only does It's A Wrap provide the general public access to movie items we might otherwise never have the ability to purchase, but the store also has INCREDIBLE deals!!!!  I'm talking INCREDIBLE!!!!  Designer dresses are usually marked down well over 50% below retail value.  Yesterday, while I was stalking the place, I spotted a few super cute BCBG dresses with the original price tags still attached.  The dresses, which were originally priced $298, were selling for $98!!!  But, of course, not a one of them was in my size!!!  Ugh!  Such a bummer!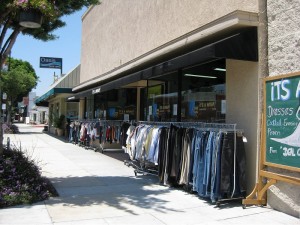 Because It's A Wrap receives new merchandise from the local studios on a daily basis, you simply never know what treasures you are going to discover there.  While I was stalking the place last week, I found clothing from Kath & Kim, Ugly Betty, General Hospital, Hancock, According to Jim, and CSI: Miami – just to name a few.  But the cutest clothes, by far, had to be from the newly-released Wayans Brothers' movie Dance Flick.  I pretty much loved every single piece from that collection, which included a large assortment of tees by fave designer Michael Stars.  🙂  It's A Wrap was also selling a HUGE array of evening gowns and cocktail dresses from the soap opera General Hospital.  If I was still in high school, this would DEFINITELY be the place I'd shop for my prom dress.  🙂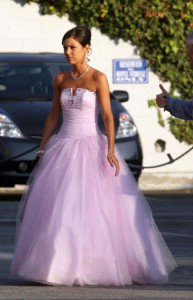 The store even had a dress from Disney Studios that looked strikingly similar to Silver's prom dress from last week's episode of 90210.   Oh, if only I had a prom to go to!  🙂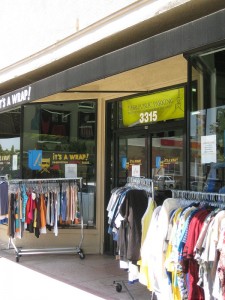 I honestly can't recommend stalking It's A Wrap enough.  But be sure to keep in mind that even though the shop sells movie costumes, it is still a used clothing store.   Don't go in there expecting it to look like a Beverly Hills boutique.  It's A Wrap is a thrift shop, and if you don't like that sort of thing, you won't like this place.  🙂  Also don't go in there expecting to find a specific costume from a specific movie or television show.  While all of the clothing for sale at It's A Wrap bears tags marking what production or what studio it came from, no reference is made to what actor or actress actually wore the item.  In fact, many of the clothes for sale were most likely not worn by a lead actor, but by secondary and background actors.  And some of the costumes may never even have been worn at all.    At the same time, though, you simply never know what you are going to find at It's A Wrap.  A few years back, one lucky customer walked away with Brad Pitt's shoes from the movie Seven.  🙂  Any visiting tourist who wants to take a piece of Hollywood home with them should definitely stalk It's A Wrap!  Oh, and the best part about the store?  Showcased on the walls are countless costumes worn in famous movies and television shows, including items worn by Shannen Doherty, Shirley MacLaine, Sean Penn, and Demi Moore.    If you do happen to stalk It's A Wrap, be sure to keep your eyes peeled for celebs, because, amazingly enough, quite a few of them are fans of the store.  Famous customers include Mary Kate and Ashley Olsen, Mario Lopez, Jennifer Love Hewitt, David Arquette, Brittany Murphy, Nicole Eggert, Drew  Barrymore, Geena Davis, Sir Anthony Hopkins, and my fave Shannen Doherty.  🙂
Big THANK YOU to Amanda for telling me about It's A Wrap!  🙂
Until next time, Happy Stalking!  🙂
Stalk It: It's A Wrap has two Los Angeles area locations.  The first is located at 3315 West Magnolia Boulevard in Burbank.  The other can be found at 1164 South Robertson Boulevard in Beverly Hills.  You can visit the It's A Wrap website here.  Another great place to purchase movie and celebrity memorabilia is the website www.starwares.com. 
8471