Cameron Frye's House
Jun 1st, 2009 | By
Lindsay
| Category:
Movie Locations

Last Wednesday morning I almost fell out of my chair as I opened up my email account and saw an AOL news headline screaming out at me "Ferris Bueller's Day Off   House For Sale!"  At first, I thought the article was talking about the Long Beach area home that stood in for Ferris' in the film.  But, in reality, it is the ultra-modern glass and steel abode that belonged to Ferris' best pal Cameron Frye in the film that just recently went on the market.  And, while I don't usually like to blog about places that I have not actually visited myself, since I have received about a million emails this week about the cinematically historic home, I figured what the heck!  So, here goes.  🙂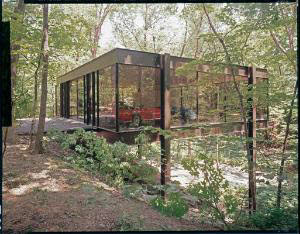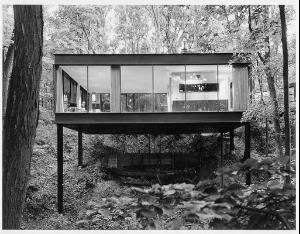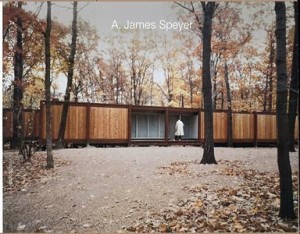 The house, which was built entirely out of steel, cedar, and glass, measures 5,300 square feet, sits on almost an acre of land, and boasts four bedrooms and four bathrooms.  The home was built in 1953 by prominent architect A. James Speyer for a prominent textile designer named Ben Rose, and his wife, Fran.  The famous garage – which is actually called "the Pavilion" or auto museum – is separate from the house and was not built until 1970.  It was designed by architect David Haid and, in line with how it was portrayed on film, was built to store Ben's antique car collection.   The house had been featured in numerous architectural books and magazines long before Ferris Bueller was filmed and, apparently, it was through those magazines that location scouts discovered the house.  🙂  With its glass walls and simplistic design, the home reminds me quite a bit of the Stahl House in Los Angeles and the other Case Study Houses.  Cameron Frye's home is selling for a cool $2.3 million, which I think is pretty low considering you'd be buying a cinematic and architectural landmark!  🙂  You can read a great article about the home and its original owners here. 


Several memorable scenes from Ferris Bueller's Day Off  took place at Cameron Frye's home, including the "He'll keep calling me, he'll keep calling me until I come over.  He'll make me feel guilty.  This is – uh – this is ridiculous!  OK, I'll go, I'll go, I'll go, I'll go, I'll go, I'll go.  Sh*t!" scene.  LOL

I believe the real interior of the Ben Rose House was used in the scene when Ferris continually calls Cameron begging him to come over.  The walls of the actual home are built entirely out of glass and, as you can see in the above screen capture, so are the walls of Cameron's room.

But, of course, the most memorable scenes took place in the Pavilion and involved Cameron's father's 1961 Ferrari 250 GT California.  


It is in the Pavilion that Cameron says to Ferris, "Less than 100 were made.  My father spent three years restoring this car.  It is his love, it is his passion . . ." to which Ferris replies. "It is fault he didn't lock the garage."  LOL  God, I love that movie!!!!

It is also in the Pavilion that Ferris "runs the car in reverse" in the hopes of removing the mileage that was accrued during their "day off".



When that plan doesn't work, Cameron flips out and ends up "killing the car".  LOL To shoot that scene, producers had to not only replace the Pavilion's real life windows with breakaway glass, but also build several fake cars out of fiberglass, complete with small bombs that made the car smoke upon impact.  I can't even imagine being there to watch that scene be filmed!!!   It must have been so much fun for the owners of the house!!!!  Apparently, there is an entire wall of photographs from the filming of Ferris Bueller's Day Off  on display in the Pavilion.  Love it!!!
You can visit the home's real estate website and see photos of its interior here.
Until next time, Happy Stalking! 🙂
Stalk It: Cameron Frye's house is located at 370 Beech Street in Highland Park, Illinois.
8690