Watermark On Main
Jun 3rd, 2009 | By
Lindsay
| Category:
This and That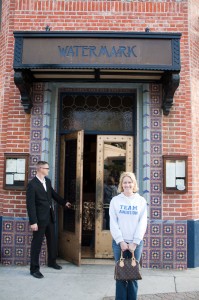 This past weekend, while in Ventura, my parents, my fiance, and I ate dinner at a newly opened restaurant named Watermark On Main.  And, even though my eyes are ALWAYS peeled, I wasn't exactly expecting to see a celeb during our meal.  But, sure enough, we did!  As it turns out, Watermark is something of a celeb hot spot.  🙂  So, I just had to blog about it.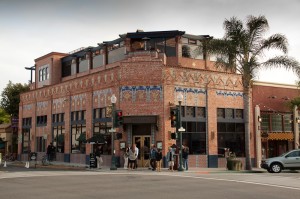 Watermark On Main, which just recently opened last August, is located inside of the Theodore Groene/Brahn Jewelry Store Building, which is a City of Ventura Cultural Landmark.  The Spanish Revival style building  was originally built in 1928 and was designed by architects Frederick M. Ashley and John C. Austin, who also designed L.A.'s Griffith Park Observatory.  The structure, which was marked by tiled curtained walls, hand-painted murals, and ornately decorated ceilings, was built to house the Ventura Guarantee Building and Loan Company, who had a large safe installed on the premises.  In 1938, the building was sold to Theodore Groene, who subsequently covered up and painted over much of the structure's ornate decoration and detail.  The building had several different occupants following that sale, including the Brahn Jewelry Company, until March 16, 2004 when it was purchased by the Hartley Family.  From March of 2004 to August of 2008, the Hartleys began the huge task of renovating the historic building.  What they uncovered was a structure that can best be described as a work of art!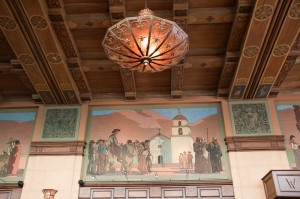 Working with artist Michael Kelly, the Hartleys painstakingly brought their historic building back to life.  And it truly is remarkable to see!  A few of the restaurant's unique details include travertine floors, an onyx gold wraparound bar,  ceiling murals, which were originally hand-painted by artist Norman Kennedy in 1928 (pictured above);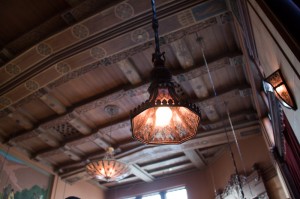 handpainted plaster ceilings;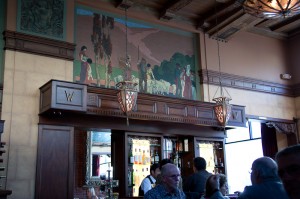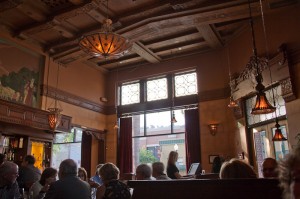 and African mahogany woodwork throughout.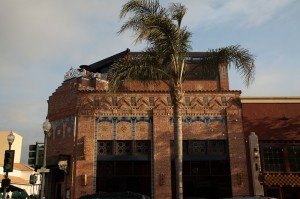 The Hartleys also added a third floor to the building, which required a 61,000 pound steel support structure to be built on top of the existing roof.  The third floor now houses the restaurant's rooftop lounge, named W2O.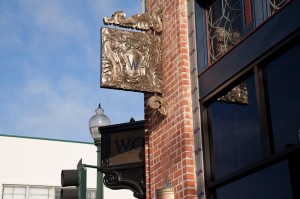 I honestly can't recommend stalking Watermark On Main enough!!  The restaurant is beautiful, the service was superb, and the food!  Oh, the food!  It was simply A-MA-ZING.  It was so good, in fact, that I scarfed down about three pounds of appetizers, bread, and salad making it virtually impossible for me to eat any of the actual meal that I ordered!  I'm not kidding – I think I ate two bites of it!  LOL  Oh, well, that's what to-go boxes are for.  🙂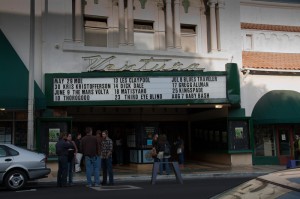 And, oh, yes, the celebs!  : )  The night we were there, actor/singer Kris Kristofferson was hosting a benefit concert for farm workers at the Majestic Ventura Theatre (pictured above), which just so happens to be located directly across the street from Watermark On Main.  The concert pre-party was being held at Watermark's lounge, W2O.  And while I didn't expect to see any celebs, before we knew it several familiar faces walked by.  Unfortunately, though, I couldn't place exactly who they were and my fiance, who is usually great at remembering names, wasn't paying any attention whatsoever.  UGH – I think I need to give the ring back.  🙂  LOL  The one face he did recognize, though, was that of Stephen Root, aka the Stapler Man from fave movie Office Space.  Love it!  🙂   Other celebs who have dined at Watermark include Kevin Costner (who held the premiere of his movie Swing Vote  at the Majestic Ventura Theatre), Leann Rimes, Kenny Loggins, and singer Michael McDonald.  Mark Hartley, the owner of Watermark, is also a big time country music manager who represents such stars as Brad Paisley, Leann Rimes, Colbie Caillat, and Vince Gill.  Apparently, his famous clients stop into Watermark on a regular basis.  Love it!   
Until next time, Happy Stalking!  🙂
Stalk It: Watermark On Main is located at 598 East Main Street in Ventura.  You can visit their website here.  Reservations are recommended.  You can make reservations here or by calling (805)643-6800.  Watermark also has a dress code – no shorts or flip flops are allowed and, for men, collared shirts are preferred.
8801