The Cellular House
Jun 4th, 2009 | By
Lindsay
| Category:
Movie Locations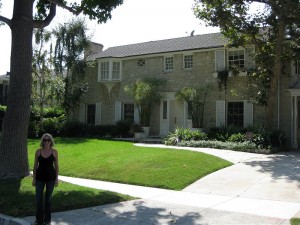 Back in September of last year, while stalking the house from fave 80s movie License to Drive, I just happened to stumble upon another famous movie home – Kim Basinger's residence from the 2004 flick Cellular.  Well, truth be told, "stumble upon" isn't exactly the terminology I should be using here. 🙂  The real story is that while taking pictures in front of the License to Drive house, the owner came outside and struck up a conversation with me.  And while he had no idea that he was living in a famous home, he did tell me that the movie Cellular  had been filmed on the street directly behind his!  So, of course, off I went to stalk that house!  But somehow, in all this time, I never got around to blogging about it.  So, here goes.  🙂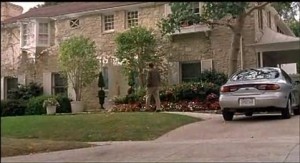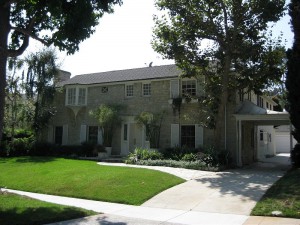 In the very beginning of Cellular, Kim Basinger, aka Jessica Martin, is kidnapped out of the large, traditional style home pictured above.   Her only hope for rescue lies in reluctant hero – and total cutie – Chris Evans, whose cell phone accidentally intercepts a 911 call Jessica is trying to make.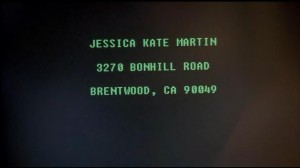 In the movie, we are told that Jessica's home is located at 3270 Bonhill Road in Brentwood.   And, while  a Bonhill Road in Brentwood does actually exist, the street numbers there don't go higher than 800.  In actuality, the home where filming took place is located about three miles east of Brentwood.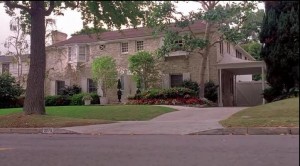 And, as you can see in the above screen capture, producers even went so far as to paint the number 3270 on the curb in front of the home!  Which would have made locating this house extremely difficult for stalkers!!!!!  So, I definitely owe a big THANK YOU to the owner of the License to Drive  house.  😉  If you haven't seen the movie Cellular yet, I highly recommend doing so!  While the campy thriller has to be one of the cheesiest movies ever made, I have to say that I absolutely LOVED it!    🙂     
Until next time, Happy Stalking! 🙂
Stalk It: The Cellular  house is located at 527 Loring Avenue in Los Angeles.
8835