Pig N' Whistle Restaurant
Jun 15th, 2009 | By
Lindsay
| Category:
This and That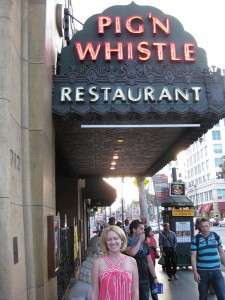 Last week, before seeing the Dirty Dancing stage show, my fiance and I grabbed a bite to eat at the historic Hollywood restaurant named the Pig N' Whistle.  I had wanted to visit the celebrated Hollywood eatery ever since it appeared on a Fourth Season episode of The Bachelor back in 2003.  🙂  And, let me tell you, it was well worth the wait.  🙂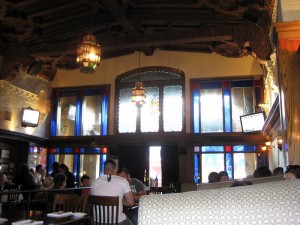 The Pig N' Whistle first opened it doors on Hollywood Boulevard on July 22, 1927.  The restaurant was part of a small chain of twelve cafes that dotted the West Coast from Los Angeles to Seattle.  The Hollywood location was designed by renowned architectural firm Morgan, Walls & Clements, who were also responsible for building the El Capitan, Wiltern, and Old Globe Theatres.  The restaurant was built in an elegant Gothic style, featuring hand-painted tiles, carved wooden ceilings, and stained glass windows.  The Pig N' Whistle was so beautiful that it was even featured in a 1928 issue of Architectural Digest.  The restaurant, which was built before the days of movie theatre concession stands, was located directly next door to the famed Egyptian Theatre. It became popular with theatregoers who wanted to grab a pre- or post-show ice cream or drink at the restaurant's soda fountain or some candy at it's candy counter.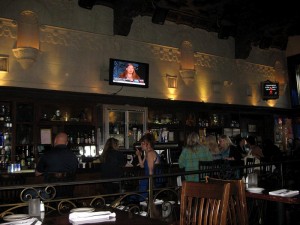 During its heyday, which ran from 1927 to 1949, the Pig N' Whistle was extremely popular with the Hollywood set.  Stars like Shirley Temple, Clark Gable, Judy Garland, Barbara Stanwyck, Spencer Tracy, Howard Hughes, Loretta Young, Jane Wyman, and even Elizabeth Short, aka The Black Dhalia, were spotted dining there.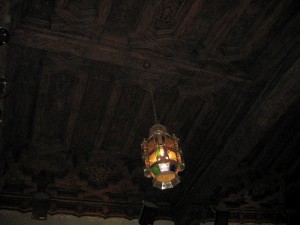 But that all changed when the restaurant closed its doors in 1949.  The former Pig N' Whistle space went through a succession of different owners, including a Numero Uno pizzeria and a clothing store, and a succession of remodels until two restaurateurs decided to rescue it and restore it to its former grandeur.  In 1999, Chris Breed and Alan Hajjar (the team who was also behind the wildly popular Sunset Room restaurant and bar) masterminded a two year, $1.5 million restoration of the former restaurant.  The duo unearthed the building's original hand-carved ceilings, stained glass windows, and molded sconces.  The new Pig N' Whistle opened its doors once again in March of 2001.  And it is an absolutely beautiful place!!!!! 
The restaurant is also no stranger to the silver screen.  🙂  On the Fourth Season of The Bachelor, the Pig N' Whistle hosted a group date for Bachelor Bob Guiney and five female contestants.  The group partied in the restaurant's back room and even competed in a small karaoke contest. 🙂  According to our waitress, the Hollywood restaurant is featured constantly in productions, but, unfortunately, she could not remember which ones.  Isn't that always the case??  What is wrong with these people?  LOL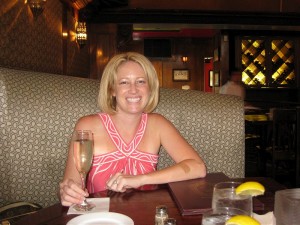 The Pig N' Whistle is a FABULOUS restaurant and I HIGHLY recommend stalking it.  Besides the beautiful Old Hollywood ambiance, the restaurant serves up some GREAT food in HUGE portions.  The French Fries and Cobb Salad were to die for!!  I absolutely cannot wait to eat there again!!!!  🙂  
 Until next time, Happy Stalking!  🙂
Stalk It: The Pig N' Whistle is located at 6714 Hollywood Boulevard in Hollywood.  A DJ is on hand every Thursday through Saturday night from 9 p.m. onward, so if you were hoping for a quiet meal, make sure you arrive before that time.  🙂 You can visit the Pig N' Whistle website here.
9163