Miceli's Restaurant
Jun 16th, 2009 | By
Lindsay
| Category:
Marilyn Monroe Locations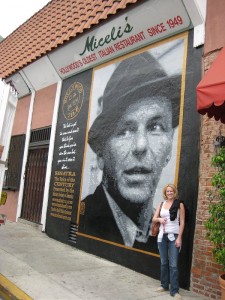 After watching Kyra Sedgwick's Star Ceremony last week, my friend Blaze and I headed over to Hollywood's oldest pizzeria, better known as Miceli's Restaurant,  to grab a bite to eat.   Miceli's – pronounced Micheli's – opened its doors way back in 1949 and has the distinction of being known as Hollywood's first pizza house.  The restaurant was started by an Italian couple named Carmen and Sylvia Miceli, along with four of their siblings, who brought their family recipes all the way from Sicily to Los Angeles.  The restaurant is still owned and operated by the Miceli family and apparently, most nights, Carmen, himself, is on hand to great his guests!  Because of the restaurants' storied Hollywood history, I just HAD to stalk the place.  🙂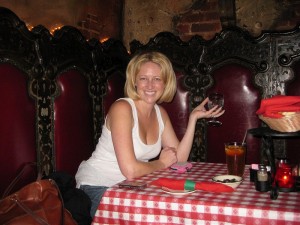 And I wasn't disappointed!!  The second you walk through Miceli's front doors you are immediately transported back in time!  With its dimly lit interior, red leather booths, and black and white photographs of celebrities of yesteryear lining the entryway, the restaurant definitely gives off an Old Hollywood vibe.  It is such  a cool place!!!!  My favorite part of Miceli's had to be the intricately carved wood and red leather booths.  I've never seen booths like that in my entire life!  Ironically, the booths originally belonged to the old Pig N' Whistle restaurant, which I blogged about yesterday.   When the Pig N' Whistle closed its doors in 1949, its gorgeous wooden booths were sold to Miceli's, where they remain to this day.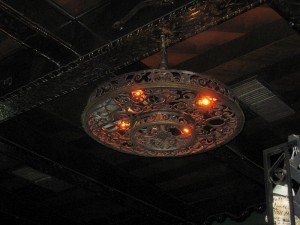 I was also pretty obsessed with the ceilings at Miceli's.  🙂  I don't know what it is with me and ceilings lately, but every time I walk into a historic building my eyes always go directly up to the roof.  Nine times out of ten, the ceilings of old buildings are like works of art.  And Miceli's ceiling certainly did not disappoint.  Intricate wrought iron chandeliers hang from gorgeous carved wooden beams throughout the restaurant.  Unfortunately, because Miceli's is so dimly lit, my photographs of the interior did not come out very well.  🙁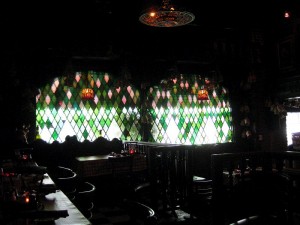 Not surprisingly, Miceli's Restaurant has always been popular with celebrities.  During Hollywood's Golden Era, stars like Frank Sinatra, Dean Martin, my girl Marilyn Monroe, and Presidents Nixon and JFK all dined at Miceli's.  In more recent years, Jim Carrey, Adam Sandler, The Beatles, and Julia Roberts have all been spotted at the eatery.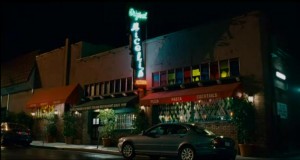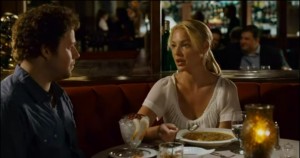 And, yes, Miceli's is also a filming location!  In 2007's Knocked Up, Seth Rogan takes his baby momma, Katherine Heigl, to the historic restaurant on a date.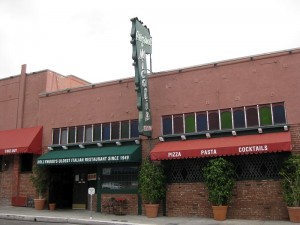 I HIGHLY recommend stalking Miceli's!   The place is worth a trip just for the ambiance alone!   But besides the decor, the food at Miceli's is also EXCELLENT and the portions are ginormous!   I just about died over the restaurant's garlic toast!!   Sadly, though, since we ate at Miceli's during lunchtime, we missed the "singing waiters" which the Italian restaurant is famous for.  🙁   Every night, the Miceli servers step up to the piano to serenade diners with authentic Italian arias, show tunes, and the standards.  Sometimes patrons are even invited to get up and sing a note or two themselves.  Since karaoke is one of my very favorite past times, I am definitely planning on dragging my fiance there for a nighttime visit!  🙂
Until next time, Happy Stalking!  🙂
Stalk It: Miceli's Restaurant is located at 1646 North Las Palmas in Hollywood.
9195