Michael Jackson's Walk of Fame Star
Jun 27th, 2009 | By
Lindsay
| Category:
Michael Jackson Locations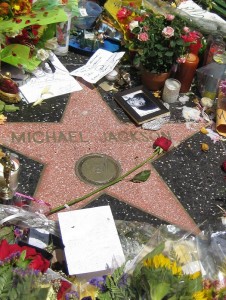 Still saddened by the sudden death of Michael Jackson, early yesterday afternoon I decided to pay my respects to the legendary pop star by visiting his Star on the Hollywood Walk of Fame.  I thought I would post the pictures I took while there for those of you who do not live in the L.A. area and cannot visit the star yourselves.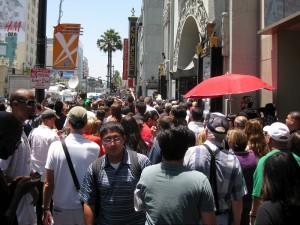 I honestly don't think Los Angeles has ever seen the likes of anything comparable to this in its entire history.  I had absolutely no idea what I was in store for when I set out for Hollywood yesterday.  Hundreds upon hundreds of fans showed up to visit the pop legend's star and to drop off flowers and personal mementos.  When I arrived at around 12:30 p.m., Michael's star had already been cordoned off by the many policemen on duty and there were about two hundred people waiting in line to see it.  Pictured above is the haphazard line that the crowd had formed in order to view Michael's star.  I don't think the police had expected such a large turnout because they all seemed to be milling around trying to maintain crowd control, but largely unsure of what to do.   Trying to cordon off hundreds of people into some sort of functioning line in the middle of Hollywoods' busiest sidewalk cannot have been an easy task and due to that fact the whole thing was slightly chaotic.  Thankfully, all of the fans were very respectful and I didn't witness any sort of problems while I was there.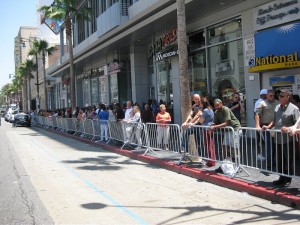 A huge crowd was even forming across the street from where Michael's star is located.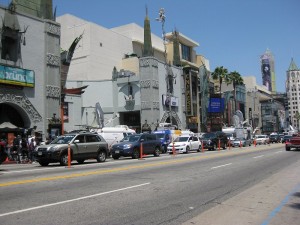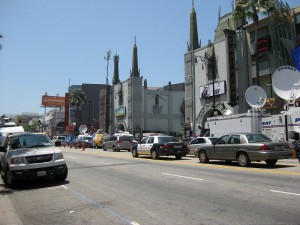 And news vans were lined up along Hollywood Boulevard as far as the eye could see.  It was absolutely incredible!  There were far more people and news reporters on Hollywood Boulevard yesterday than at all the premieres I have been to in the past year combined!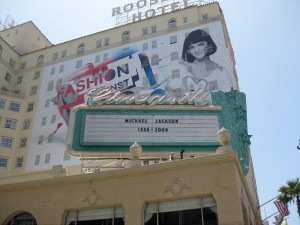 The Hollywood Roosevelt Hotel, which is located directly across the street from Michael's star, even had a tribute posted on their famous Cinegrill billboard.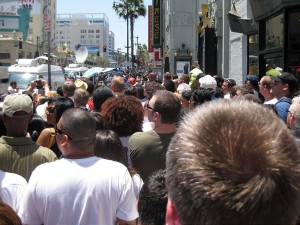 I only had to wait in line for about thirty minutes to see Michael's star, but by the time I left it seemed there were more than double the amount of people in line as when I had first arrived.  And I anticipate that even more people will be coming to view the star as the days progress.  One gentleman I was in line with told me that his friends who live in England are flying out to Los Angeles tomorrow morning just to see the star!  I couldn't believe it.  It is definitely true what they say about Michael Jackson transcending all races, ages, and cultures.  People of all ages from all over the world were there yesterday to pay their respects to the pop star.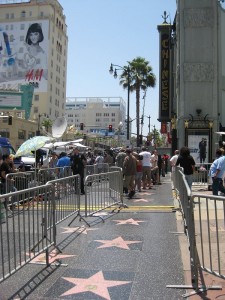 The policemen at the head of the line were letting ten people onto the sidewalk at a time to view the star.  You can see above the way Michael's star was cordoned off by the police in an effort to control the flow of the people who were there to visit it.   News media crews were lined up on the other side of the partition, filming the hundreds of fans who walked past the star.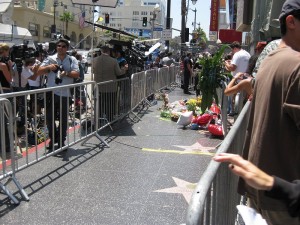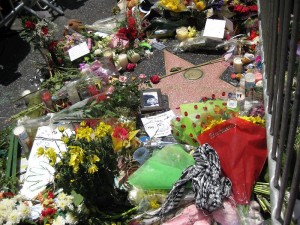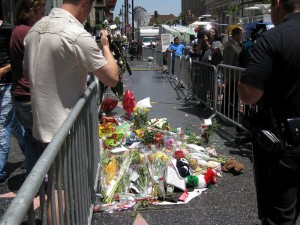 The area surrounding Michael's star was completely covered in flowers, letters, and mementos.  We were only given about ten seconds in front of the star, just barely enough time to snap a few photographs and say a quiet prayer.  And although brief, it was still a comforting experience to be there.  It was nice to share stories with the people in line who, like me, had grown up listening to Michael's music and who were now all feeling the same sadness I was.   It was nice to have some sort of place to go to pay my respects.  It was nice to be able to say good-bye.  If you were at all a fan of the pop star and live in the area, I definitely recommend going.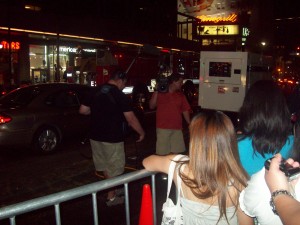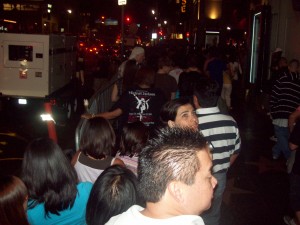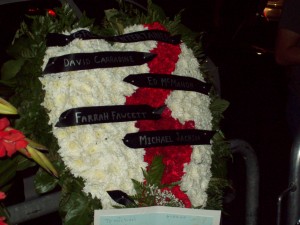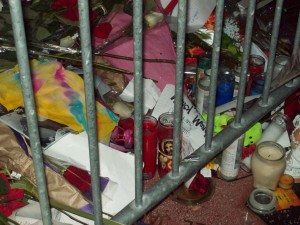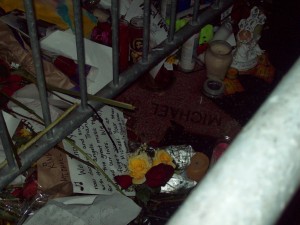 UPDATE:
Fellow stalker April visited Michael's Star Saturday night and sent in the above photographs.  As you can see, his star is almost completely covered over with flowers now.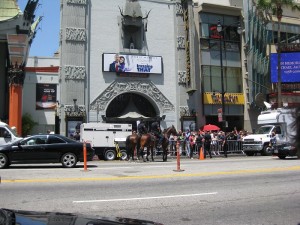 Stalk It: Those wishing to pay their respects to Michael Jackson by visiting his Star on the Hollywood Walk of Fame can find it directly in front of Grauman's Chinese Theatre, which is located at 6925 Hollywood Boulevard in Hollywood.  The line to view the star starts at the East side of Grauman's, near the Kodak Theatre's Hollywood Boulevard entrance.  You can see where the line is formed in the above photograph.  If you are planning to visit the star in the near future, I would be prepared to wait in line for at least an hour.
9655