Will Ferrell's Streaking Scene
Jul 1st, 2009 | By
Lindsay
| Category:
Movie Locations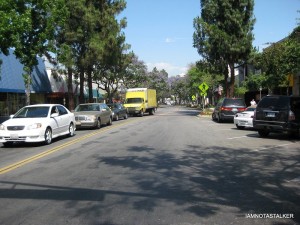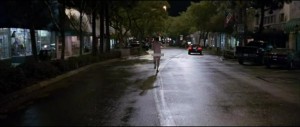 A few weeks ago, while out stalking in Montrose, Mike, from MovieShotsLA, and I decided to pinpoint the exact location where Will Ferrell went streaking in the 2003 movie Old School.   Although it's fairly common location knowledge that the streaking scene took place on Honolulu Avenue in the City of Montrose, I actually first heard that information straight from the horse's mouth last July when I saw Will Ferrell speak at my acting school.  During the question and answer session of Will's presentation, one of my fellow students raised their hand and asked Frank the Tank himself where the streaking scene had taken place.  Love it!!  🙂  Amazingly enough, Will remembered the general location where that scene had been filmed and ever since then I have been meaning to stalk it.   So, a few weeks ago, Mike and I set out to do just that.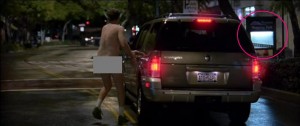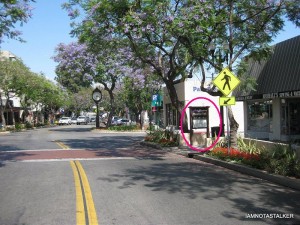 With our Blackberries in hand, the two of us walked up and down Honolulu Avenue watching Will's streaking scene on YouTube while trying to find the exact location.  And sure enough, we did!  🙂   We were actually able to pinpoint Will's streaking spot by matching up the Montrose Shopping Park Directory sign . . .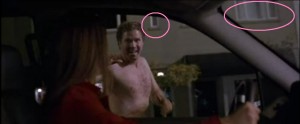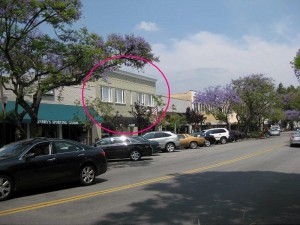 and some windows that were shown in the background of the scene.  YAY!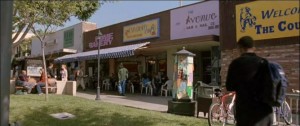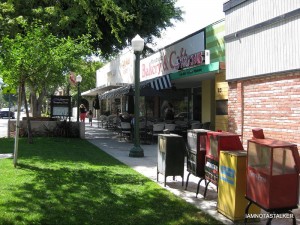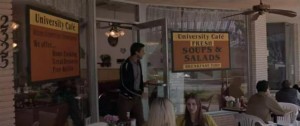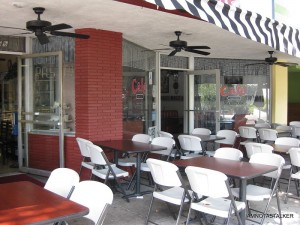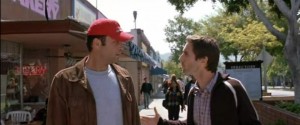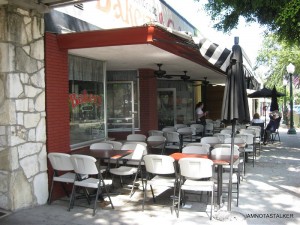 While we were stalking Honolulu Avenue, one of the super-friendly local shop owners informed us that the Montrose Bakery and Cafe, which is located just down the road from Will's streaking spot, was also featured in Old School. The Cafe's exterior stood in for the exterior of the University Cafe where Luke Wilson and his friends have a pow wow about how to save their fraternity.  Interestingly enough, though, the Cafe's interior was not used in the filming.   The interior scenes were filmed at another location altogether.  
You can watch Will Ferrell's absolutely hilarious – but NSFW – streaking scene here.  "We're going streaking!  Yeah!  We're going streaking through the quad and into the gymnasium!  Come on, everybody!  Come on, Snoop, Snoop-a-Loop!  Bring your green hat!"  LOL LOL LOL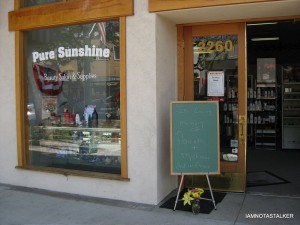 On a bittersweet side note, I dragged my mom out to Montrose earlier today to snap some more photos of the "streaking street" and we noticed the above tribute to Michael Jackson and Farrah Fawcett posted outside of a local shop named Pure Sunshine Beauty Supply.  It seems everyone the world over is mourning Michael and Farrah's untimely passings.  🙁
 Until next time, Happy Stalking!  🙂
Stalk It: Will Ferrell's streaking scene took place on the block of Honolulu Avenue located between Market Street and Ocean View Boulevard in Montrose.  Frank's wife is driving East on Honolulu Avenue when she first spots Frank.   She stops the car right around 2246 Honolulu Avenue to let him hop inside.  Montrose Bakery and Cafe, aka the University Cafe, is located at 2325 Honolulu Avenue, also in Montrose.
9761