The Motown 25: Yesterday, Today, Forever Special
Jul 17th, 2009 | By
Lindsay
| Category:
Michael Jackson Locations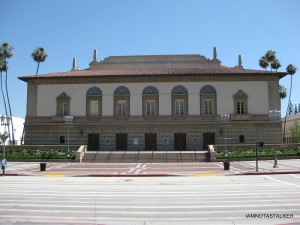 I know, I know – it was just last week that I promised not to let my blog go on Michael Jackson overload, but I'm sorry, this one was a must-post!  🙂  The other day, while reading one of the many Michael Jackson tribute magazines that have been published since the pop star's death – and yes, I bought them all 🙂 –  I came across an article that just about made me pass out from excitement!  The column, which was featured in the July 13th, 2009 issue of People Magazine,  stated that Michael Jackson's iconic – and now legendary – "Billie Jean" performance from the Motown 25: Yesterday, Today, Forever  television special had been filmed at none other than the Pasadena Civic Auditorium.  Now I have lived in Pasadena for over nine years and until that article came out had absolutely NO  idea whatsoever that what is arguably Michael Jackson's most famous stage performance EVER was filmed right in my own backyard.  WHY IN THE HECK IS THIS INFORMATION NOT MORE WIDELY KNOWN????   I mean this is HUGE!! Absolutely HUGE!  It was on the Auditorium's stage on a March night in 1983 that THE most definitive moment of Michael Jackson's adult career took place – it was here that he introduced the world to his now-infamous signature dance move – the Moonwalk.  What an amazing piece of history!  If I ran the place, I'd have a freaking 80 foot by 80 foot banner put up telling everyone it was here that Michael Jackson made musical history!   🙂
http://www.youtube.com/watch?v=PKXdEMkPOv0
I can still remember watching that iconic performance with my parents the night it aired on May 16, 1983, almost two months after it was filmed.  I was six years old at the time and I can still picture us all sitting in front of the television and my dad telling me that I was about to witness something really extraodinary.   And it was, it truly was!  We actually taped the Motown special that night and years later my dad and I were still re-watching it.  So much so, in fact, that the VHS tape eventually wore out.  So, we were absolutely floored when my mom found a DVD of the Motown special for sale on Amazon about five years ago and immediately purchased it.  I was still living with my parents at the time, and whenever a friend would come to visit my dad would invariably ask "Have you ever seen Michael Jackson's Motown 25  performance?"   Shockingly, most of my friends had no idea what he was talking about, so my dad would lead them into the TV room and show them Michael's history making dance.  It was absolutely fascinating to watch my friends see this performance for the very first time,  their eyes absolutely glued to the TV and filled with wonderment.  Pretty soon it got to be a thing at my house – anyone visiting would ask my dad to see the Motown 25  performance and he would happily oblige.  It's fascinating to me that 26 years later that performance still has the ability to awe and inspire.  You can read a great article about Michael's Motown 25  performance written by a man named Christopher Smith who actually witnessed it firsthand here.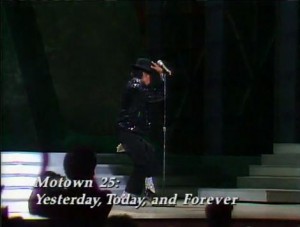 Michael was actually nominated for an Emmy Award for his Motown 25  performance, but did not win.  Michael said his real award came the morning after the performance aired when dancing sensation, and his former neighbor, Fred Astaire called him up screaming, saying it was the best performance he had ever seen!  Fred said he had taped Michael's routine, watched it twice, and was absolutely mesmerized.  He also said "Michael, you put them on their *ss!  You're a hell of a mover!  You're a hell of a dancer!"   Love it!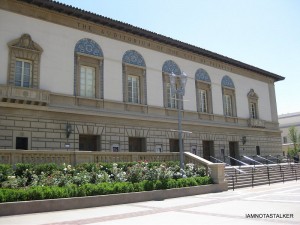 The Pasadena Civic Auditorium, which was built in 1931, has also been featured in the movies 10 and Red Dragon and episodes of Last Comic Standing, Alias, Lie To Me, and American Idol.  The auditorium has also hosted countless awards shows, including the 2008 ALMA Awards, numerous People's Choice Awards, and the Emmy Awards from 1977 to 1997.
I went to stalk the Auditorium today under the assumption that it is open to the public and was really dissappointed to find out that isn't the case.   🙁  Because of that, I can't say that I'd really recommend stalking it.  The manager of the place is also a TOTAL jerk, which only added to my dissapointment.  🙁  Nevertheless, it was still very exciting to be standing in front of the very spot where Michael Jackson made musical history just a little over twenty-six years ago! 
Until next time, Happy Stalking!  🙂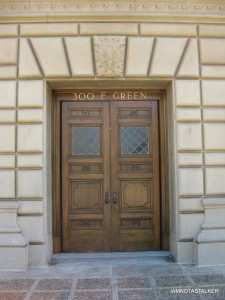 Stalk It:  The Motown 25: Yesterday, Today, Forever  special took place at the Pasadena Civic Auditorium, which is located at 300 East Green Street in Pasadena.
10398