The Jerry Maguire House
Aug 6th, 2009 | By
Lindsay
| Category:
Movie Locations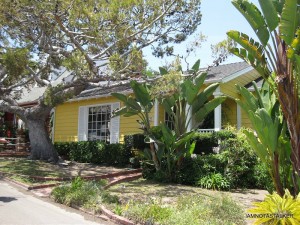 A couple of months ago, I gave Mike, from MovieShotsLA, the mission of locating Dorothy Boyd's house from the 1996 movie Jerry Maguire.   From a quick internet search, Mike was able to ascertain that Dorothy's tiny yellow house was located in an area of Manhattan Beach known as the "Tree Section".  The home's exact location, though, was not mentioned anywhere online and since Google Maps Street View is not available in Manhattan Beach, we were unable to locate the house using the internet.  So, two weeks ago, Mike and I set about to stalk Manhattan Beach's Tree Section in person.  Our plan was to literally drive up and down each street in the neighborhood until we found Dorothy's house.  But, thanks to a very lucky twist of fate, it never actually came to that.
The Tree Section of Manhattan Beach is thus named not because of an abundance of trees as one might guess, but because the vast majority of streets in the area are named after different types of trees, such as Palm, Walnut, Oak, and Elm.  It is said that the Tree Section is one of the most sought after areas to live in Manhattan Beach due to its rural neighborhood feel which has been maintained thanks to extremely narrow streets, lack of sidewalks, tiny houses built in the '40s and '50s, and proximity to the beach.  Oddly enough, though, when Mike and I arrived in Manhattan Beach, we could not find the Tree Section anywhere.   After driving around in what seemed like circles for quite some time, we pulled over to ask a random woman to point us in the right direction.  The woman immediately asked us, "Well, is there a particular street you are looking for?"  We both pretty much started laughing and told her we had NO idea what street we were looking for.   Thinking we were probably crazy, she then said "Well, what is it you are trying to find?"   Figuring she would have absolutely NO IDEA what were talking about, we told her we were looking for the Jerry Maguire  house.  Well, lo and behold, she started laughing and said "Oh my God, one of my good friends from high school lived across the street from that house during the filming.  I know exactly where it is!"   Honestly, what are the odds????  The stalking gods must have been watching out for us that day, because of all the people in Manhattan Beach to ask for directions, we find the one who knows exactly where the JM  house is!  Our new best friend then gave us detailed directions to the house and Mike and I were on our way!  YAY!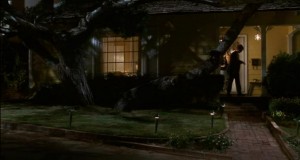 Before arriving at the house, Mike was worried that it may have been remodeled, as sadly that is fairly commonplace with the older Tree Section homes.  So, we were both absolutely FLOORED when we pulled up and saw that the house looked EXACTLY- and I do mean EXACTLY – the same today as it did over thirteen years ago when the movie was filmed.  It is absolutely incredible to me that virtually no part of the house has been changed in the almost decade and a half since filming took place.  The paint color, the landscaping, even the house number plaque all the look exactly the same.  HOORAY!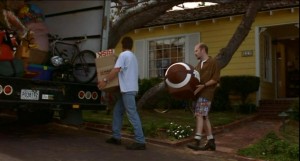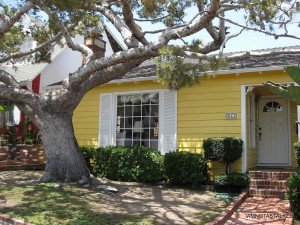 The only difference that I noticed was the tree in front, which used to have a second limb that crossed in front of the house.  That limb has since been removed.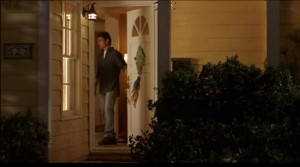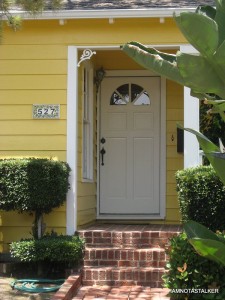 The Jerry Maguire  house shows up numerous times throughout the movie, most notably in the scene when Jerry takes Dorothy out on their first date.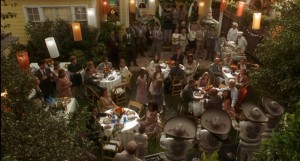 And I believe the real backyard of the home was also used for the filming of several scenes, including both Jerry and Dorothy's wedding ceremony and their subsequent break-up.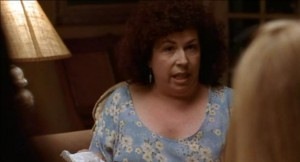 And from what we could see of the inside of the house from the street, it definitely looks as if the home's real life interior was also used in the film, most notably for the many "Divorced Women's Group" meetings.  A little bit of movie trivia for you – Winnie Holzman, the creator of fave show My So-Called Life, was one of the members of that "Divorced Women's Group" (pictured above).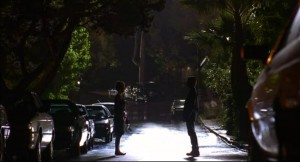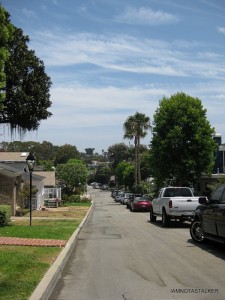 Which is extremely ironic to me, because in Jerry Maguire, Dorothy and Jerry have what I've always referred to as "their My So-Called Life  moment" in the middle of the street out in front of Dorothy's house.  LOVE IT!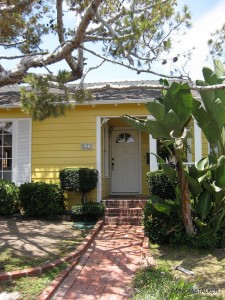 I highly recommend stalking the Jerry Maguire  house for any fans of the movie, as, thanks to the aweome fact that its appearance has not been changed in recent years, it is one of the most recognizable movie locations I've ever been to!  On a very sad side note, though, I drove by the 90210  house the other day and almost had a heart attack when I saw that it had been painted an entirely different color!  It's almost unrecognizable now!  UGH!  Such a tragedy!!!!!  🙁   That stuff should not be allowed to happen!!!!!
Until next time, Happy Stalking! 🙂
Stalk It: The Jerry Maguire  house is located at 527 23rd Street in the "Tree Section" of Manhattan Beach.
11040