The Almost Famous House
Aug 26th, 2009 | By
Lindsay
| Category:
Movie Locations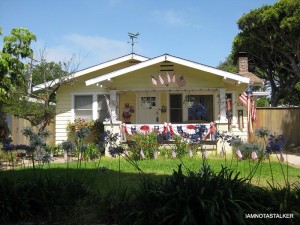 Thanks to fellow stalker Chas, way back in the beginning of July, I was able to stalk the main house used in the 2000 award winning movie Almost Famous.   Somehow, though, in all this time, I've yet to blog about it.  What can I say – so many places to stalk, so little time to write about them.  😉  Anyway, back in early July I happened to mention to Chas that I would be spending the day in the Santa Monica area and he asked me if I wanted the address of the little bungalow featured in the movie Almost Famous, as he had just located it.  IF I wanted address???  IF I wanted the address???  Hello!!!!  Is the pope Catholic???  Of course I wanted the address!  🙂  And once Chas gave it to me, I was on my way!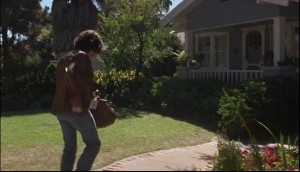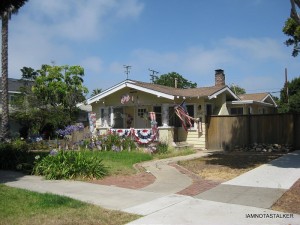 In the movie, the tiny little bungalow pictured above belongs to Frances McDormand, Zooey Deschanel, and Patrick Fugit, who plays main character William Miller, and is supposedly located in the San Diego area.  And, while some scenes from the film were actually filmed in San Diego, such as William's high school and the opening concert scenes, for the Miller's family home producers chose to use a residence located about 130 miles North of San Diego, on a sleepy little street in Santa Monica.  And a little bit of movie trivia for you –  Almost Famous is loosely based on the real life teenage years of director Cameron Crowe and the high school he chose to use in the movie is his real life alma mater – University of San Diego High School.  He even cast his real life high school journalism teacher in a small role in the flick, which is just about the coolest thing ever!  🙂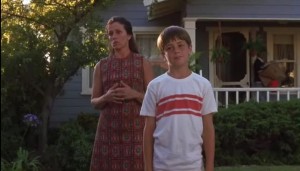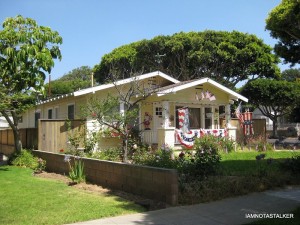 And I am happy to report that the Almost Famous  house looks very much the same today as it did when the movie was filmed over nine years ago.  In fact, the only difference I noticed – besides the abundance of Fourth of July decorations 🙂 – was a change in paint color from blue to yellow.  Otherwise, the adorable little bungalow looks pretty much identical to how it appeared in the movie.   And, while the house pops up several times throughout Almost Famous, unfortunately the entire exterior was never shown all at once, so I was not able to make any good screen captures.  : (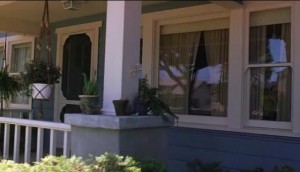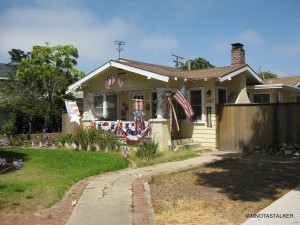 I was actually very surprised to hear that the Almost Famous  house was located in Santa Monica, as it really doesn't look like the typical Santa Monica area home to me.  I would have expected to find it in Pasadena, instead.  So, I'm really glad that Chas decided to track down the house, as I'm pretty positive I never would have been able to.
 Big THANK YOU to Chas for finding this location!  🙂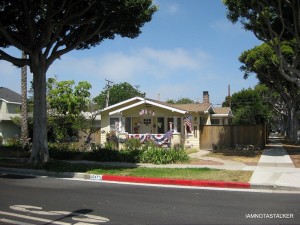 Until next time, Happy Stalking!  🙂
Stalk It: The Almost Famous  house is located at 1047 Maple Street, at the corner of Maple and 11th Streets,  in Santa Monica.
11806