Marilyn Monroe's Catalina House
Aug 28th, 2009 | By
Lindsay
| Category:
Marilyn Monroe Locations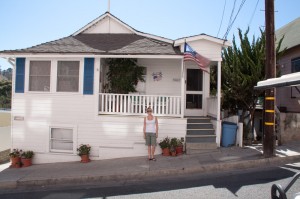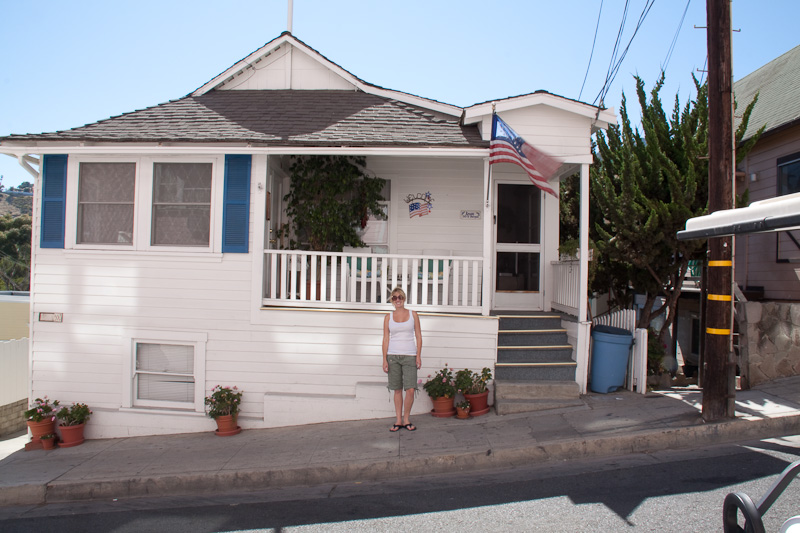 The most important item on my Catalina Island stalking list was the home where a very young Marilyn Monroe lived with her first husband James Dougherty during the years 1943 to 1944.  This was long before Miss Monroe became a Hollywood icon and household name, back when she was just a girl who was known simply as Norma Jeane Baker.  Norma married James in 1942 at the tender ago of 16.  Yes, you read that right – 16!!!  The family who was taking care of her at the time was moving out of state and rather than take Norma with them, opted to basically marry her off to one of the neighbor boys.  After only one short year of marriage, James was shipped off to Catalina Island to begin his basic training with the Merchant Marines.  Marilyn moved to Catalina with him and remained on the island for about a year and a half.  So, as you can probably imagine, I was absolutely busting at the seams to find her former home – a task that proved to be much easier than I had anticipated.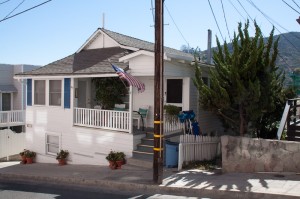 While waiting at the Catalina Island taxi station yesterday, I happened to notice a flyer for a movie called Hollywood's Magical Island: Catalina with a picture of Marilyn on it posted on a wall.  So, of course, I just had to ask the taxi operator if he knew anything about the movie, which he, sadly, didn't.  So, I said, "Shoot!  I was hoping it might have information about where Marilyn's Catalina house was located."  Well, lo and behold, the cab operator got this funny look on his face and said "I know where her house is – it's at 310 Metropole Avenue!"  I totally thought the guy was pulling my leg, as what would be the odds that the very first person I ask about her house would know its exact location???  Well, I must have some seriously good stalking karma because the guy really did know the correct address.  He told me that just about a year ago a Japanese film crew had descended on the island to make a documentary about the starlet and they actually filmed part of it at her house!  Turns out the taxi guy knew the location, because it's located just three blocks up the street from his little taxi stand and he saw the filming!   Honestly, what are the odds?????  🙂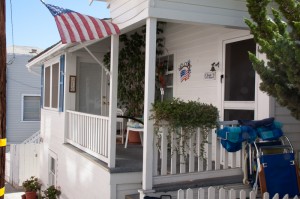 So, of course, I immediately dragged my parents and my fiance right up the street to stalk Marilyn's former residence.  🙂  Marilyn's house is an adorable little beach bungalow that looks pretty much exactly like I pictured it would!  So darn cute!!!!  The home is actually a duplex, I believe, rather than a single family residence, as there seem to be two separate front doors, as you can see in the above photograph.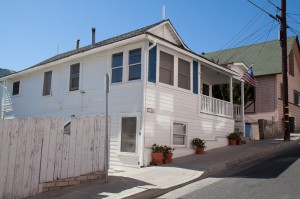 But, being the overly-anal person that I am, I just had to ask around town for further verification that the house I had just stalked was definitely Marilyn's former home.  I hate putting information on my blog unless I know with absolutely certainty that that information is correct.  And all I had to go on for this one was the word of a random cab operator.  So, I wanted further verification.    Well, as it turns out there are COUNTLESS stories floating around out there as to where the starlet's former house is located.  While most locals I talked to had no idea that Marilyn had even lived on the island LOL LOL LOL, those few that did had differing stories.  I heard everything from "She lived somewhere on Whitley Avenue" to "No, no, no, her house is on Descanso Avenue between Beacon and Third Streets" to "Marilyn Monroe lived here?  Are you sure?"   And that last one came from a guy who WORKS AT THE CATALINA ISLAND MUSEUM!  LOL LOL LOL  Needless to say I was just a tad bit frustrated over all of the differing theories.  I mean, come on people!  This is Catalina history!  Someone  should know where MM lived!!!!  Finally, I ended up locating two different books about the history of the island, both of which said Marilyn's former home was located on Metropole Avenue – just like the cab guy had said!  🙂  So, while I can't say with absolute certainty that Marilyn Monroe did at one time live at 310 Metropole Avenue on Catalina Island, I am going to go out on a limb here and trust the word of two history books, a local taxi operator, and a Japanese film crew.  🙂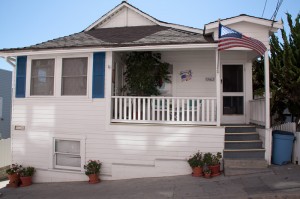 Until next time, Happy Stalking!  🙂
Stalk It: Marilyn Monroe's Catalina house is (most likely) located at 310 Metropole Avenue in Avalon.
11872