Catalina's Hamilton Cove
Sep 1st, 2009 | By
Lindsay
| Category:
This and That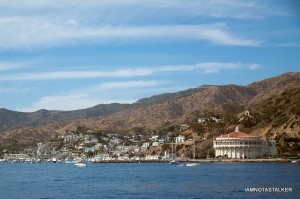 While vacationing in Catalina this past week, I, of course, spent much of my time asking the local merchants which celebrities had been spotted on the island.  And I just about died when one store owner told me that Michael Buble, who has recently replaced Josh Duhamel as the celebrity love of my life, had vacationed there!  Sigh!  But MB is hardly the first celeb to visit Catalina.   I was actually quite shocked to learn of the sheer number of famous visitors that the island has seen over the years.  In the Golden Age of Hollywood, stars such as Charlie Chaplin, John Wayne, authors Zane Grey and Sir Arthur Conan Doyle, Mary Pickford, Douglas Fairbanks, John Barrymore, Stan Laurel, Oliver Hardy, Jean Harlow, Mickey Rooney, Clark Gable, Orson Wells, Judy Garland, Robert Mitchum, Henry Fonda, and presidents Ronald Reagan, Richard Nixon, Calvin Coolidge, and Herbert Hoover all spent time on the island.  In more recent years, Nicolas Cage, Lisa Marie Presley, Barbra Streisand (my least favorite celebrity of all time!), James Brolin, Sharon Stone, Gwen Stefani, Gavin Rossdale, Edward Norton, Rob Lowe, Paul Newman, Robert Downey Jr., Bob Saget, Diane Keaton, and members of the Spencer Davis Group rock bank have all been spotted on Catalina.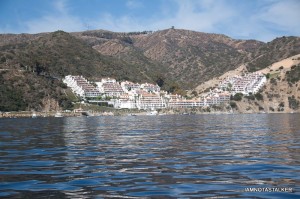 For those who have yet to visit, Catalina is a very small, quaint little island measuring 22 miles long and 8 miles wide with a population of only 3,696 residents.  Only a small number of cars have been allowed on the island, which has resulted in local homeowners and tourists relying on gas-powered golf carts for transportation.  The use of golf carts instead of cars coupled with the fact that there are no chain stores or restaurants of any kind on the island – not even a Starbucks! – has allowed Catalina to retain its quaint, charming feel.  In fact, when William Wrigley Jr. – the chewing gum entrepreneur – purchased the island in 1919, he went to great lengths to keep it from turning into a bustling tropical city a la Miami or Honolulu.  But because Catalina has been kept small, there are no resort-style hotels whatsover on the island.  Most of the hotels are actually very small, bed-and-breakfast type establishments. So, I couldn't figure out exactly where a visiting celebrity would stay that would afford them some modicom of privacy.  Until I learned about a gated, guarded resort-style community named Hamilton Cove (pictured above).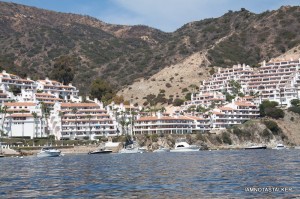 Hamilton Cove is located just a mile and a half outside of Downtown Avalon.  The upscale, extremely private, gated condominium community offers a private sandy beach, a sparkling pool and jacuzzi, complimentary golf cart use, a croquet court, an 18 hole putting course, sand volleyball court, BBQs, private dock, three story clubhouse, tennis courts, a gym, and amazing views.  And, a majority of  the Cove's "villas" are available as vacation rentals.  According to pretty much every local I spoke with, Hamilton Cove is THE place to be on Catalina Island.  So, if you want to spot a celeb while visiting Catalina, book a room at Hamilton Cove!  Unfortunately, being that the community is closed to the public, I wasn't able to visit it.  🙁  But I did manage to snap a few photos of the Cove while traveling along Catalina's coast on a boat we rented one day.  Even from far away the place looked beautiful.  The 1, 2, and 3 bedroom villas rent for anywhere between $175 to $1000 per night.  I am really pushing for my family to book a room at Hamilton Cove for our next Catalina trip, more for the celebrity sightings than anything else, of course.  🙂  
Until next time, Happy Stalking!  🙂
Stalk It: Hamilton Cove is located at 23 Camino de Flores Street in Avalon on Catalina Island, but it is a private, gated, guarded community that does not allow visitors of any sort.  So, NO TRESPASSING!  The only way to gain admission to the complex is to book a stay there, which you can do via this website and this website.
11919