The Zane Grey Pueblo Hotel
Sep 2nd, 2009 | By
Lindsay
| Category:
Celebrity Homes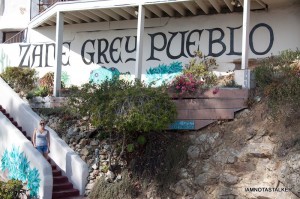 While in Catalina this past week, as much as I wanted to stay at the Pavilion Lodge, my family instead opted to book a room at a little place called the Zane Grey Pueblo Hotel.  And even though it's never been a filming location, because the hotel was once the private residence of world-renowned author Zane Grey, I deemed the site to be blog-worthy.  🙂  For those who have never heard of him (like myself prior to my recent stay at his former home), Zane Grey is the best selling author of 89 Western style novels, including Riders of the Purple Sage, The Lone Star Ranger, and Call of the Canyon.  Zane, who was born on January 31, 1872,  actually started out his professional career following in the footsteps of his father as a dentist.  Zane's true passion was always writing fiction and playing baseball, but his father vehemently discouraged both pursuits.  In fact, when Zane was a young boy, his father discovered a story he had written and not only tore it up, but severely beat him because of it.  After marrying his wife, Dolly, in 1905, Zane began to finally pursue writing as a career.  It wasn't long before he became a household name and one of the first authors in history to earn a million dollars.  At one point in time, Zane was also America's highest selling author.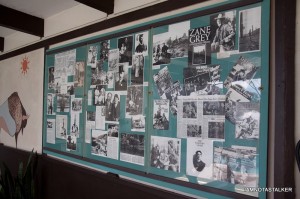 In his lifetime, Zane Grey published over one hundred novels which in turn sold over forty million copies.  While most of his works were Western adventure stories, Zane also wrote books about his other passions, including sport fishing, hunting, and baseball.   Zane's novels became so popular that after his death in 1939, his publishing company, Harper & Brothers, continued to release one of his unpublished manuscripts each year for the next twenty-four years.  All were wildly successful.  Fifty of Zane's novels were turned into one hundred different Western movies and he has over 120 writer, director, producer and actor credits on IMDB.  What I wouldn't give for that resume!  Zane even formed his own production company at one time to handle the high demand for movies based on his books.  One of Zane's novels, The Vanishing American, was even filmed on Catalina Island. Legend has it that Zane brought in a herd of fourteen bison for the filming and left them there after the production wrapped.  The bison took to Catalina quite naturally and spawned into a herd of over 150 buffalo that now call the island home.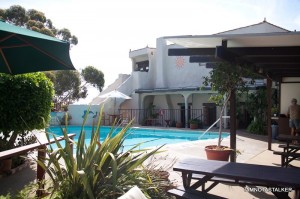 In 1926, after falling in love with Catalina Island while vacationing there, Zane bought a parcel of land high on a hill in Avalon from William Wrigley and built a pueblo.   Zane called his home "a place for rest, dream, peace, sleep".  Sometime after his death, Zane's heirs turned the Pueblo into a small hotel.  What a FABULOUS idea!  I wish all celebrity heirs would follow suit!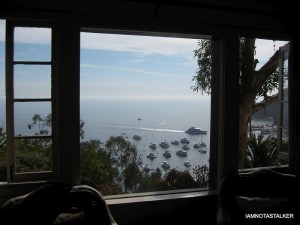 The tiny hotel features only sixteen rooms, each named after one of Zane's popular books.  And while all of the rooms boast a view of some sort, none have a television, a phone, or a clock – an idea my fiance wasn't too keen on.  The whole point of staying at Zane Grey is to really get away from it all.  The place touts itself as a quiet, peaceful retreat where you can spend a few days in total relaxation.  And I have to say it was pretty darn amazing!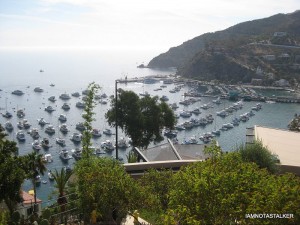 The hotel's setting is simply breathtaking, with sweeping ocean . . .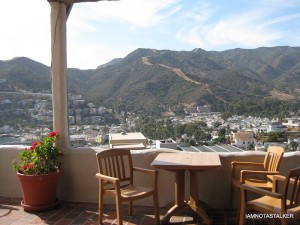 . . . and mountain views,
large adobe verandas;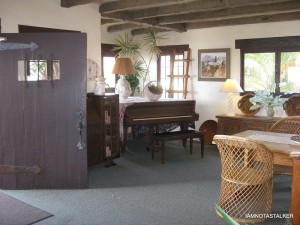 a living room featuring Zane Grey's original furnishings and a grand piano,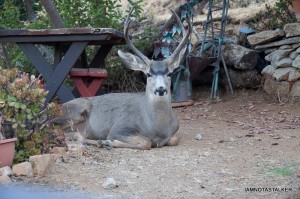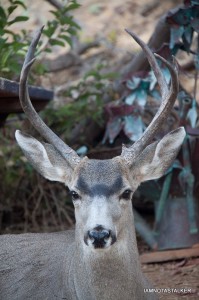 and wild animals roaming the property.    My fiance woke me up extremely early one morning to show me a buck he had noticed wandering the grounds (pictured above).  The hotel is also blissfully quiet – whispering in common areas and out by the pool is encouraged.  Because I am not big on noise, I LOVE quiet, peaceful hotels.  In fact, the more quiet and peaceful, the better.  And it doesn't get much quieter or more peaceful than at the Zane Grey.  Ironically enough, the only people not adhering to the "quiet" rule, were the people who worked on the property.  The receptionist and housekeeper were SO darn loud, it was almost comical.  So, other than wanting to strangle the two of them during most of the trip, my stay was highly relaxing.  And I would recommend the Zane Grey to anyone.  Even though the accommodations are a bit run-down and the service is highly sub-standard, we really enjoyed our stay there.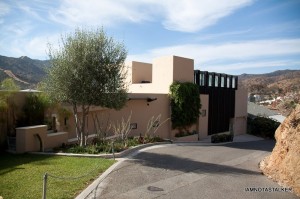 A bit of celebrity trivia for you – directly across the street from the Zane Grey hotel is a huge, modern style home that, according to several people I talked to on the island, Sharon Stone was interested in purchasing at one time.
Until next time, Happy Stalking!  🙂
Stalk It: The Zane Grey Pueblo Hotel is located at 199 Chimes Tower Road in Avalon on Catalina Island.  You can visit their website here.  The accomodations are very basic and sparse, so if you are looking for a fancy hotel this is DEFINITELY not the place for you.  For higher end accomodations, I'd instead recommend the Inn on Mt. Ada.  The house Sharon Stone thought about buying, but didn't, is located directly across the street from the Zane Grey Pueblo at 124 Chimes Tower Road.
11945